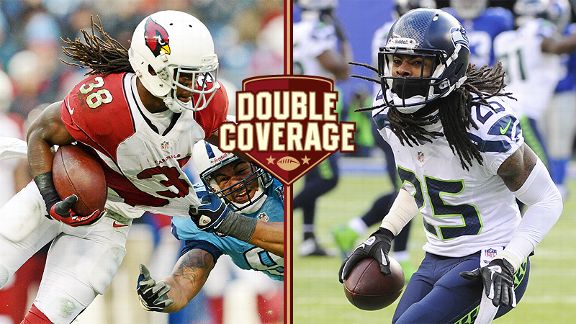 ESPN.com
Updated Dec 20, 2013
Playoff standing is on the line for both the Arizona Cardinals and the Seattle Seahawks on Sunday at CenturyLink Field. The Seahawks (12-2) would clinch the NFC West title and home-field advantage throughout the playoffs if they get their 15th consecuti…
Share
Tweet
Pro Football Focus previews Seahawks-Cardinals

Here is the weekly compilation of notes and links from Pro Football Focus: On the site this week: - Michael Bennett made the PFF Team of Week 15, while Russell Okung and Max Unger received honorable mentions. - Breno Giacomini was 'dishonorably mentione…

Share Tweet

Seahawks defense prides itself on coming through in tough situations

When opponents start in Seattle's end of the field, they generally are held out of the end zone.

Share Tweet

profootballtalk.com ESPN.com

Dec 20, 2013

If Seahawks cornerback Richard Sherman had a vote, the NFL's defensive player of the year would be Seahawks safety Earl Thomas. "I would have to give it to Earl," Sherman told Seahawks.com. "I think Earl is having a fantastic year. He's flying around, t…

Share Tweet

Here's some of what Seahawks coach Pete Carroll had to say to the media following practice today: (On if there were any snow related absences on the team today…) "We made it, everybody made it in. We had a couple of slips and slides but everybody made i…

Share Tweet

Cards declare Palmer (ankle) game-time call

Arizona Cardinals quarterback Carson Palmer will be a game-time decision Sunday against the Seattle Seahawks, coach Bruce Arians said.

Share Tweet

seattletimes.com ESPN.com

Dec 20, 2013

RENTON — Starting guard J.R. Sweezy will not play against the Cardinals this week because of a concussion, coach Pete Carroll said. Sweezy sustained the concussion during last week's game against the New York Giants. He practiced Wednesday before the Se…

Share Tweet

Rams experience reversal in records

EARTH CITY, Mo. – Although the St. Louis Rams came up short of a winning record and a shot at the postseason in 2012, they pointed to their performance in the difficult NFC West as progress. The Rams went 4-1-1 against the Seattle Seahawks, San Francisc…

Share Tweet

We'll start the links with my story today examining Seattle's use of the play-action pass. The story also includes a chart breaking down how much Seattle uses play-action — roughly 34 percent of all dropbacks, highest in the NFL. Also in our paper today…

Share Tweet

TEMPE, Ariz. -- If what Larry Fitzgerald is saying is true, then he's one step away from being cleared to play Sunday against the Seattle Seahawks, which would be a week removed from him suffering a concussion during an onside kick in Tennessee. During …

Share Tweet

Morning Ram-blings: Getting physical

EARTH CITY, Mo. -- There's a common trend developing when coaches outside of the NFC West are asked about playing teams in it. Be it the St. Louis Rams, San Francisco 49ers, Seattle Seahawks or Arizona Cardinals, coaches around the league see one common…

Share Tweet

Seahawks promote wide receiver Bryan Walters from practice squad

profootballtalk.com

Dec 20, 2013

For the second time this season, the Seahawks have signed wideout Bryan Walters from their practice squad to their active roster. The Thursday signing of Walters, a fourth-year pro from Cornell, puts the Seahawks at the 53-player roster limit. The 26-ye…

Share Tweet

'Playbook': Arizona Cardinals vs. Seattle Seahawks

Dec 20

Will the Seattle Seahawks remain unbeaten at home or can the Arizona Cardinals put a blemish on their record? "NFL Playbook" takes a closer look at this intriguing matchup.