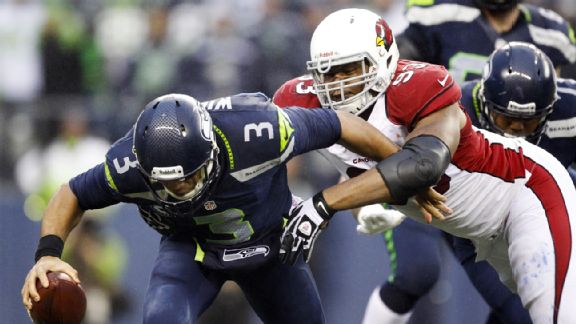 Cardinals' defense makes statement
ESPN.com
Updated Dec 22, 2013
SEATTLE -- When Steven Hauschka's foot connected with the ball for the opening kick of Sunday's Cardinals-Seahawks game, neither team knew what was happening three time zones away. The New Orleans-Carolina game wouldn't be over for another two minutes, …
Share
Tweet
Seahawks' smooth ride gets bumpier after loss to Cardinals

The Seahawks expected to be toasting to an NFC West division title, a first-round playoff bye and home-field advantage until the Super Bowl. Instead, their offense stalled again, and they lost for the second time in three weeks.

Share Tweet

Washington representative slams Arizona as 'racist wasteland' after Seahawks' loss to Cardinals

yahoo.com

Dec 22, 2013

The Seattle Seahawks lost 17-10 to the Arizona Cardinals on Sunday, and many fans of the team didn't take it well. Now, you can debate whether fans booing a team that's won 14 straight at home have high expectations, or are spoiled rotten. But what's no…

Share Tweet

Seattle QB Russell Wilson: "We should have won that game, we felt like''

Here's some of what Seattle quarterback Russell Wilson had to say to the media following today's 17-10 loss to Arizona: (On the loss… ) It was a disappointing loss, we should have won that game, we felt like. There were so many opportunities, the defens…

Share Tweet

Seahawks coach Pete Carroll: "All in all, they did a better job than we did.''

Here's what Seattle coach Pete Carroll had to say to the media today following the team's 17-10 loss to the Cardinals: Opening comment: "Well, we just saw a tremendous defensive football game today. Two defenses just duking it out all day long. The…

Share Tweet

Are the Seahawks vulnerable at home?

Just like that, in the wake of a 17-10 loss to Arizona, one had to wonder if this defeat would have a more far-reaching effect than merely a delay of the Seahawks' clinching celebration.

Share Tweet

seattletimes.com nytimes.com yahoo.com profootballtalk.com ESPN.com

Dec 22, 2013

The Arizona Cardinals knew they had to win the battle of the line of scrimmage in order to force the Seahawks out of their comfort zone on offense.

Share Tweet

Cardinals, in must-win mode, savor hard-earned win over Seahawks

The Arizona Cardinals, needing to win to keep playoff hopes alive, come into CenturyLink Field and snap the Seahawks' franchise-record 14-game home winning streak.

Share Tweet

SEATTLE, Ariz. -- It was supposed to be Clinch Sunday for the Seattle Seahawks and their rabid fans. There was a hitch in the clinch celebration. The Arizona Cardinals played the role of the Grinch who stole Christmas week. For the rest of the NFC conte…

Share Tweet

SAN FRANCISCO – The San Francisco 49ers must wait another day. And surely they are fine with that. While a wild-card berth waits, there is still a chance the 49ers can win the NFC West and get a first-round bye. The 49ers need to beat Atlanta on Monday …

Share Tweet

Seahawks inactives: Sweezy, Harvin among those on the list

Seattle's list of inactive players for today's game with the Cardinals again includes receiver Percy Harvin, who was declared out earlier in the week and will miss his fourth straight game since having made his Seahawks debut Nov. 17 against Minnesota. …

Share Tweet

Join our ESPN.com NFL experts as they break down the Arizona Cardinals' visit to the Seattle Seahawks. Contribute your thoughts and questions beginning at 4 p.m. ET. And, be sure to visit our NFL Nation Blitz page for commentary from every game, as well…

Share Tweet

RENTON, Wash. -- Seattle Seahawks free safety Earl Thomas knows the Arizona offense he will see Sunday is much better than the one he saw two months ago in the 34-22 Seahawks' victory on the road. Thomas said the biggest difference is the improvement in…

Share Tweet

Cards Snap Seahawks' Home Streak

Dec 22

The Cardinals kept their playoff hopes alive with a 17-10 win over the Seahawks.

Sunday Blitz: Cardinals-Seahawks Recap

Dec 22

Jim Basquil and Eric Allen break down the Cardinals' Week 16 win over the Seahawks.

Week 16: Arizona Cardinals vs. Seattle Seahawks highlights

Dec 22

Arizona Cardinals wide receiver Michael Floyd scores the go-ahead touchdown late in the fourth quarter and linebacker Karlos Dansby seals the game with an interception to give the Cardinals a 17-10 upset victory over the Seattle Seahawks on Sunday.

Seahawks postgame press conference

Dec 22

Seahawks react following game with Cardinals

Sports Columnists

Don Banks: Ravens in unfamiliar territory after worst home loss in history

Dec 22

BALTIMORE -- For most of the dreary afternoon and evening on Sunday at M&T Bank Stadium, the Baltimore Ravens appeared out of sync and unsure of themselves against the New England Patriots. But when the rout was over, and the humbling 41-7 loss was …

Don Banks: Tony Romo's late heroics set up another winner-take-all showdow…

Dec 22

BALTIMORE -- Musings, observations and the occasional insight from a fairly frantic Week 16 in the NFL. ...