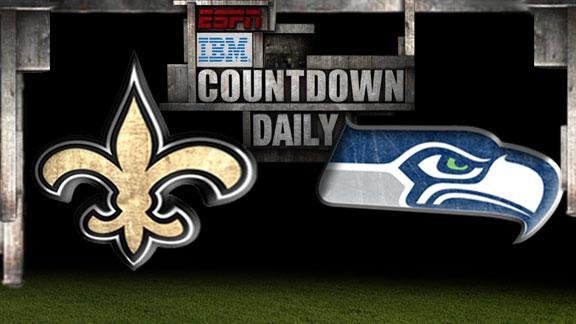 profootballtalk.com
seattletimes.com
ESPN.com
Updated Jan 9, 2014
Percy Harvin's season with the Seattle Seahawks nearly ended two weeks ago. Following Seattle's 27-9 victory over the St. Louis Rams in the regular season finale, it was finally time for judgement day on Harvin's injured hip. Head coach Pete Carroll met…
Share
Tweet
Seattle Central Library to show Seahawks game on big screen

The Seattle Central Library will screen Saturday's Seahawks playoff game Saturday at Microsoft Auditorium. The broadcast is free to the public.

Share Tweet

Seahawks sacrifice to make most of their remarkable depth

The Seahawks are one of the NFL's deepest teams, which keeps players fresh but means they have to sacrifice playing time and stats for the good of the team.

Share Tweet

Quiz: Test your Seattle vs. New Orleans knowledge

With the Seahawks hosting the Saints on Saturday, seems like a good time to test your New Orleans (and a little Seattle) pop culture knowledge. No Googling allowed.

Share Tweet

Former Seahawk Walter Jones was named tonight as one of 15 finalists for the Pro Football Hall of Fame. Here's our story on Jones being named and what happens next. And here is the Hall of Fame website with more info.

Share Tweet

Marshawn Lynch: "I love them''

Here's what Marshawn Lynch had to say today when he spoke to reporters following practice: (On the offensive line…) "I love them." (On Russell Wilson…) "I love him." (On the wide receivers…) "I love them." (On the fullbacks…) "I love them." (On how many…

Share Tweet

Thursday injury report

Today's official injury reports for the Seahawks and Saints are out, and most of it is as expected other than that Seattle listed DT Jordan Hill as not participating with a groin injury. Hill, a rookie from Penn State, has been active for just four game…

Share Tweet

He didn't even have a Wikipedia page when the Seahawks hired him four years ago, and his friends still like to remind him that he's short. But general manager John Schneider is ... The Natural.

Share Tweet

seattletimes.com deadspin.com

Jan 9, 2014

Seahawks running back Marshawn Lynch answered questions after practice Thursday, speaking to the media for the second time this season. Refusing to speak would cost Lynch $100,000 in NFL fines.

Share Tweet

Seismometers to monitor Seahawks-Saints game

Earthquake trackers are ready for the Seahawks' re-match with New Orleans on Saturday at CenturyLink Field -- one of the loudest stadiums in the NFL.

Share Tweet

ESPN.com seattletimes.com

Jan 9, 2014

RENTON, Wash. -- Just like Seahawks quarterback Russell Wilson, receiver Jermaine Kearse was one of seven Seattle rookies in the 2012 season who were experiencing life in the NFL playoffs for the first time. Kearse, however, said there was one big diffe…

Share Tweet

ESPN.com

Jan 9, 2014

RENTON, Wash. -- Believe it or not, the Seahawks didn't cast a single vote for Detroit defensive tackle Ndamukong Suh as the most feared player in the NFL, but they thought a lot of his teammate Calvin Johnson. The Detroit receiver, known as Megatron, r…

Share Tweet

profootballtalk.com

Jan 9, 2014

The New Orleans Saints rushed for 185 yards in their 26-24 victory over Philadelphia Eagles on Saturday night. The Saints accomplished the feat without Pierre Thomas in the lineup and may be without him again this week against the Seattle Seahawks. Thom…

Share Tweet

For N.F.L. Playoff Teams, Statistics Are Important, but So Is Luck

nytimes.com

Jan 9, 2014

Most of the teams beat their regular-season expectations, but this showed that the season was too short for breaks to even out, not that an efficiency model was flawed.

Share Tweet

NFL Cold Hard Facts

Jan 9

Mark Schlereth provides the keys to this weekend's playoff games.

How loud is the 12th Man?

Jan 9

They may just be loud fans, but their presence gives the Seattle Seahawks a major advantage for the opposition. Get an inside peek at how loud the 12th Man really is.

Divisional Round Weekend weather report

Jan 9

Jim Kosek from ABC 4 Salt Lake City predicts rain in Saturday's games and clear weather for Sunday's slate of games.

Inside the Huddle with John Clayton

Jan 9

Inside the Huddle goes deep on four new NFL topics: the dangers of promoting coordinators to the head coach position, Crabtree making things click for Kaepernick, Percy Harvick helping spark the Seahawks, and the Bears' salary cap maneuvers.