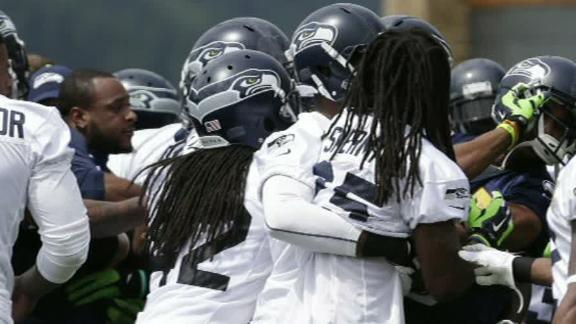 profootballtalk.com
seattletimes.com
ESPN.com
CNNSI.com
Updated Jun 18, 2014
The Baltimore Ravens weren't the only team to have a fight break out during mini-camp on Wednesday. Seattle Seahawks cornerback Richard Sherman was in the heart of a scuffle that broke out between the offense and defense during Wednesday's practice sess…
Share
Tweet
Video, quotes: Paul Richardson

When healthy, rookie receiver Paul Richardson has been a consistent presence on the field the last month. A sore shoulder held Richardson out of much of OTAs. But he's been back for mini-camp and made one of the highlight offensive plays of today's prac…

Share Tweet

And here they are, Five Impressions from today's mini-camp from Seahawks beat writers Jayson Jenks and Bob Condotta.

Share Tweet

Well that was likely the most interesting mini-camp practice one could see. It may have been June, but emotions ran as heated as January as the Seahawks went through their second of three mini-camp practices, one punctuated by a fight between cornerback…

Share Tweet

A few more odds and ends from Pete Carroll

Much of Pete Carroll's meeting with the media after Tuesday's mini-camp focused on Marshawn Lynch, and has been passed along here already. Here are a few other quotes on a few other players/topics from that session: On how he feels the team did making t…

Share Tweet

profootballtalk.com

Jun 18, 2014

We're welcoming a Hall of Famer to PFT Live on Wednesday. Former Seahawks wide receiver Steve Largent will join Mike Florio to talk about his playing career as well as what he's up to now that he's moved on from his first post-football pursuit. Largent …

Share Tweet

Kevin Williams sees more from less snaps

ESPN.com

Jun 18, 2014

RENTON, Wash. -- Kevin Williams is a six-time Pro Bowler who was a workhorse at defensive tackle for 11 years in Minnesota. He will turn 34 in August. Williams had a plan when he agreed to a one-year deal with the Seahawks last week. He knew it was time…

Share Tweet

Tempers Flare At Seahawks Minicamp

Jun 18

Terry Blount discusses the scuffle at the Seahawks minicamp between Richard Sherman and Phil Bates.

Wilson, Seahawks Confident

Jun 18

Seahawks QB Russell Wilson talks about the busy offseason since winning the Super Bowl, how the team handles success and Marshawn Lynch's desire for a new contract.