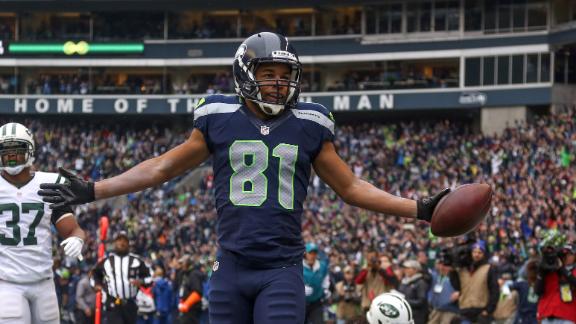 Updated Nov 11, 2012
Share
Tweet
Seahawks running back draws praise from all around
Updated Nov 11, 2012

Share Tweet

Seahawks wide receiver Sidney Rice was asked to evaluate Golden Tate's touchdown throw. The result was the quote of the day thought it came at the expense of Jets backup quarterback Tim Tebow."After it left his hands, I give him a 10. It was a spir…

Bruce is loose: Two more sacks for Seahawks rookie

Updated Nov 11, 2012

Share Tweet

Seattle's rookie Bruce Irvin leads all rookies with seven sacks.

Updated Nov 11, 2012

Share Tweet

We continue on our Sunday viewing with a double shot of divisional play and a random Jets-Seahawks game. Let's go! More »

Source:

deadspin.com

Updated Nov 11, 2012

Share Tweet

There are three late kickoffs on Sunday afternoon. We've got all the inactives from those games right here. Jets at Seahawks Jets: QB Greg McElroy, RB Joe McKnight, LB Aaron Maybin, G Caleb Schlauderaff, G Hayworth Hicks, TE Hayden Smith, DT Kenrick El

Source:

profootballtalk.com

Seahawks inactives include CB Walter Thurmond

Updated Nov 11, 2012

Share Tweet

Cornerback Walter Thurmond was added to the 53-man roster, but he's not among the 46 Seahawks who are active and in uniform for Sunday's game.

Updated Nov 11, 2012

Share Tweet

Join us for the GameDay chat fromm Jets at Seahawks, which will kick off at 12:30 p.m. Sunday.

Okung emerges in year three

Updated Nov 11, 2012

Share Tweet

In an effort to beef up a bad offensive line, Seahawks coach Pete Carroll and G.M. John Schneider used their first draft pick in 2010 on tackle Russell Okung. Injuries and ineffectiveness have prompted some to suggest that Okung may be a bust, based on …

Source:

profootballtalk.com

Updated Nov 11, 2012

Share Tweet

For the Jets to turn their season around, Mark Sanchez needs to find another gear in his development.

Source:

nytimes.com

Sunday Blitz: Jets-Seahawks Recap

Nov 11

Jim Basquil and Eric Allen break down the Seahawks' 28-7 win over the Jets.

Seattle Seahawks postgame press conference

Nov 11

Seahawks react following game with Jets

Week 10: Russell Wilson highlights

Nov 11

Seattle Seahawks rookie quarterback Russell Wilson passes for 188 yards and two touchdowns as Seattle stays unbeaten at home in a 28-7 win against the New York Jets.

Seahawks Blow By Jets

Nov 11

The Jets suffered their third straight defeat after losing to the Seahawks 28-7.

Sports Columnists

Don Banks: Giants in the midst of another stagnant second half; more Snaps

Nov 11

CHICAGO -- Musings, observations and the occasional insight on Week 10 in the NFL, from a wind-swept Soldier Field...