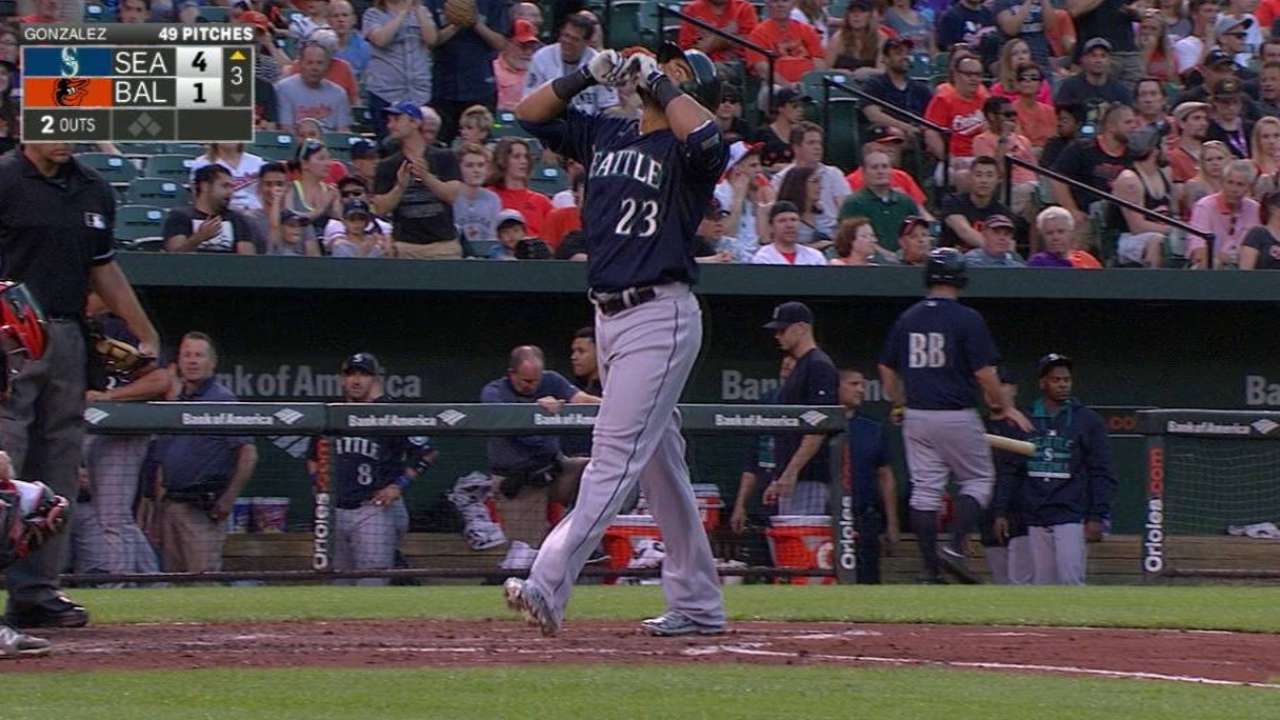 Mariners, Blue Jays await fruits of their labor
MLB.com
Updated 7 hours ago
The Blue Jays and Mariners enter their weekend series in Toronto in similar states of frustration. Unwittingly, they have illustrated that you can get so many things right in the offseason and still have so much go wrong in the season itself.
Share
Tweet
Pearce Slam, Hardy's RBI Lift Orioles Past Mariners 5-4

nytimes.com

22 hours ago

Steve Pearce hit his first career grand slam, J.J. Hardy singled in the tiebreaking run in the eighth inning and the Baltimore Orioles weathered a lengthy rain delay and a comeback by the Seattle Mariners in a 5-4 victory Thursday.

Share Tweet

TUKWILA — Since the club's decision against live streaming Wednesday's Pugetopolis showdown between S2 and the Kitsap Pumas left it up to the imagination for most fans anyway, I'll leave it there: S2's extra time victory was exactly what you'd picture f…

Share Tweet

Inslee boosts state climate goal as cap-and-trade action stalls

Gov. Jay Inslee has struggled to win legislative approval for a plan to meet state goals for greenhouse-gas reduction. But that isn't stopping him from signing on to an international pact with even steeper targets.

Share Tweet

Cavaliers steal Game 1 in Atlanta

LeBron James scored 31 points, while J.R. Smith made eight three-pointers and added 28 to lead the Cleveland Cavaliers past the top-seeded Atlanta Hawks 97-89 in Game 1 of the Eastern Conference finals Wednesday night.

Share Tweet

Nikita Kucherov scored 3:33 into overtime to give the Tampa Bay Lightning a 6-5 victory over the New York Rangers on Wednesday night in Game 3 of the Eastern Conference finals.

Share Tweet

Wednesday's prep soccer results

Archbishop Murphy and Shorecrest both advance to the quarterfinals in the boys Class 2A state tournament.

Share Tweet

'Happy' Rockefeller, widow of former vice president, dies

Margaretta "Happy" Rockefeller earned her nickname as a child because of her pleasant personality.

Share Tweet

The cultural focus of this year's NW Folklife Festival is "Beats, Rhymes and Rhythms: Traditional Roots of Today's Branches," a program that showcases hip-hop and a tribute to the late Dumi Maraire, who established the Zimbabwean marimba tradition in th…

Share Tweet

Ron Washington will join the Oakland Athletics

Former Texas manager served as coach for A's from 1996-2006 and will spend time helping shortstop Marcus Semien.

Share Tweet

Breeding rights for American Pharoah sold

The owner of Triple Crown hopeful American Pharoah sold the breeding rights to his Kentucky Derby and Preakness winner to Coolmore Ashford Stud in Kentucky.

Share Tweet

Window falls hurt 4 kids in May alone, sparking new warning

Four young children who fell out of windows have been treated at Harborview Medical Center just this month. In advance of a holiday weekend and warm weather, health officials are warning about the danger.

Share Tweet

New ferry for Anacortes-San Juan Islands route

Samish, a 144-car ferry, is the second of three new ferries being built to replace boats constructed in the 1950s.

Share Tweet

Elias delivered his best performance of the season, making sure he'd record his first win of the year.

Share Tweet

Childhaven uses brain science to help at-risk kids fit in

Ending childhood neglect and abuse is possible, and it happens now at Childhaven.

Share Tweet

UW women's golf team set to challenge at NCAA championships

The Huskies enter Friday's opening round ranked No. 1 by GolfWeek.

Share Tweet

California delta farmers offer to cut water usage for guarantee

A group of California farmers volunteers to cut water use by 25 percent, hoping to avoid losing a bigger share of century-old water rights

Share Tweet

Corporate-wellness programs sometimes make workers unhealthy

Researchers found that a company's extensive wellness efforts could stress some employees.

Share Tweet

Why many experts missed this: Cheap oil can hurt economy

If there was one thing most economists agreed on at the start of the year, it was this: Plunging oil prices would boost the U.S. economy. It hasn't worked out that way.

Share Tweet

The Mariners acquired Castillo from the Cubs in a trade for reliever Yoervis Medina late Monday night.

Share Tweet

Offensive MVP: Jourdin Hering, Todd Beamer Pitching MVP: Maddie Rogers, Todd Beamer 1st Team Pitchers: Most Read StoriesAs the Dustin Ackley era continues to sputter in Seattle, a change of scenery may be in orderBertha repair will take longer -- there …

Share Tweet

Mill Creek freshman a big winner at international Intel science competition

A science-minded freshman from the Mill Creek area won big at the Super Bowl of science and engineering competitions.

Share Tweet

Ski to Sea, 1986: Postcards from the past is an occasional feature,…

Postcards from the past is an occasional feature, highlighting images from The Seattle Times historical archive.

Share Tweet

Man in crisis disarmed, taken into custody in Greenwood

A young man with a knife was disarmed and taken into police custody in Seattle's Greenwood neighborhood Wednesday afternoon, the Seattle Police Department said via Twitter. Officers responded to a report of an armed person in crisis in the 9000 block of…

Share Tweet

Contract workers struggle as on-demand tech companies soar

As the valuations and profits of on-demand tech companies soar, few benefits are trickling down to their contract workers, creating a workforce that lacks the security of employee benefits and struggles with financial uncertainty.

Share Tweet

An expensive 60-year-old bonsai that was stolen from a Federal Way museum was found pruned and abandoned in bushes on Wednesday morning.

Share Tweet

Class 3A KingCo champs Interlake featured six players on the first and second teams. Four were featured from Class 2A District 2/3 Tournament champs Liberty.

Share Tweet

Overdue legal recognition for African-American artists in 'Blurred Lines' copyright case

In creating "Blurred Lines," Robin Thicke and Pharrell Williams admitted to capturing the feel of the Marvin Gaye song "Got To Give It Up."

Share Tweet

Pay attention: Streetcar tests have started on Broadway

Drivers, pedestrians and bicyclists take note: Test runs for Seattle's new First Hill streetcar line have started.

Share Tweet

Platinum pay in ivory towers

Gregory Fenves recently got a big promotion, from provost to president of the University of Texas at Austin. A raise came with it. Instead of his current base of about $425,000, he was offered $1 million. And he rejected it — as too much. "With many iss…

Share Tweet

Clayton's Quiz: Best QB to run two-point conversions?

May 21

Clayton's Quiz provides a weekly challenge to your NFL knowledge. Which quarterback may grow in value because of the new push for two-point conversions? Is it Russell Wilson, Colin Kaepernick, Tom Brady, or Cam Newton?

How will Tannehill deal impact Andrew Luck?

May 20

Mark Dominik discusses how Dolphins quarterback Ryan Tannehill's $96 million contract has set the bar for Andrew Luck and Russell Wilson.

Breaking down the Seahawks' offseason

May 16

ESPN Seahawks reporter Terry Blount breaks down the team's offseason workouts and looks at each position this week.

Irvin: 'Atlanta is where I want to be'

May 14

Phil Savage discusses comments by Seahawks linebacker Bruce Irvin, who said he wants to play for the Falcons.

Sports Columnists

2015 NBA playoffs - Golden State Warriors learning what it takes to be cha…

May 21

Steve Kerr is trying to impress upon his inexperienced Warriors just how hard the playoffs can be, without them actually proving it by adding to the degree of difficulty.

NBA Playoffs 2015 - Golden State Warriors and Houston Rockets going small …

May 21

The Western Conference finals are downsizing. And while Houston has no problem going small, it might be playing right into Golden State's hand.