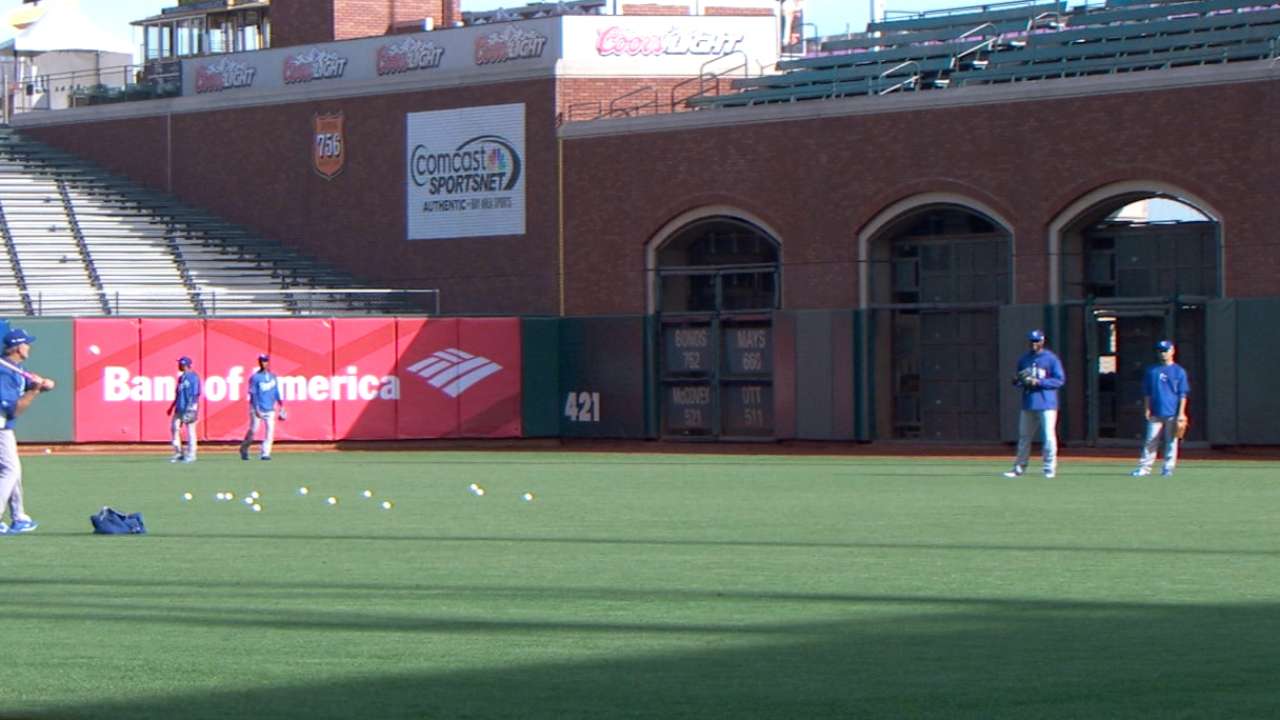 MLB.com
yahoo.com
nytimes.com
Updated 11 hours ago
Facing three straight games at AT&T Park, the Royals may find the Giants' home has a familiar feel that bodes well for their chances in San Francisco.
Upvote
Share
Tweet
ESPN.com

3 hours ago

The Cleveland Browns face their second winless team in a row Sunday at 4:15 p.m. ET at FirstEnergy Stadium. Last Sunday in Jacksonville, the Browns took the Jaguars from the winless column, as the Jags completely outplayed the Browns. Now the Oakland Ra…

Upvote Share Tweet

Injured Matt Cain Is Series Spectator for Giants

nytimes.com

6 hours ago

Well after the rest of his teammates put on their uniforms, Matt Cain wandered into the San Francisco clubhouse and changed clothes for a recent World Series practice.

Upvote Share Tweet

nytimes.com

9 hours ago

Hudson, a 16-year veteran who had early playoff exits with Oakland and Atlanta, will start Game 3 for San Francisco on Friday.

Upvote Share Tweet

Path to World Series ultimate test of best teams

MLB.com

11 hours ago

Neither the Royals nor Giants won 90 games in the regular season, but that shouldn't matter in determining a World Series champion.

Upvote Share Tweet

MLB.com

11 hours ago

Admittedly, Giants reliever Hunter Strickland didn't sleep very well after a nightmarish Wednesday night in Kansas City. A day later, back in his home clubhouse in San Francisco, a remorseful Strickland was ready to put it behind him.

Upvote Share Tweet

Benches clearing between Royals and SF Giants enough to spark ratings in World Series

nydailynews.com

12 hours ago

The Super-Slocomotion replay on Fox of Hunter Strickland's mug was tailor-made for amateur lip-readers figuring he had bad intentions. "C'mon, let's go," the Giants reliever yelled from the mound at Salvador Perez.

Upvote Share Tweet

With no DH, Giants look for Morse to adjust on bench

Travis Ishikawa knows the pitfalls of what Michael Morse is dealing with right now, himself having once been relegated from the starting lineup to a pinch-hit role, but that doesn't mean the Giants' current starting left fielder has much advice to impar…

Upvote Share Tweet

Rags-to-riches story for Giants' pitching staff

When manager Bruce Bochy came to San Francisco prior to the 2007 season, he made the unorthodox move of keeping longtime pitching coach Dave Righetti on staff. Eight seasons later, their marriage is thriving.

Upvote Share Tweet

A day after Tim Lincecum left Game 2 of the World Series at Kauffman Stadium because of tightness in his back, Giants manager Bruce Bochy was decidedly upbeat about the extent of the injury, which occurred during the veteran right-hander's first outing …

Upvote Share Tweet

Panda represents Giants as Gold Glove finalist

Giants third baseman Pablo Sandoval, who sustained a 73-game errorless streak this season, was named a finalist at his position on Thursday for the Rawlings Gold Glove Award among National Leaguers.

Upvote Share Tweet

ESPN.com

13 hours ago

ALAMEDA, Calif. -- Now that LaMarr Woodley is out for the long term and will likely go on the injured reserve with a torn biceps injury, the Oakland Raiders are looking to young players to fill his role. C.J. Wilson will plug into the starting role and …

Upvote Share Tweet

Raiders' TE Mychal Rivera convinced progress will soon show up on stat sheet with more production

insidebayarea.com

16 hours ago

Filed for print . . . Mychal Rivera is resolute in the belief he is making progress, even if his numbers suggest otherwise. "There are things a lot of people don't see,'' the Raiders second-year tight end said after a recent practice. "They don't see th…

Upvote Share Tweet

Despite rough return, CB Tramaine Brock key to 49ers secondary

ESPN.com

20 hours ago

Tramaine Brock suffered a painful toe injury in the San Francisco 49ers' season-opening victory at the Dallas Cowboys Sept. 7. The starting cornerback did not play again until this past Sunday night. Against the Denver Broncos. And Peyton Manning. It di…

Upvote Share Tweet

World Series Game 2 draws 49.6 TV rating in Kansas City

yahoo.com

22 hours ago

The Kansas City Royals not only evened up the World Series against the San Francisco Giants in Game 2 on Wednesday night, they also scored an impressive victory of sorts against the NFL's Kansas City Chiefs in the local TV ratings. TV ratings for the Wo…

Upvote Share Tweet

ESPN.com

22 hours ago

ALAMEDA, Calif. -- Brice Butler played 11 snaps Sunday and he has seven catches this season. Yet, he has gotten the attention of the head coach of the Cleveland Browns, who face Butler and the Oakland Raiders on Sunday. "Brice Butler jumps off the …

Upvote Share Tweet

Levi's Partners with 49ers' Vernon Davis

49ersgab.com

Oct 23 (yesterday)

Building on their relationship as the naming rights sponsor of Levi's Stadium, Levi's has added 49ers superstar tight end Vernon Davis to their family of ambassadors as a way to further connect with athletes and sports fans. Davis is known for his perso…

Upvote Share Tweet

Tim Lincecum waited an entire postseason to make an appearance for the Giants, and when it finally happened, the outing lasted all of 23 pitches, as the right-hander was forced to leave Wednesday's Game 2 of the World Series after his back tightened.

Upvote Share Tweet

MLB.com

Oct 23 (yesterday)

The Giants bullpen combined to give up five runs on five hits, allowing the Royals to coast to a 7-2 win Wednesday night that evened the best-of-seven World Series at a game apiece. But it was Hunter Strickland who was right in the middle of it all.

Upvote Share Tweet

Strickland-Perez spat chalked up to misunderstanding

MLB.com

Oct 23 (yesterday)

Omar Infante hit a homer, Hunter Strickland started yelling in English, Salvador Perez yelled back in Spanish and both dugouts momentarily braced for a skirmish that never occurred. After the Royals' 7-2 win over the Giants in Game 2 of the World Series…

Upvote Share Tweet

yahoo.com

Oct 23 (yesterday)

The Kansas City Royals 7-2 victory over the San Francisco Giants in World Series Game 2 didn't necessarily set up perfectly, but it did allow manager Ned Yost to unleash his trio of dominant late-inning relievers with the game hanging in the balance. Th…

Upvote Share Tweet

NFL Live Prediction: Raiders-Browns

Oct 23

The NFL Live crew make their picks for Oakland at Cleveland.

Inside Edge: Raiders-Browns

Oct 23

ESPN NFL Insider Mike Sando delivers stats to help you make a pick for Oakland at Cleveland.

'Inside the NFL': Three teams in running for L.A.

Oct 22

The "Inside the NFL" crew discusses the real possibilities of a NFL team moving to Los Angeles in the near future.

World Series Game 1 Highlight-ary

Oct 22

The Giants beat the Royals 7 to 1 in Game 1 of the MLB Finals. Keith Olbermann explains.