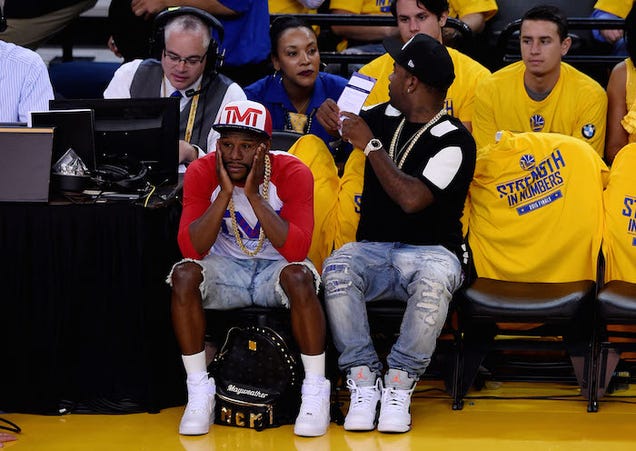 What Happened With Mayweather's Crew At That NBA Game? Cops Won't Say 
deadspin.com
Updated 1 hour ago
More than two months ago, TMZ reported that a member of Floyd Mayweather's crew got into a fight with a woman at a Golden State Warriors playoff game. According to the website, the woman was heckling Mayweather and his entourage, then "allegedly struck"…
Share
Tweet
yahoo.com nytimes.com

4 hours ago

It's been a couple seasons, but the New York Mets are buyers again at the trade deadline. The team proved as much Monday, trading for Oakland Athletics reliever Tyler Clippard. The Mets have acquired RHP Tyler Clippard and cash considerations from Oakla…

Share Tweet

LB Sio Moore to open training camp on PUP list

insidebayarea.com

5 hours ago

Linebacker Sio Moore will open training camp on the physically unable to perform list, the Raiders announced Monday. Moore had surgery to repair a hip injury late last season and went on the injured reserve list Dec. 16. His participation in the offseas…

Share Tweet

Warriors trade Lee to Celtics for Wallace, Babb

nba.com

6 hours ago

The Golden State Warriors have completed the trade sending two-time All-Star forward David Lee to the Boston Celtics for Gerald Wallace and Chris Babb, the teams said Monday.

Share Tweet

yahoo.com

8 hours ago

The alleged victim in the bizarre Miami Dolphins hazing scandal from a few years ago has decided to retire. But it has nothing to do with that. Jonathan Martin, who was claimed by the Carolina Panthers this offseason after a one-year stint with the San …

Share Tweet

MLB Trade Deadline Daily: Orioles seeking power bat, and more

ESPN.com

10 hours ago

MLB Trade Deadline Daily: Orioles seeking power bat, and more

Share Tweet

yahoo.com MLB.com nytimes.com

11 hours ago

San Francisco Giants right-hander Tim Hudson entered his start Sunday with 219 career big-league wins. All that winning has brought Hudson to four All-Star games and a World Series ring last season, but there was still one team out there he had yet to v…

Share Tweet

profootballtalk.com

18 hours ago

A handful of teams have already opened training camps, primarily with just rookies. Today, the numbers get another boost. The Bengals, Broncos, Jaguars, Rams, 49ers and Buccaneers will have rookies report today to kick things off. Veterans in most camps…

Share Tweet

Parity, Extra Wild Card Gives Many Teams Hope in AL

nytimes.com

20 hours ago

The Oakland Athletics have lost four in a row and already traded one of their top pitchers when they sent Scott Kazmir to Houston. They are nobody's idea of a contender.

Share Tweet

49ersgab.com profootballtalk.com

Jul 26 (yesterday)

Mike Holmgren said Friday on The Rich Eisen Show that he checked in on the job market at the close of the NFL's regular season, Dan Hanzus of NFL.com reports, and one job he had his eyes on was that of the 49ers. "This last December, after the season, I…

Share Tweet

nytimes.com MLB.com

Jul 25 (2 days ago)

Madison Bumgarner hit a home run and pitched seven innings for his third consecutive win, powering the host San Francisco Giants past the Oakland Athletics, 2-1, on Saturday.

Share Tweet

Rumor Roundup: Flyers, Sharks and Oilers buzz

thehockeynews.com

Jul 25 (3 days ago)

It appears efforts by the Philadelphia Flyers to trade Vincent Lecavalier have once again proven futile. GM Ron Hextall told CSNPhilly.com's Tim Panaccio his club remains "status quo" with the 35-year-old center, adding they intend to start the season w…

Share Tweet

Jack Del Rio: I don't see why Raiders won't win the AFC West

profootballtalk.com

Jul 25 (3 days ago)

The last time the Raiders won the AFC West, it was at the end of the 2002 season, when Eminem's "Lose Yourself" was the No. 1 song and The Lord of the Rings: The Two Towers was the top movie at the box office. It's been a long time. But new Raiders coac…

Share Tweet

Zobrist 'just waiting' as trade mill heats up

Multiple sources say the A's are actively shopping infielder Ben Zobrist now that left-hander Scott Kazmir is out the door and with his hometown Houston club. The impending free agent, whose value lies in his versatility, is very much privy to such rumo…

Share Tweet

Burns exits game with groin contusion

Billy Burns left Friday's game vs. the Giants in the fourth inning after he fouled a ball off the ground and it bounced up to hit him in the groin in the third inning.

Share Tweet

Gregg Williams says bounties weren't about inflicting injuries

profootballtalk.com

Jul 25 (3 days ago)

Former Saints coordinator Gregg Williams used a bounty system in New Orleans and, allegedly, elsewhere. Over the past three years, Williams hasn't said much about his role in the case, which included cartoonish urgings of violence against 49ers players …

Share Tweet

One day after the trade season officially kicked off with the A's sending left-hander Scott Kazmir to Houston, buzz is heating up before the July 31 non-waiver Trade Deadline.

Share Tweet

How mad was Tuck at Sio Moore, Khalil Mack?

Jul 27

Raiders DE Justin Tuck discusses last season's incident against the Chiefs where he was forced to call a timeout while teammates Sio Moore and Khalil Mack were celebrating.

Public money for private stadiums

Jul 26

Howard Bryant discusses the Rams', Raiders' and Chargers' efforts to use tax dollars to fund their stadiums.

Has Colin Kaepernick improved his mechanics?

Jul 20

ESPN 49ers reporter Paul Gutierrez talks about quarterback Colin Kaepernick's offseason program and what he may have gained.

Most impressive second-year quarterback

Jul 20

NFL Insider Mike Sando polled 35 NFL coaches and evaluators and was surprised to find that Teddy Bridgewater was not the most exciting second-year quarterback in the league.