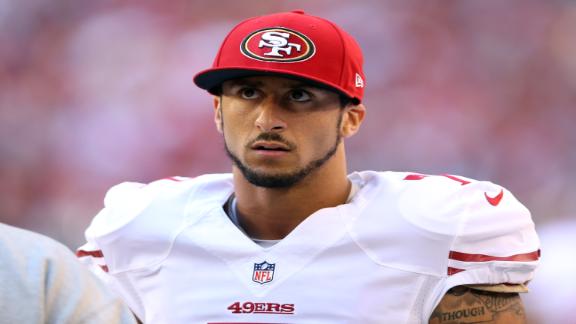 Former Raiders CEO Amy Trask hopes Sarah Thomas gets booed

profootballtalk.com

54 minutes ago

Sarah Thomas has gotten widespread support, as she prepares to go to work as the NFL's first full-time game official. But one of the highest-ranking females in league history hopes she hears it from fans immediately. Former Raiders executive Amy Trask w…

Share Tweet

nytimes.com

9 hours ago

The Mets had only three hits against Chris Heston, who no-hit them last month, but Niese's strong outing and Johnny Monell's ninth-inning double helped the Mets win in San Francisco.

Share Tweet

Pence looks great in BP, nearing return

MLB.com

13 hours ago

Giants right fielder Hunter Pence, who has been on the disabled list retroactive to June 3 with left wrist tendinitis, was scheduled to meet with team doctors Monday to determine if he will be able to return to the lineup later in the week, manager Bruc…

Share Tweet

raidersgab.com

23 hours ago

Mike Tice was part of the Raiders' organizational restructure this offseason, hired to coach up the team's offensive line. As an offensive mind with nearly two decades of experience coaching in the NFL, Tice already likes what he's seeing in Oakland, CS…

Share Tweet

Chris Borland says money was never a factor in retirement call

profootballtalk.com

Jul 6 (yesterday)

Former 49ers linebacker Chris Borland has been widely supported for his decision to walk away from the NFL after a year because of long-term health concerns. But when he talks to people, he hears a common refrain, wondering how he could step away fro NF…

Share Tweet

yahoo.com

Jul 6 (yesterday)

Take a look around the league with Big League Stew's daily wrap up. We'll hit on all of the biggest moments from the day that you may have missed, while providing highlights, photos and interesting stats. The Washington Nationals played with nine fielde…

Share Tweet

nytimes.com MLB.com

Jul 5 (yesterday)

Wilson Ramos snapped a tie with a sixth-inning homer, Jordan Zimmermann pitched seven solid innings and the Washington Nationals beat the struggling San Francisco Giants 3-1 on Sunday night, completing a three-game sweep.

Share Tweet

Montgomery Solid Into 6th, Mariners Beat Athletics

nytimes.com

Jul 5 (yesterday)

Seattle rookie Mike Montgomery put together another fine start, pitching the Mariners past the Oakland Athletics 2-1 Sunday.

Share Tweet

Smith's RBIs give Mariners a lift over A's

MLB.com

Jul 5 (yesterday)

Mike Montgomery couldn't duplicate his back-to-back shutouts, but the Mariners rookie southpaw won his third straight start Sunday as Seattle topped the A's, 2-1, to split a four-game series at the Coliseum.

Share Tweet

Raiders take out full-page ad to support U.S. women's team

profootballtalk.com

Jul 5 (yesterday)

As the U.S. national women's soccer team prepares to face Japan in the final match of the World Cup, the Raiders have issued something far more significant than the perfunctory tweet in support of the effort. Via the Sunday Night Football twitter page, …

Share Tweet

Felix takes rare loss in Oakland

Even on a bad day, Felix Hernandez s good enough to keep his team in a game. But even the King needs a little help, and he didn't get any on Saturday as the Mariners fell to the A's, 2-0, to end his string of 13 straight games without a loss at the Coli…

Share Tweet

Rookie Graveman outduels King Felix in win

A's rookie Kendall Graveman outdueled Mariners ace Felix Hernandez on Saturday as Oakland won a Fourth of July afternoon showdown, 2-0, at the Coliseum.

Share Tweet

nytimes.com

Jul 4 (3 days ago)

Jhonny Peralta's sacrifice fly in the eighth inning broke a 1-1 tie, and Carlos Martinez threw six and two-thirds innings for St. Louis.

Share Tweet

MLB.com nytimes.com

Jul 4 (3 days ago)

Nationals right-hander Stephen Strasburg left Saturday's 9-3 win over the Giants in the fourth inning because of tightness in his left side and was replaced by right-hander Tanner Roark.

Share Tweet

Nats' bats provide Fourth of July fireworks

The Nationals displayed their own set of fireworks in the batter's box and defeated the Giants, 9-3, in Saturday's Independence Day matinee at Nationals Park. Michael Taylor and Bryce Harper homered and Tyler Moore had four RBIs for Washington. Giants l…

Share Tweet

A's End Home Skid Against King Felix, Beat Mariners 2-0

nytimes.com

Jul 4 (3 days ago)

Rookie Kendall Graveman pitched seven innings to help hand Seattle ace Felix Hernandez his first loss in Oakland in nearly seven years, as the Athletics beat the Mariners 2-0 on Saturday.

Share Tweet

Tuck thinks Raiders are headed in right direction

Jul 1

Raiders DE Justin Tuck discusses expectations for the team this season and how rookie WR Amari Cooper has performed so far.

Justin Tuck talks DeSean Jackson

Jul 1

Raiders DE Justin Tuck reacts to Redskins WR DeSean Jackson's comments that the Eagles engaged in a "smear campaign" against him after his release.

How does the rest of the division regard 49ers coach Jim Tomsula?...

Jun 29

ESPN 49ers reporter Paul Gutierrez says coach Jim Tomsula provides a breath of fresh air for the franchise.

Raiders need to develop trio

Jun 26

ESPN Raiders reporter Bill Williamson talks about Derek Carr, Amari Cooper and Khalil Mack as the future of the franchise.