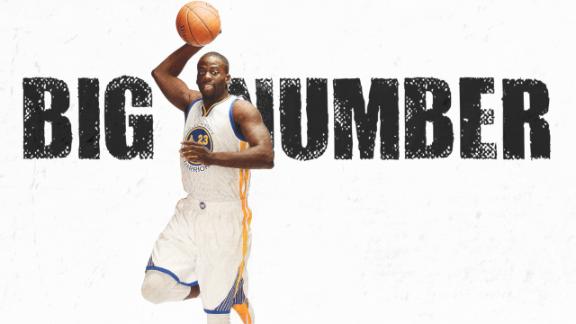 feltbot.com
ESPN.com
yahoo.com
Updated 46 minutes ago
Whew. It was great just to see Steph get to his feet, let alone return to the game, after that Jerry McGuire moment. Although I'm not a fan of the decision to let him return. Doctors are not infallible, the game was totally meaningless and the deficit a…
Share
Tweet
MVP Stephen Curry was able to return to Game 4 of the Western Conference finals after a nasty spill where he flipped over in the air and his head crashed to the court against Houston on Monday night.

Share Tweet

nytimes.com MLB.com

5 hours ago

Hamilton, who has been slowed by shoulder surgery, went 0 for 3, but he reached base on a throwing error in the seventh, a play that provided the decisive run.

Share Tweet

Back in Oakland on Monday for the first time since he was traded by the Athletics last July, Detroit Tigers outfielder Yoenis Cespedes took on a very different team than the one he left last season. Josh Donaldson, Brandon Moss, Derek Norris, Jeff Samar…

Share Tweet

A's to activate Doolittle off DL on Tuesday

MLB.com

9 hours ago

The A's are prepared to reinstate left-hander Sean Doolittle from the disabled list Tuesday, marking the long-awaited return of their All-Star closer.

Share Tweet

Braun blasts Miller Park's longest righty homer

MLB.com

9 hours ago

Ryan Braun's fifth-inning home run vs. the Giants sailed clear out of Miller Park on Monday, conjuring memories of Russell Branyan against Greg Maddux and Sammy Sosa in the All-Stat Home Run Derby more than a decade ago.

Share Tweet

With Iglesias injured, Machado makes debut

MLB.com

10 hours ago

Tigers manager Brad Ausmus was not going to give Dixon Machado a chance to get nervous. He penciled him in as the starting shortstop for Monday's game against the Athletics.

Share Tweet

deadspin.com

13 hours ago

Chicago Bears defensive end Ray McDonald has been arrested by Santa Clara, Calif. police on allegations of domestic violence, according to NBC Bay Area. Read more...

Share Tweet

Glenn Dorsey: There shouldn't be a big letdown because of Justin Smith's retirement

profootballtalk.com

14 hours ago

Glenn Dorsey didn't try to undersell what defensive end Justin Smith meant to the 49ers defense when asked about Smith's retirement last week. Dorsey said you can't replace "the baddest dude I've played with" and that the team's plan moving forward is g…

Share Tweet

Clayton's Quiz: Best QB to run two-point conversions?

May 21

Clayton's Quiz provides a weekly challenge to your NFL knowledge. Which quarterback may grow in value because of the new push for two-point conversions? Is it Russell Wilson, Colin Kaepernick, Tom Brady, or Cam Newton?

Bush looking forward to 'fresh start' with 49ers

May 21

ESPN 49ers reporter Paul Gutierrez discusses running back Reggie Bush's desire to contribute in San Francisco, which was evident when he fielded punts during OTAs -- something he hasn't done in a game since 2011.

How did your NFL team do this offseason?

May 20

ESPN NFL Insider Mike Sando breaks down how he arrived at the conclusion that the New York Jets have made the most significant improvement this offseason, while the San Francisco 49ers' D+ was the lowest mark handed out.

Carr injures finger on throwing hand

May 20

Adam Schefter discusses the injury to Derek Carr's ring finger on his throwing hand and when he may resume throwing.

Sports Columnists

2015 NBA playoffs - Golden State Warriors eye finishing touch against Hous…

May 25

For all intents and purposes, these Western Conference finals are over. The only question that remains: How quickly will Steph Curry and the Warriors seal the deal?

2015 NBA playoffs - Golden State Warriors learning what it takes to be cha…

May 21

Steve Kerr is trying to impress upon his inexperienced Warriors just how hard the playoffs can be, without them actually proving it by adding to the degree of difficulty.

NBA Playoffs 2015 - Golden State Warriors and Houston Rockets going small …

May 21

The Western Conference finals are downsizing. And while Houston has no problem going small, it might be playing right into Golden State's hand.