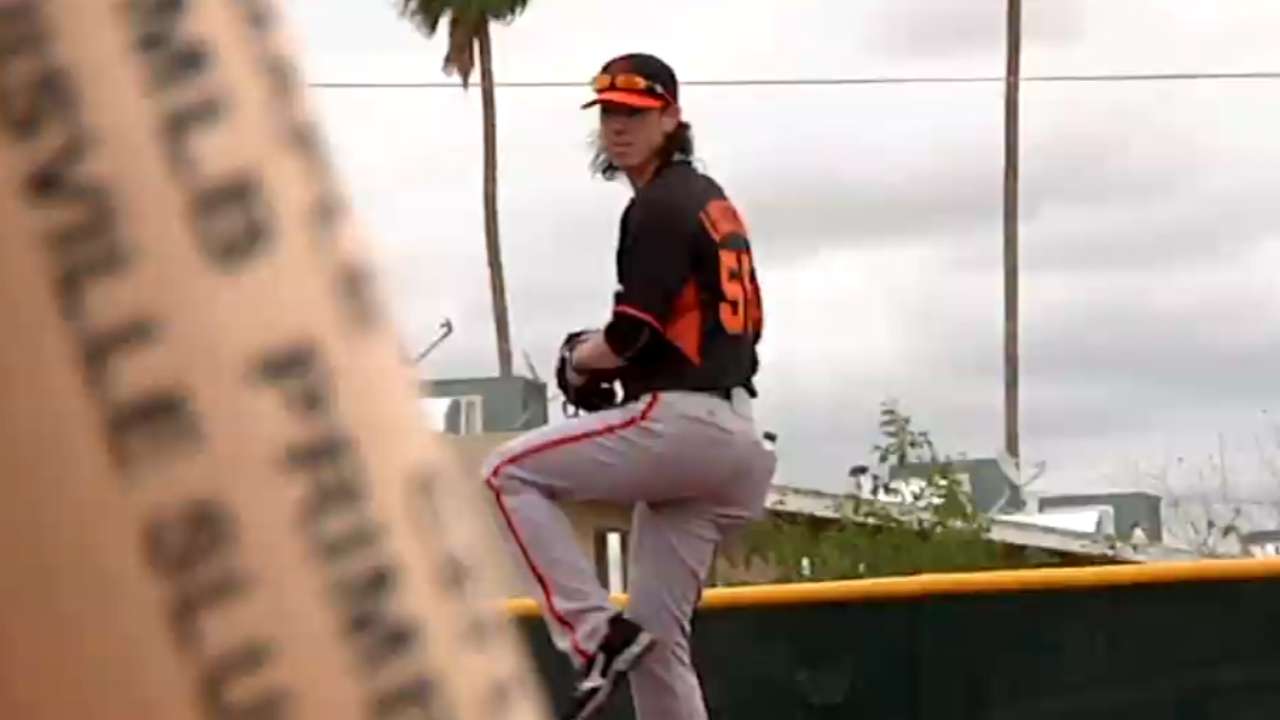 Lincecum showing old form at camp
MLB.com
Updated 1 hour ago
Tim Lincecum has received rave reviews at camp. Of course, he formerly prompted such awe on a regular basis. And if the Giants right-hander truly has recaptured his Cy Young Award-winning form -- well, who knows what could happen this year?
Upvote
Share
Tweet
Struggles behind him, Strickland looks to earn spot in 'pen

MLB.com

3 hours ago

Hunter Strickland shined for the Giants in his first few big league innings in the regular season, but he was hit hard in the postseason. With the struggles behind him, Strickland is looking ahead towards a role with the Giants in 2015.

Upvote Share Tweet

A's hold situational hitting competition at camp

MLB.com

4 hours ago

As the A's continue to get ready for the 2015 season, they spent Friday working on situational hitting, doing so with a friendly competition.

Upvote Share Tweet

THN Trade Deadline preview: Pacific Division

thehockeynews.com

4 hours ago

The Anaheim Ducks may be running away with the division title, but it's the recent surge by the defending Stanley Cup champion Los Angeles Kings that is the story right now. Following eight straight wins, Los Angeles has gone from the outside looking in…

Upvote Share Tweet

Logan Couture of the San Jose Sharks was fined $5,000 by the NHL on Friday for tripping Detroit Red Wings defenseman Brendan Smith.

Upvote Share Tweet

Cavaliers guard Kyrie Irving experienced a left shoulder injury during last night's game at Quicken Loans Arena in Cleveland vs. the Golden State Warriors.

Upvote Share Tweet

Cruz, Newton, Kaepernick part of fruit/vegetable endorsement

profootballtalk.com

5 hours ago

If this is a real thing, it's certainly better for us than another beer or soda commercial. Panthers quarterback Cam Newton, 49ers quarterback Colin Kaepernick and Giants wide receiver Victor Cruz are part of Team FNV, which appears to be a campaign des…

Upvote Share Tweet

Melvin excited about A's new infield

MLB.com

6 hours ago

Odds are the Athletics will begin the 2015 season with a completely different infield than the one that began the 2014 season.

Upvote Share Tweet

​Kendrick Perkins Had A Very Kendrick Perkins Game

deadspin.com

7 hours ago

LeBron James was amazing , but I would like to draw your attention to another remarkable performance from last night's game between the Cleveland Cavaliers and the Golden State Warriors: That of Kendrick Perkins, a rusty tugboat that washed up onto a ba…

Upvote Share Tweet

49ers now under projected cap ... barely

ESPN.com

7 hours ago

The salary cap for the 2015 NFL season is expected to be $143 million, and with the San Francisco 49ers' projected rollover money from last season, they are projected to now be under the cap. As of Thursday afternoon. Per ESPN Stats & Information, t…

Upvote Share Tweet

Rumor Roundup: Blackhawks seek Kane replacement, Sharks have tough decision with Niemi

thehockeynews.com

8 hours ago

Chicago's Patrick Kane is out with a broken clavicle, which has spurred on speculation the Blackhawks will be dogged in pursuing someone to replace some of the winger's production. To be fair, there's no one in this year's trade market capable of adequa…

Upvote Share Tweet

insidebayarea.com

10 hours ago

Safety Tyvon Branch said on his Twitter account Thursday night his seven-year career with the Raiders was over. Branch played only five games over the past two seasons with leg and foot fractures had the highest salary cap number of any player on the ro…

Upvote Share Tweet

thehockeynews.com NHL.com

12 hours ago

Heading in to Thursday night, Luke Glendening had suited up for each of Detroit's 59 games and had scored only seven goals. As such, it was a surprise when Glendening scored against San Jose, but it was twice as unexpected when you see the goal itself. …

Upvote Share Tweet

49ers Free Agent Watch: Michael Crabtree

49ersgab.com

12 hours ago

When the 49ers selected Michael Crabtree with the 10th pick in the 2009 draft, they envisioned the Texas Tech product being their number one receiver for the foreseeable future. Unfortunately for both parties, the marriage didn't always work out as plan…

Upvote Share Tweet

Does new year mean new free-agency approach, success for Raiders?

ESPN.com

14 hours ago

The Reggie McKenzie era with the Oakland Raiders is at a crossroads. McKenzie, entering his fourth season as the team's general manager, is either going to start winning and prove he deserves to keep his job as the Raiders' primary football decision-mak…

Upvote Share Tweet

feltbot.com yahoo.com

20 hours ago

The media storyline of this Cavaliers win over the Warriors: Curry and Klay bad shooting nights, LeBron unstoppable. My storyline: Steve Kerr made it so. I exaggerate a bit of course. LeBron and the Cavs were clearly pointing towards this game, the Warr…

Upvote Share Tweet

LeBron Scores 42 In Win Over Warriors

Feb 26

Highlight Of The Night: LeBron James scored a season-high 42 points and grabbed 11 rebounds in the Cavs' 110-99 win over the Warriors.

Green Throws It Down on Mozgov

Feb 26

Golden State's Draymond Green threw down a monster one-handed dunk on Timofey Mozgov.

Jump Shots Win Championships

Feb 26

The opposite is the conventional wisdom, but teams like the Spurs and the Hawks are part of an evolving NBA where good shooting wins.

Curry On Presidential Meeting, Foot Injury

Feb 26

Marc Stein speaks with Stephen Curry about his time with President Barack Obama and how well his foot is doing after missing a game against Indiana.