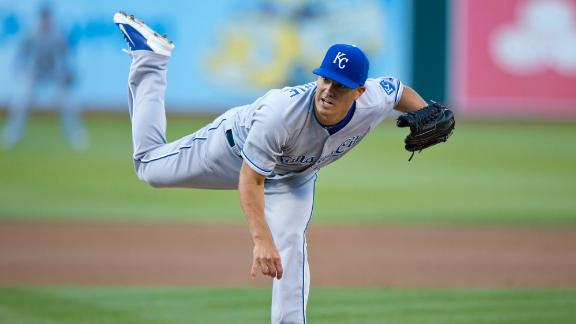 Royals blank A's as Ibanez's homer provides offense

MLB.com

38 minutes ago

Raul Ibanez hit a fifth-inning solo shot against Oakland starter Sonny Gray to lead Kansas City to a 1-0 victory in the series opener. Jeremy Guthrie retired the first nine batters he faced and finished six shutout innings.

Upvote Share Tweet

Raul Ibanez Homers to Carry Royals Past A's 1-0

nytimes.com

1 hour ago

Sonny Gray has been so good over the past two months the Oakland Athletics haven't needed to score runs in bunches.

Upvote Share Tweet

ESPN.com

4 hours ago

NAPA, Calif . -- A daily review of the hot topics coming out of Oakland Raiders training camp: It's probably a good thing Matt Schaub will never have to play against Charles Woodson in a regular season game this season. Woodson picked off Schaub again o…

Upvote Share Tweet

Raiders rookie third-round pick Gabe Jackson represents a changing of the guard as a 336-pound road grader

insidebayarea.com

5 hours ago

Filed for print with expanded notes . . . Gabe Jackson represents a changing of the guard for the Raiders in ways that go beyond inserting the rookie third-round draft pick into the starting lineup. With general manager Reggie McKenzie on record as sayi…

Upvote Share Tweet

nytimes.com

5 hours ago

The Mets are not rebuilding, but they are not contending, and on Friday night they did not come close to winning against the Giants.

Upvote Share Tweet

ESPN.com

5 hours ago

Jon Lester walked through the Oakland clubhouse doors to quite a greeting, from the snappy, patriotic marching tune blaring from the sound system to the handshakes and hellos from every corner.

Upvote Share Tweet

Vogelsong Stifles Mets in Gaints' 5-1 Win

nytimes.com

5 hours ago

Ryan Vogelsong pitched a two-hitter for his second career complete game, Hunter Pence emerged from a deep funk with a triple and three RBIs and the San Francisco Giants beat the New York Mets 5-1 on Friday night for their second straight win after a six…

Upvote Share Tweet

The Giants purchased the contracts of infielder Matt Duffy and outfielder Jarrett Parker from Double-A Richmond on Friday while clearing roster room by designating second baseman Dan Uggla and outfielder Tyler Colvin for assignment.

Upvote Share Tweet

Jon Lester and Jonny Gomes receive patriotic welcome to A's clubhouse

yahoo.com

6 hours ago

The morale in the Oakland A's clubhouse is high after general manager Billy Beane cemented his belief that he has a championship ballclub by acquiring Boston Red Sox ace Jon Lester before Thursday's trade deadline. It also doesn't hurt that in the same …

Upvote Share Tweet

Yielding to a unanimous decision from a panel of medical experts, Giants right-hander Matt Cain almost surely will undergo surgery to have bone chips and spurs removed from his throwing elbow. Given the minimum recovery time for such a procedure, which …

Upvote Share Tweet

MLB.com

7 hours ago

The Jon Lester and David Price trades, made hours apart, were bound to bring up Justin Verlander's reaction to the A's trade for Jeff Samardzija earlier in the summer. Verlander, however, tried to downplay it Thursday.

Upvote Share Tweet

O's may be interested in former closer Johnson

MLB.com

8 hours ago

Jim Johnson pitched for the Orioles for the first eight years of his career, and he was designated for assignment by the Athletics on July 24. O's manager Buck Showalter said the organization likes its former All-Star closer and may make a move if he is…

Upvote Share Tweet

Jim Harbaugh confident in Marcus Lattimore

profootballtalk.com

9 hours ago

Although 49ers running back Marcus Lattimore is still unable to practice, 21 months after a horrific injury at South Carolina, 49ers coach Jim Harbaugh says he's confident Lattimore will contribute to the team. "Marcus is going to be a part of this team…

Upvote Share Tweet

Athletics release Jim Johnson and his $10 million salary

yahoo.com

10 hours ago

Jim Johnson might return to elite closer status someday, but it won't be for the Oakland Athletics. They released him Friday still owing what's left of Johnson's $10 million salary for 2014. In 2012 and 2013, right-hander Johnson saved a combined 101 ga…

Upvote Share Tweet

A's, Tigers, Dodgers: World Series or bust in '14

MLB.com

10 hours ago

Every team would love to win this year's World Series championship, but there are three teams that must win: the Dodgers, Tigers and A's. I mean, they really, really, really must win it all. Anything less than a 2014 World Series trophy for any of those…

Upvote Share Tweet

profootballtalk.com

10 hours ago

When it rains at wide receiver for the 49ers, it pours. Michael Crabtree will miss the next week or two of practice with an injury that the 49ers have not disclosed, although Josina Anderson of ESPN reports that it is a sore hamstring that the team want…

Upvote Share Tweet

yahoo.com

11 hours ago

The respective "anything-you-can-do-I-can-do-better" trades made by the Oakland Athletics and Detroit Tigers before the deadline have not changed who leading odds makers think will win the World Series in 2014. The A's, having added left-hande…

Upvote Share Tweet

Chekwa stepping up at cornerback

ESPN.com

11 hours ago

NAPA, Calif. -- It's only been three years since Chimdi Chekwa came into the NFL as a fourth-round pick of the Oakland Raiders. Yet he's already had so many ups and downs as a player you could not blame him if the frustration became too much to bear. Co…

Upvote Share Tweet

profootballtalk.com yahoo.com

11 hours ago

The 49ers have tabled their contracts talks with coach Jim Harbaugh, and the owner has said they're not apparently far apart on money. But as to the cessation of talks, Harbaugh turned it into a positive, saying he didn't want a new contract with two ye…

Upvote Share Tweet

Here's How To Sneak Into Candlestick Park

deadspin.com

13 hours ago

That guy in the picture above is a reader who just emailed to tell us all about how he snuck into Candlestick Park yesterday, where he hung out on the field for about a half hour without anybody noticing or caring. The key to sneaking in appears to be w…

Upvote Share Tweet

NHL logo rankings No. 16: San Jose Sharks

thehockeynews.com

13 hours ago

On the heels of Sharknado 2 comes San Jose's logo, checking it at No. 16 in THN's rankings. As you can imagine, any image falling in the middle of the pack divided the voters. Half the room praised it for its sense of fun and wonder – It's a friggin' sh…

Upvote Share Tweet

Wednesday's game between the Astros and A's drew a 0.0 rating in Houston and wasn't televised in Oak

deadspin.com

15 hours ago

Wednesday's game between the Astros and A's drew a 0.0 rating in Houston and wasn't televised in Oakland. Read more...

Upvote Share Tweet

profootballtalk.com

17 hours ago

Raiders running back Maurice Jones-Drew is 29 years old and coming off a 2013 season in which he had a career-low 3.4 yards a carry and never looked like he was all the way back to full speed after a foot injury cut short his 2012 season. But he insists…

Upvote Share Tweet

Dave Dombrowski sends Billy Beane funny text after Tigers get David Price

yahoo.com

Aug 1 (yesterday)

The Oakland Athletics made the biggest move of MLB's trade-deadline day by getting Jon Lester. The biggest, that is, until the Detroit Tigers made a deal to acquire David Price from the Tampa Bay Rays in a three-team swap. It was evidence that the AL ar…

Upvote Share Tweet

Vogelsong Pitches Giants Past Mets

Aug 1

Ryan Vogelsong struck out five and allowed only two hits in the Giants' 5-1 win over the Mets.

Former Raiders punter Ray Guy introduced at Hall of Fame Dinner

Aug 1

Rich Eisen introduces Ray Guy at the Pro Football Hall of Fame Dinner where Guy received his gold jacket.

What do the San Francisco 49ers have to do to get over the hump in 2014?

Aug 1

The "NFL Total Access" crew discusses what the San Francisco 49ers must do to have playoff success and reach their goal of a Super Bowl win this season.

Dennis Allen on Khalil Mack: 'He's doing outstanding'

Aug 1

NFL Media's Steve Mariucci found his way to Napa Valley at Oakland Raiders camp and talks with head coach Dennis Allen. They discuss the evolution of rookie linebacker Khalil Mack.