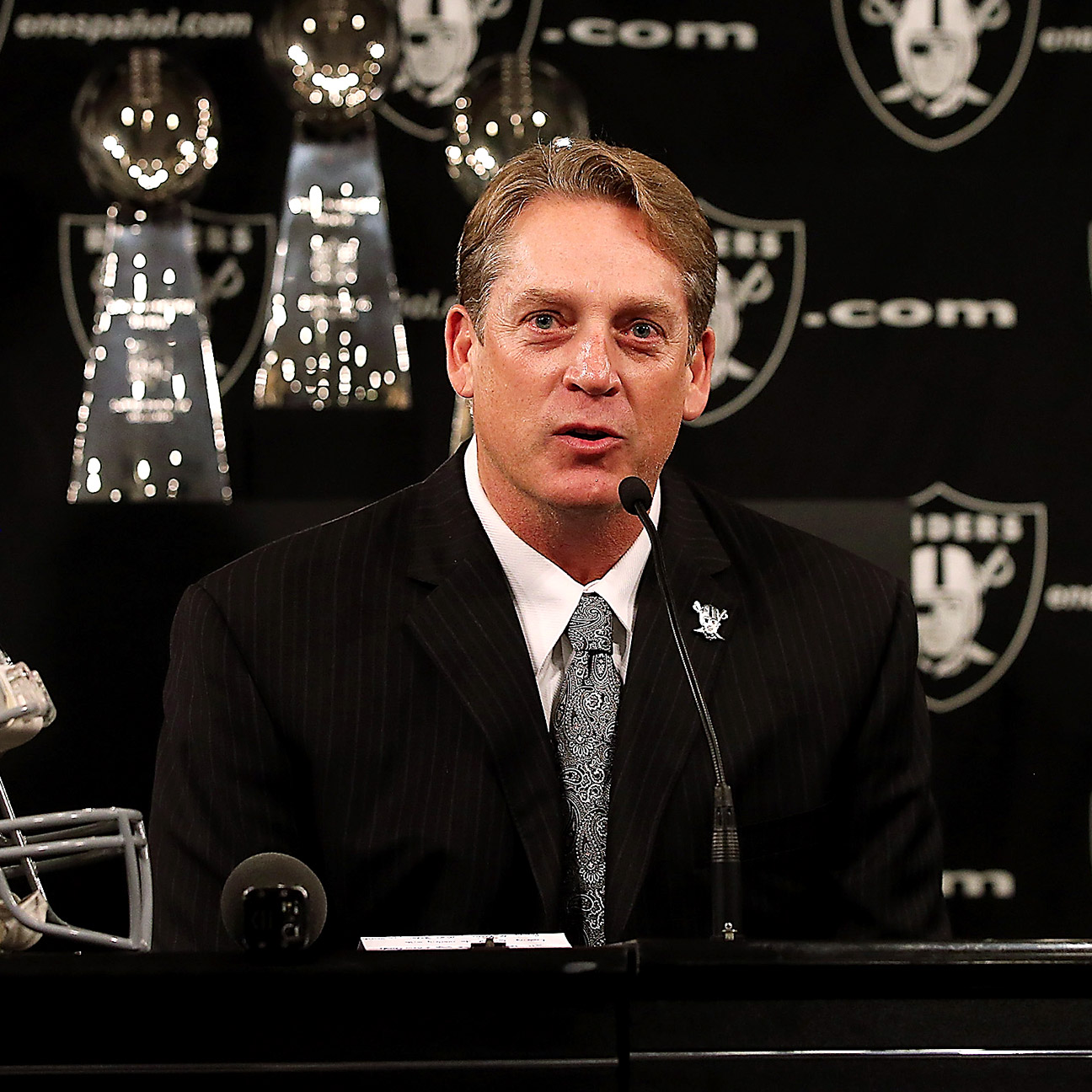 profootballtalk.com
insidebayarea.com
ESPN.com
Updated 6 hours ago
Once upon a time, Jack Del Rio tried to motivate his team with an ax, and he nearly ended up with a one-legged punter. So it's probably for the common good that he's using something softer, like positive vibes this time. Via Tom Pelissero of USA Today, …
Share
Tweet
Raiders GM Reggie McKenzie:`I knew I had to take some lumps . . . it's the best I've felt going into Napa'

insidebayarea.com

4 hours ago

NAPA _ Reggie McKenzie isn't ready to proclaim the Raiders have arrived, but he feels as if they're knocking on the door. After going 11-37 over his first three seasons, McKenzie finally has a roster to his liking as well as an energetic new coaching st…

Share Tweet

Michael Crabtree is the early "star" of Raiders camp

profootballtalk.com

8 hours ago

In crossing the bay (not really, anymore), Michael Crabtree has gone from "third option" to potential superstar. Vic Tafur of the San Francisco Chronicle writes that the former 49er has been the early "star" of camp for the Raiders. There's a long way t…

Share Tweet

Refocused Aldon Smith a linchpin for 49ers' defense

ESPN.com

9 hours ago

Refocused Aldon Smith a linchpin for 49ers' defense

Share Tweet

Khalil Mack continues his growth as the Raiders' "Franchise"

insidebayarea.com

18 hours ago

NAPA — Raiders linebacker Khalil Mack doesn't get flustered easily, but Derek Carr managed to do the trick. While Mack was speaking to a throng of reporters recently at Raiders training camp, the quarterback walked by and shouted out, "Franchise." "DC!,…

Share Tweet

Athletics Edge Indians in 10 Innings, 2-1

nytimes.com

22 hours ago

Mark Canha hit a two-out double in the 10th inning to drive in Sam Fuld and lift the Oakland Athletics to a 2-1 victory over the Cleveland Indians on Sunday.

Share Tweet

Hamilton's homer backs Perez's stellar start

MLB.com

22 hours ago

Josh Hamilton shattered the offensive silence Sunday at Globe Life Park with a sixth-inning home run that complemented Martin Perez's dominant performance as the Texas Rangers outlasted the San Francisco Giants, 2-1.

Share Tweet

ESPN.com

Aug 2 (yesterday)

Darnell Dockett being eased into 49ers' camp after last year's ACL injury

Share Tweet

nytimes.com

Aug 2 (yesterday)

Josh Hamilton hit a two-run homer and Martin Perez allowed only two hits to earn his first win in his comeback from Tommy John surgery as the Texas Rangers edged the San Francisco Giants 2-1 on Sunday.

Share Tweet

Pence sparks Giants' comeback win vs. Texas

MLB.com

Aug 1 (yesterday)

Giants right fielder Hunter Pence tied the game with an RBI single in the eighth and then hit a go-ahead home run in the 11th, providing the force behind a 9-7 Giants win over the Rangers on Saturday.

Share Tweet

insidebayarea.com

Aug 1 (yesterday)

NAPA — The Raiders will put on the pads for the first time Sunday after completing their NFL-mandated two days of acclimation. "The game's played in pads so you really can't get a full evaluation until you see them in pads," coach Jack Del Rio said. "We…

Share Tweet

Sio Moore practices after being activated from PUP list

insidebayarea.com

Aug 1 (yesterday)

NAPA — Linebacker Sio Moore was activated from the physically unable to perform list Saturday and made his practice debut on the second day of Raiders' training camp. Moore missed the final three games of last season with a hip injury that required offs…

Share Tweet

yahoo.com

Aug 1 (2 days ago)

Matt Nieto, San Jose Sharks forward, famous team DJ and member of the Galactic Empire. View the above amazing custom "Star Wars" Clone Trooper that Nieto bought for himself from Factory Xtreme, a store based next to Disneyland in Anaheim. Niet…

Share Tweet

Brooks Earns First Career Win in A's Debut, 5-1 Over Indians

nytimes.com

Aug 1 (3 days ago)

Marcus Semien homered to back a strong outing by Oakland newcomer Aaron Brooks and the Athletics beat the Cleveland Indians 5-1 on Saturday night to snap a three-game losing streak.

Share Tweet

Butler's one-handed grab

Aug 3

Oakland Raiders receiver Brice Butler makes a fantastic one-handed catch during training camp.

Can Kaepernick thrive in San Francisco?

Jul 30

The NFL Insiders explain how coach Jim Tomsula can get the most out of QB Colin Kaepernick this season.

How mad was Tuck at Sio Moore, Khalil Mack?

Jul 27

Raiders DE Justin Tuck discusses last season's incident against the Chiefs where he was forced to call a timeout while teammates Sio Moore and Khalil Mack were celebrating.

Public money for private stadiums

Jul 26

Howard Bryant discusses the Rams', Raiders' and Chargers' efforts to use tax dollars to fund their stadiums.