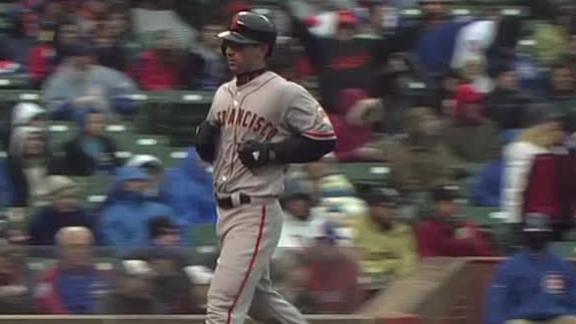 The Warriors filled Kent Bazemore's car with popcorn (Video)

yahoo.com

Apr 11, 2013

There's a long history in pro sports of veterans hazing rookies, and the NBA proves no exception. While players are certainly apt to indulge in making youngsters carry backpacks made for little girls, the league's most popular prank is filling a teammat…

Share Tweet

To spark offense, Trout batting second

In an attempt to get the offense going, Angels manager Mike Scioscia made a rather drastic change for Thursday's series finale against the A's, moving Mike Trout to the No. 2 spot of the batting order.

Share Tweet

Pagan, Panda persevere to back Vogelsong

Angel Pagan had two RBIs and played dazzling defense, and Ryan Vogelsong survived a four-run fourth inning Thursday as the Giants won their fourth consecutive game, a 7-6 decision over the Chicago Cubs.

Share Tweet

Mark Davis is pleased with Reggie McKenzie

An offseason that has featured several significant moves, most notably trading for quarterback Matt Flynn and trading away quarterback Carson Palmer, has left Raiders owner Mark Davis pleased with the work of General Manager Reggie McKenzie. "Everything

Share Tweet

Raiders taking a pass on Wallace for now

Maybe the Raiders weren't talking to Seneca Wallace, but just to a guy who stole his wallet. At any rate, it doesn't appear they're signing the backup quarterback, after reports yesterday that they were. According to Vic Tafur of the San Francisco C

Share Tweet

ESPN.com insidebayarea.com

Apr 11, 2013

The Oakland Raiders have signed safety Reggie Smith and running back Rashad Jennings to free agent contracts.

Share Tweet

Raiders keep working on their secondary

The Raiders have signed three new defensive backs this offseason, but they don't appear to be done making changes to a unit that did not perform well last season. The team announced Thursday that they have signed safety Reggie Smith. Smith was a third-r

Share Tweet

Selig won't meet San Jose mayor about A's

ESPN.com

Apr 11, 2013

San Jose Mayor Chuck Reed's request to sit down with Major League Baseball Commissioner Bud Selig to discuss the Oakland A's pursuit of a San Jose ballpark has been rejected, a newspaper reported.

Share Tweet

Sometimes, a guy who doesn't get it suddenly gets it after he has been cut. If that's the case with former Raiders linebacker Rolando McClain, the Ravens will have gotten a steal. If it isn't, they'll be able to move on with minimal expense. McCla

Share Tweet

Giants Win Fourth Straight

Apr 11

The Giants hold off the Cubs 7-6.

Vince Young works out for Oakland Raiders

Apr 11

Ian Rapoport has the latest on quarterback Vince Young's workout in front of Oakland Raiders personnel.

AFC West draft outlook

Apr 11

Brian Billick breaks down what each of the AFC West teams' needs are heading into the 2013 NFL Draft.

A's Win Eighth Straight

Apr 11

A's crush Angels 8-1.