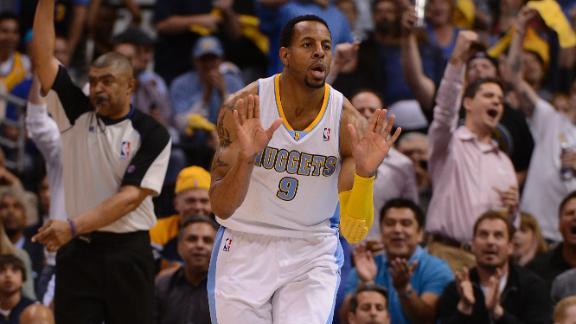 Updated Apr 30
Share
Tweet
Kenneth Faried brought the energy and the Denver Nuggets rediscovered their toughness in time to stave off elimination Tuesday night with a 107-100 win over the Golden State Warriors.
Sources:
ESPN.com
dimemag.com
CNNSI.com
Updated Apr 30

Share Tweet

The Denver Nuggets staved off elimination on Tuesday night, beating the Golden State Warriors 107-100 to extend their best-of-seven first-round series to a sixth game. It was a frustrating night for Warriors sharpshooter Stephen Curry, who came into Gam…

Updated Apr 30

Share Tweet

Hey Raiders Gab fans, if you haven't already, check out the official Raiders Gab on FACEBOOK!!! Click HERE to check it out — a super interactive group of Raiders fans that keep the page busy with comments, debates, and more! Don't miss out — becom

Source:

raidersgab.com

A View from Studio 3: Extra innings, beards and trends

Updated Apr 30

Share Tweet

Early Tuesday morning I was convinced the Angels-Athletics game was delayed by rain. Numerous times. Or maybe the venue was switched to Japan? Why else would the game still be going in the middle of the night?

Source:

MLB.com

Los Angeles Dodgers in Twitter duel with Kaskade, a famous DJ and Giants fan

Updated Apr 30

Share Tweet

When the Los Angeles Dodgers and San Diego Padres had that big bench-clearing brawl a few weeks ago, the Dodgers' Twitter account made some headlines for its snarky dig at the Padres. Whoever runs @Dodgers apparently doesn't just get into 140-character …

Updated Apr 30

Share Tweet

The recommendation has been made, the vote is set and the Sacramento Kings seem all but assured of staying in California's capital city.

Source:

CNNSI.com

Raiders sign familiar kicker

Updated Apr 30

Share Tweet

Sebastian Janikowski is the longest-tenured Raider now that punter Shane Lechler is gone. His job is as secure as anyone on the roster, given his experience and sustained success during his 13-year NFL career. Given that, not much should be made of the …

Source:

insidebayarea.com

Updated Apr 30

Share Tweet

The 49ers have signed 11 undrafted free agents to come to camp and compete for a spot on the roster. While it's generally a long shot, you never know what kind of hidden gem you can find (just look at Alex Boone). One player of note is defensive lineman

Source:

49ersgab.com

Updated Apr 30

Share Tweet

In the wake of NBA player Jason Collins' decision to come out as gay in this week's Sports Illustrated, the obvious conclusion to draw is that it will start a trend of players to do the same.

Source:

CNNSI.com

Butterfinger! Josh Hamilton happily eats candy bars Oakland Athletics fans throw at him

Updated Apr 30

Share Tweet

Usually, when fans throw objects at an opponent while at a ballgame, it is cause for ejection, along with possible arrest. In the case of Oakland Athletics fans and Los Angeles Angels slugger Josh Hamilton, it simply was cause for a snack. A's fans, who…

How Do You Celebrate A 19th-Inning Walk-Off? Pie Yourself In The Face

Updated Apr 30

Share Tweet

Your browser does not support iframes. Brandon Moss won last night's crazy Angels-A's game-which lasted just over six-and-a-half hours and took 19 innings to complete-with a walk-off, two-run homer. Afterwards, Moss was so exhausted and delirious that

Source:

deadspin.com

Don't expect Holmgren to join Raiders

Updated Apr 30

Share Tweet

While anything can change, don't expect Mike Holmgren to join the Oakland Raiders' front office at this point. Raiders owner Mark Davis a few months ago spoke with the former coach and executive about a leadership role within the organization. And whi

Source:

ESPN.com

Josh Hamilton Gives Weird Autographs

Updated Apr 30

Share Tweet

Josh Hamilton tossed this autographed ball to one lucky fan in the right field bleachers during last night's Angels-A's game. It's kind of weird.Read more...

Source:

deadspin.com

The Juice: Long night at the office: Athletics outlast Angels in 19 innings, Marlins net Mets in 15

Updated Apr 30

Share Tweet

Your browser does not support iframes. The Juice returns for season No. 6! It's almost eligible for free-agency! Stop by daily for news from the action, along with great photos, stats, video highlights and more. Marathon men: How does a total of 34 inni…

Updated Apr 30

Share Tweet

Brandon Moss hit his second home run of the game with two outs in the bottom of the 19th inning to give the Oakland Athletics a 10-8 victory over the Los Angeles Angels early Tuesday in the longest major league game of the season.

Updated Apr 30

Share Tweet

A former Oakland Raiders assistant coach is facing up to four years in state prison after being convicted of striking a man with a beer bottle outside a California bar.

Sources:

ESPN.com profootballtalk.com CNNSI.com

Updated Apr 30

Share Tweet

Brandon Belt descended in the batting order Monday night yet soared with his deeds by smacking a tiebreaking, two-run single in the eighth inning that lifted the Giants to a 6-4 victory over the Arizona Diamondbacks.

Blogger Blitz: New QBs In The AFC West

Apr 30

AFC West blogger Bill Williamson and Scouts Inc.'s Steve Muench talk about the new rookie quarterbacks in the division

Playoff Team With Best Draft

Apr 30

Mel Kiper Jr. and Todd McShay identify which 2012 playoff team had the best draft.

Buster Blog: Cespedes Key For A's

Apr 30

Buster Olney blogs about how much better Oakland's record is when OF Yoenis Cespedes is in the lineup.

OTL: Tony Bosch Speaks

Apr 30

Outside The Lines catches up with Biogenesis founder Tony Bosch, who discusses the PED allegations against him.

Sports Columnists

2013 NBA playoffs: Golden State Warriors aren't ready to close things out …

Apr 30

The young Warriors aren't quite ready to close out a series on the road, writes J.A. Adande.