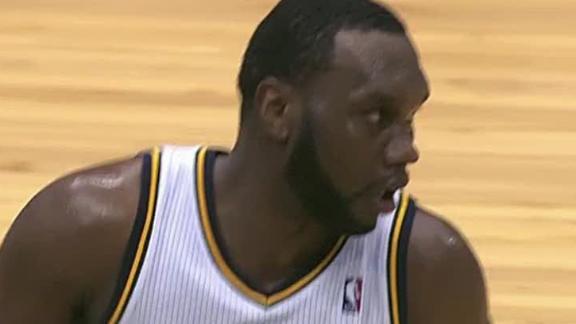 ESPN.com
Updated Feb 19, 2013
Al Jefferson scored 24 points, Gordon Hayward added 17 in his return from a shoulder injury and the Utah Jazz defeated Golden State, 115-101, Tuesday night to extend the Warriors' losing streak to six games.
Upvote
Share
Tweet
Lopez struck by batted ball, bruises pitching hand

MLB.com

Feb 19, 2013

Javier Lopez and the Giants survived a scare Tuesday, when the left-hander sustained a bruise as he was struck on the back of his pitching hand by a short-hop batted ball. Manager Bruce Bochy said that X-rays of Lopez's hand revealed no fracture.

Upvote Share Tweet

PHOENIX (AP) -- Bartolo Colon knew he had failed a drug test for about six weeks before he got hit with a 50-game suspension last season. He made several starts for the Oakland Athletics while knowing he probably wouldn't participate in the pennant race…

Upvote Share Tweet

CNNSI.com

Feb 19, 2013

NEW YORK (AP) -- San Francisco catcher Buster Posey received the steepest increase among players in salary arbitration this year.

Upvote Share Tweet

Local brewery joins Giants in development project

MLB.com

Feb 19, 2013

Anchor Brewing, the largest manufacturer in San Francisco, has joined the city and the Giants organization in the Mission Rock Development Project as the first tenant of a 27-acre project planned for Pier 48.

Upvote Share Tweet

The Oakland A's are the early winners of photo day

It's that time of the spring when baseball players are taking their annual photos - and that usually means a whole lot of entertainment. You'll be seeing more in the coming days here on The Stew, but even in the early stages of photo day, it's obvious t

Upvote Share Tweet

Assessing the 49ers' need at wide receiver

The San Francisco 49ers finished the 2012 season with an NFL-high four wide receivers who entered the NFL as first-round draft choices. One of them, Michael Crabtree, enjoyed a breakout season with 1,105 yards during the regular season, plus 20 receptio…

Upvote Share Tweet

CNNSI.com

Feb 19, 2013

WASHINGTON (AP) -- The ticket is for Row 1, Section B, Seat 7 of the Lower Grand Stand at Griffith Stadium. Game 7 of the 1924 World Series. The perforations are still intact - it was never torn in two by a ticket-taker. It's the only one of its kind kn…

Upvote Share Tweet

Kevin Towers on being 'sexiest GM': 'That's not going to get me a contract extension'

PHOENIX - Nearing the end of Cactus League media day at Chase Field on Monday, Bruce Bochy gave a hardy chuckle and cracked a wry grin. The San Francisco Giants manager had seen The Stew's rankings of the sexiest GMs in baseball, and that his former bos

Upvote Share Tweet

Finding next home for 49ers' Alex Smith

In eight seasons with the San Francisco 49ers, Alex Smith has played for three head coaches, seven offensive coordinators and six quarterbacks coaches (seven if you count Pep Hamilton, who helped Jim Hostler coach the position in 2006). These many assoc…

Upvote Share Tweet

Jacoby Jones' new Ravens Super Bowl back tattoo is … permanent

Look, far be it for any of us to cast aspersions on Jacoby Jones. The man scored two of the most amazing touchdowns in Super Bowl history within just a few minutes of each other: the 56-yard double-juke of two 49ers defenders and the 108-yard runback to…

Upvote Share Tweet

Around the NFC West: QB draft lessons

The Arizona Cardinals head to the NFL scouting combine with the seventh overall pick in the 2013 draft and an unsettled situation at quarterback. Around the NFC West: Feb. 19, 2013 Their division rivals from San Francisco were in a similar spot two year…

Upvote Share Tweet

Will Oakland keep Brandon Myers?

One of the more interesting AFC West free agents this year will be Oakland tight end Brandon Myers. Myers broke out as a receiving threat in 2012. He had 79 catches and he was quarterback Carson Palmer's top receiving target. He was a great bail-out opt

Upvote Share Tweet

Jazz Hand Warriors Sixth-Straight Loss

Feb 19

Al Jefferson leads Jazz past Warriors.

Sports Columnists

Peter King: Free agency this year loaded with talent, not big spenders; ma…

Feb 19

Although there are four teams with more than $30 million in cap room with the dawn of free agency two weeks away, I expect this to be a stingy season for one of the best free agent classes ever.