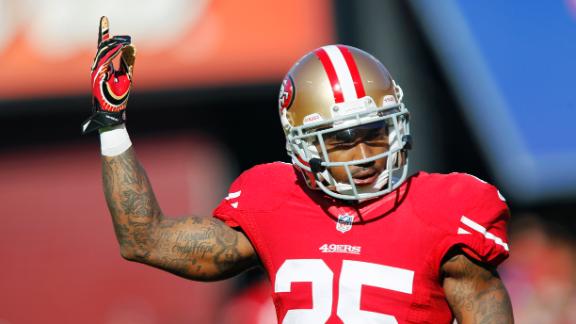 ESPN.com
profootballtalk.com
sfgate.com
yahoo.com
Updated Jul 25, 2013
San Francisco 49ers starting cornerback Tarell Brown has voided a $2 million escalator in his contract after he chose not to participate in the team's voluntary offseason program.
Share
Tweet
insidebayarea.com profootballtalk.com ESPN.com

Jul 25, 2013

First-round draft pick D.J. Hayden and second-round draft pick Menelik Watson were placed on the non-football-injury list today. Therefore, they likely won't participate in the Raiders first practice at training camp in Napa on Friday. The designation s…

Share Tweet

The bizarre case of the missing $2 million

The chart we ran following Eric Wright's trade to the San Francisco 49ers requires two updates. First, we need to subtract Wright from the mix after the 49ers failed him on a physical examination, voiding the trade. Then we need to subtract $2 million i…

Share Tweet

It's all about football now for 49ers Colin Kaepernick

sfgate.com

Jul 25, 2013

If you look at the internet, you would think that 49ers quarterback Colin Kaepernick wore nothing but a Miami Dolphins cap during the off-season — and we do mean nothing. However on the first day of training camp practice, Kaepernick was in no mood to t…

Share Tweet

sfgate.com

Jul 25, 2013

General manager Reggie McKenzie said cornerback D.J. Hayden's medical history was "a non-issue" and not only drafted him 12th but said he would have picked him third had the Raiders not traded down. Hayden's agent made a note of that. According to Pro F…

Share Tweet

Athletics put C Jaso on 7-day concussion DL

The Oakland Athletics have placed catcher John Jaso on the seven-day concussion disabled list.

Share Tweet

49ersgab.com profootballtalk.com

Jul 25, 2013

The 49ers have activated wide receiver Kyle Williams and linebacker Darius Fleming from the active/physically unable to perform list. Both players are expected to start practicing as camp opens. The news on Williams is especially encouraging considering…

Share Tweet

10 NBA Players Ready To Make "The Leap" To Superstar Status

dimemag.com

Jul 25, 2013

Remember when Steph Curry dropped 54 at MSG? Or when Paul George went head-to-head and shot-for-shot with LeBron? How about when James Harden finally made a name for himself as one of the premier players in the league? Those were all moments when great …

Share Tweet

ESPN.com profootballtalk.com

Jul 25, 2013

While Oakland has expressed interested in free-agent offensive lineman Travelle Wharton, he is not going to visit at this point. Oakland's interest in the veteran makes sense because the team needs more experience at guard. But I get the sense Wharton i…

Share Tweet

Frank Gore confident as camp opens for 49ers

49ersgab.com

Jul 25, 2013

The 49ers' veterans reported to the team's facility in Santa Clara on Wednesday to get ready for the start of training camp. The players took their required conditioning tests as they prepare for the first practice on Thursday. The 49ers enter 2013 with…

Share Tweet

Giants embracing advanced metrics movement

MLB.com

Jul 25, 2013

Advanced metrics have obviously grown to play an integral role in front office decisions today. But they have also seeped into pop culture, due in large part to the movie "Moneyball." Some Giants players have taken note.

Share Tweet

Charles Woodson apparently has secured the No. 24 for his return to the Oakland Raiders, but Tracy Porter said on Twitter Wednesday that he didn't give up the number willingly.

Share Tweet

AT&T Park's batter's box was drawn noticeably crooked on Wednesday

yahoo.com

Jul 25, 2013

Though it didn't take long for them to get destroyed and disappear, the batter's boxes originally drawn in for Wednesday night's Reds-Giants game at AT&T Park — yes, San Francisco was officially the home team this time — may be the most crooked and …

Share Tweet

Reds cruise to another victory over Giants

MLB.com

Jul 25, 2013

The Reds clinched Wednesday's series finale at AT&T Park by again knocking around a Giants starter in an 8-3 win to take the season series 6-1 and keep pace with the National League Central-leading Cardinals, who lead the Reds by five games.

Share Tweet

Will the Seattle Seahawks unroost the San Francisco 49ers?

Jul 25

Michael Irvin and Willie McGinest debate if the Seattle Seahawks will usurp the San Francisco 49ers' reign at the top of the NFC West in 2013.

San Francisco quarterback Colin Kaepernick in the spotlight

Jul 25

The memory of last year's Super Bowl loss has San Francisco 49ers QB Colin Kaepernick focused on improving in the upcoming season.

Steve Mariucci 1-on-1 with San Francisco 49ers QB Colin Kaepernick

Jul 25

Steve Mariucci sits down with San Francisco 49ers QB Colin Kaepernick to look back at a memorable 2012 season and how the team plans on moving forward.

Raiders Give Charles Woodson No. 24

Jul 25

AFC West blogger Bill Williamson discusses the Raiders' decision to take the No. 24 from Tracy Porter and give it to Charles Woodson.