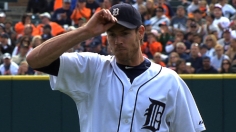 MLB.com
Updated Oct 6, 2012
In a lot of ways, Doug Fister and Tommy Milone are mirror images of one another. Neither has a blazing fastball. Neither throws it more than half the time most games. Instead, they're a reminder that pitching is still about movement, location and changi…
Share
Tweet
CNNSI.com

Oct 6, 2012

Johnny Cueto left the game after eight pitches with back spasms, but that did not derail the Reds. Brandon Phillips and Jay Bruce both homered as Cincinnati beat the Giants 5-1 in Game 1.

Share Tweet

CNNSI.com

Oct 6, 2012

Justin Verlander wanted to prove he was better than his career postseason ERA of 5.75. Did he ever, says Michael Rosenberg. The Tigers' ace dominated the A's in a 3-1 Game 1 win.

Share Tweet

Cincinnati's Johnny Cueto has left his Game 1 start against the San Francisco Giants with back spasms.

Share Tweet

MLB.com profootballtalk.com

Oct 6, 2012

Alex Smith's loyalty to his favorite baseball team was never in question, but until recently, few knew his allegiances came close to costing him a small fortune.

Share Tweet

Belt tumbles over railing to make amazing grab

In the second at-bat of Game 1 of the NLDS, Reds shortstop Zack Cozart popped a ball into foul territory down the first-base line, and the Giants' Brandon Belt made the catch as he went head over heels into a premium seating area.

Share Tweet

Justin Verlander shut down Oakland after a leadoff homer, and Alex Avila went deep in the fifth inning to lift the Detroit Tigers over the Athletics 3-1 in the opener of their AL playoff Saturday night.

Share Tweet

Programming note: Headed for Bills-49ers

NFC West teams play one game in the geographic West this week and I'll be there Sunday. The Buffalo Bills and San Francisco 49ers are scheduled for a 4:25 p.m. ET kickoff from Candlestick Park. That works out to roughly 1:25 local time, by my calculatio…

Share Tweet

Los Angeles Lakers guard Kobe Bryant returned to practice Saturday after sitting out both of Friday's practices with minor discomfort in his right foot and will play in the Lakers' preseason opener Sunday night against the Golden State Warriors.

Share Tweet

Huff's improvement afforded Giants extra pitcher

Manager Bruce Bochy's satisfaction with first baseman Aubrey Huff's mobility proved to be a primary factor in the shaping of the Giants' Division Series roster.

Share Tweet

In a small yet significant gesture, the A's will wear a "GJN" patch on their uniforms through the postseason to honor Gehrig John Neshek, the son of reliever Pat Neshek who passed away Wednesday, just 23 hours after being born.

Share Tweet

Reliever Al Alburquerque has not pitched on consecutive days since August, but the right-hander may be put to that test during the Tigers' ALDS against the A's.

Share Tweet

With the 2012 postseason underway,  Alex Remington takes  a look at the statistics that might make a difference in each of the four first-round series. Next up is the NLDS featuring the NL West champion San Francisco Giants against the NL Central champi

Share Tweet

Three Niners avoid fines from Jets game

profootballtalk.com

Oct 6, 2012

Every Friday (or thereabouts), a stream of reports emerges regarding the fines imposed on players who did things during games they shouldn't have done.  Rarely is it mentioned when players don't get fined. A trio of 49ers won't be able to surrender

Share Tweet

Anderson included on A's ALDS roster

The A's on Saturday morning released their American League Division Series roster, which notably includes starter Brett Anderson, a decision that reflects confidence in the team's belief that the lefty will indeed pitch in the series.

Share Tweet

10 numbers for the ALDS: Tigers vs. A's

yahoo.com

Oct 6, 2012

With the 2012 postseason underway,  Alex Remington takes  a look at the statistics that might make a difference in each of the four first-round series. First up is the ALDS featuring the AL West champion Oakland A's against the AL Central champion Detro

Share Tweet

Verlander All Tigers Needed In Game 1

Oct 6

Terry Francona breaks down Tigers' 3-1 win over A's in Game 1 of ALDS.

Verlander, Tigers Shutdown A's

Oct 6

Justin Verlander strikes out 11 over seven innings to lead Tigers to Game 1 win over Athletics.

BBTN: A's-Tigers Game 2 Preview

Oct 6

Game 2 of ALDS between Athletics and Tigers Sunday 12:07pm ET.