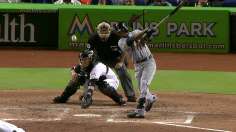 SANTA CLARA, Calif. -- Quinton Patton's bad break may be a good one for Jon Baldwin. It appears Baldwin will get a chance for extra playing time now that Patton has a broken foot. The rookie was hurt in the San Francisco 49ers' 35-11 win at St. Louis on…

Share Tweet

profootballtalk.com insidebayarea.com ESPN.com

Sep 27, 2013

The Raiders are exercising prudence with quarterback Terrelle Pryor. Though Pryor has been "cleared medically" after suffering a concussion Monday night at Denver and practiced on a limited basis on Friday, the club will examine him again on Saturday mo…

Share Tweet

yahoo.com

Sep 27, 2013

The Seattle Mariners announced Friday that Eric Wedge has informed the team he will not return as their manager in 2014. Wedge has agreed to fulfill his contract with the club and manage their final three games against the Oakland A's, but has no intere…

Share Tweet

nba.com

Sep 27, 2013

Seth Curry was walking around the Golden State Warriors practice court during media day festivities Friday when a stranger struck up a conversation.

Share Tweet

St. Louis Rams safety T.J. McDonald suffered a broken leg against the San Francisco 49ers on Thursday night, but the injury will not end his rookie season after just four games.

Share Tweet

Raiders DE Hunter questionable for Sunday

ALAMEDA, Calif. -- Terrelle Pryor (concussion) was a limited participant in practice Friday, and the Raiders quarterback is officially questionable to play Sunday against Washington. Also questionable to play are left guard Lucas Nix (ankle) and left de…

Share Tweet

profootballtalk.com

Sep 27, 2013

When a player lands on the non-football injury/illness list, the team isn't required to pay his salary. For 49ers linebacker Aldon Smith, the team will still be issuing the checks. Though it's unclear how long the 49ers will continue to pay Smith, a lea…

Share Tweet

ST. LOUIS -- His teammates picked up Colin Kaepernick on Thursday night and they loved it. After scoring a touchdown, running back Frank Gore paid homage to his quarterback by flexing and kissing his bicep. Yes, Gore Kaepernicked. After the 49ers' much-…

Share Tweet

profootballtalk.com

Sep 27, 2013

The roller-coaster season for the Colts' running back corps continues. Ahmad Bradshaw, who rushed for a season-high 95 yards in the Colts' Week Three upset of the 49ers, will miss Sunday's game at Jacksonville with a neck injury. Coach Chuck Pagano disc…

Share Tweet

ESPN.com profootballtalk.com yahoo.com

Sep 27, 2013

ST. LOUIS -- An examination of four hot issues from the St. Louis Rams' 35-11 loss to the San Francisco 49ers: Downward spiral: A comeback win in the season opener against Arizona had those following the Rams believing this would, at minimum, be the sea…

Share Tweet

The Washington Redskins, with their still-healing franchise quarterback seemingly rounding back into shape, are 0-3 for the first time since 2001. The Oakland Raiders, with their young quarterback in question after a concussion, are coming off a spankin…

Share Tweet

A review of four hot issues from the San Francisco 49ers' 35-11 road win over the St. Louis Rams: Digging deep: The 49ers simply had to win this game. They were 1-2 and were outscored by a combined 56-10 the past two weeks. Their offense looked horrible…

Share Tweet

Music City Makeover, or Music City Mirage?

CNNSI.com

Sep 27, 2013

A year after posting a 74.0 QB rating, Jake Locker is passing at a 89.8 clip so far this season. (Wesley Hitt/Getty Images) Feeling pretty good about Tennessee quarterback Jake Locker's development? You should. Among the quarterbacks drafted to pilot fr…

Share Tweet

profootballtalk.com nytimes.com ESPN.com

Sep 27, 2013

49ers quarterback Colin Kaepernick now realizes that, if the team's plan is to have him carry the offense, they need a better plan. The better plan on Thursday night (and every night, and part of every day) was to give the ball to Frank Gore, who gashed…

Share Tweet

Chadiha: Have 49ers found themselves?

Against the Rams, the 49ers remembered what made them a contender in the first place, writes Jeffri Chadiha.

Share Tweet

nytimes.com

Sep 27, 2013

Arizona has a veteran quarterback, Carson Palmer, to get the ball to wide receiver Larry Fitzgerald. Tampa Bay has a revamped secondary that should hamper the Cardinals' passing attack.

Share Tweet

Brian Wilson walks across the field to confront Giants CEO Larry Baer, reportedly about his World Series ring

yahoo.com

Sep 27, 2013

Your browser does not support iframes. The scene starring Brian Wilson that took place after Thursday's Los Angeles Dodgers-San Francisco Giants game was a lot like Wilson himself — bizarre. After Wilson's old team closed out a 3-2 victory against his n…

Share Tweet

Ex-SF closer Wilson screams at Giants CEO

The game ended, and Dodgers reliever Brian Wilson hustled toward the opposing dugout to lash out at Giants CEO Larry Baer -- the man who employed the bearded pitcher for seven seasons until he recently joined rival Los Angeles.

Share Tweet

Tim Lincecum received a no-decision Thursday night, which was entirely fitting in light of his uncertain future. He also gave the Giants a chance to win with his efficient seven-inning performance, which set up Angel Pagan's tiebreaking home run in the …

Share Tweet

MLB.com

Sep 27, 2013

With the four starting infielders back in the lineup Thursday night, the Dodgers scored half as many runs as they did the night before without them, so go figure. A 3-2 loss to the Giants means the Dodgers most likely will open the playoffs on the road …

Share Tweet

ESPN.com yahoo.com profootballtalk.com

Sep 27, 2013

ST. LOUIS -- Observed in the locker room following the San Francisco 49ers' 35-11 win over the St. Louis Rams. Staley seems fine: It looks as if standout left tackle Joe Staley is going to be OK. It was a harrowing scene late in the game when Staley wen…

Share Tweet

deadspin.com

Sep 27, 2013

San Francisco 35, St. Louis 11: The 49ers' 1-2 start to this season was a bit of a shock, considering their baffling turd of a home game facing the Colts, but San Francisco looked much better on short rest against the Rams, cruising despite Patrick Will…

Share Tweet

Are the San Francisco 49ers golden again?

Sep 27

Willie McGinest, Darren Sharper, Takeo Spikes and Daniel Jeremiah take a look at San Francisco 49ers' dominating victory over the St. Louis Rams on "Thursday Night Football" and ask if the win portends a Niners rise back into dominance.

San Francisco 49ers will pay Aldon Smith's salary

Sep 27

NFL Media Insider Ian Rapoport reports that the San Francisco 49ers will still pay Aldon Smith while he is in rehab. He will be paid his non football injury list salary and not his active roster salary until he returns.

Pryor Medically Cleared To Play

Sep 27

ESPN Raiders reporter Paul Gutierrez discusses the status of Terrelle Pryor, who has been medically cleared to play but has not been named the starting QB.

Pence Honored Before Giants' Win

Sep 27

Hunter Pence wins the "Willie Mac" Award, given annually to the most inspirational player on the team, before the Giants' 7-3 win over the Padres.