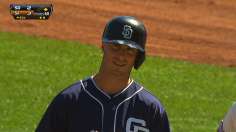 Moments after they started Saturday night's game against the Orioles, the Red Sox clinched the best record in the American League, meaning they will have home-field advantage for every postseason series they play. Home-field advantage officially went to…

Share Tweet

The father of a Dodgers fan fatally stabbed Wednesday during a melee following a Giants baseball game is planning to make a public plea for witnesses after San Francisco's district attorney said he lacks evidence to charge a suspect who has been release…

Share Tweet

A's locked into No. 2 seed after Parker's bumpy day

Jarrod Parker gave up a pair of home runs to Mariners rookie shortstop Brad Miller, including a grand slam, as the division-champion A's fell by a 7-5 margin on Saturday.

Share Tweet

Rookies Miller, Maurer shine as Mariners top A's

Right-hander Brandon Maurer closed out his season with a third straight solid outing and shortstop Brad Miller ripped a pair of home runs as the two rookies helped the Mariners top the playoff-bound A's, 7-5, in the second-to-last game of the year at Sa…

Share Tweet

Pair of Miller HRs help Mariners roar by A's

Brad Miller hit a pair of home runs, including his first grand slam, and the Seattle Mariners beat the Oakland Athletics 7-5 Saturday in a game that decided division-series matchups in the American League.

Share Tweet

3 Reasons Harrison Barnes Should Be In The Dunk Contest

dimemag.com

Sep 28, 2013

The Golden State Warriors have high hopes for the 2013-14 season. After surprising many by defeating the Denver Nuggets to advance to the Western Conference Semifinals, they signed Andre Iguodala in the offseason and look poised to be among the the best…

Share Tweet

Donte Whitner: NFL just wants me to let receivers catch TD passes

For the second week in a row, 49ers safety Donte Whitner is lashing out at the NFL over a penalty he received for a hit to an opposing player. Whitner was called for unnecessary roughness for a hit on Rams wide receiver Chris Givens on Thursday, and on …

Share Tweet

The San Francisco Giants won't allow Hunter Pence to hit the open market this winter. As first reported by CBS Sports' Jon Heyman, the two sides have agreed to a five-year contract extension worth $90 million. The agreement is pending a physical, which …

Share Tweet

CNNSI.com

Sep 28, 2013

NEW YORK (AP) -- The 12-year-old fan who retrieved Alex Rodriguez's record 24th career grand slam ball from the stands at Yankee Stadium says he gave it back because he felt the slugger had "worked hard" for the feat and deserved it.

Share Tweet

SANTA CLARA, Calif. -- Quarterbacks make their reputation on third down. Can they or can't they? Thursday night, Colin Kaepernick, under fire for leading a San Francisco 49ers offense that had scored a total of 10 points in its previous two games, was d…

Share Tweet

Jim Harbaugh says "more action" coming for Jon Baldwin

49ers wide receiver Jon Baldwin's regular-season debut Thursday passed muster with coach Jim Harbaugh, who suggested the 2011 first-round pick could see increased playing time. "There'll be more action for him," Harbaugh said Friday, according to remark…

Share Tweet

The 49ers had high hopes for rookie receiver Quinton Patton, but this season is not going according to plan. Patton caught his first pass of the season on Thursday night against the Rams, but the 49ers have announced that Patton broke a metatarsal bone …

Share Tweet

Bartolo Colon outpitched Felix Hernandez to reach 18 wins for the fifth time in his career, Brandon Moss hit a three-run homer in the first inning and the Oakland Athletics beat Seattle 6-2 on Friday night.

Share Tweet

Authorities in San Francisco say a suspect arrested in the stabbing death of a Los Angeles Dodgers fan after a Dodgers-Giants game has been released from jail.

Share Tweet

Auditions go well for Vogelsong, Giants in win

Ryan Vogelsong ended his winless streak at five games, and a significant number of Giants auditioning for spots on the 2014 Opening Day roster distinguished themselves in Friday night's 7-3 victory over the San Diego Padres.

Share Tweet

The Warriors' roster is full of talent. Is this the season it all comes together?

Share Tweet

The NFL Players Association remains concerned about the manner in which Raiders quarterback Terrelle Pryor's concussion was handled during a Monday night game in Denver. And for good reason. A full two minutes and 50 seconds passed from the time Pryor t…

Share Tweet

San Francisco 49ers head coach Jim Harbaugh quotes Ralph Waldo Emerson while discussing QB Colin Kaepernick

Sep 28

San Francisco 49ers head coach Jim Harbaugh made an interesting comparison when asked about quarterback Colin Kaepernick's unique twitter habits.

Pence Gets 5-Year, $90M Deal With Giants

Sep 28

Doug Glanville and Tim Kurkjian discuss Hunter Pence's five-year, $90 million deal with the Giants.