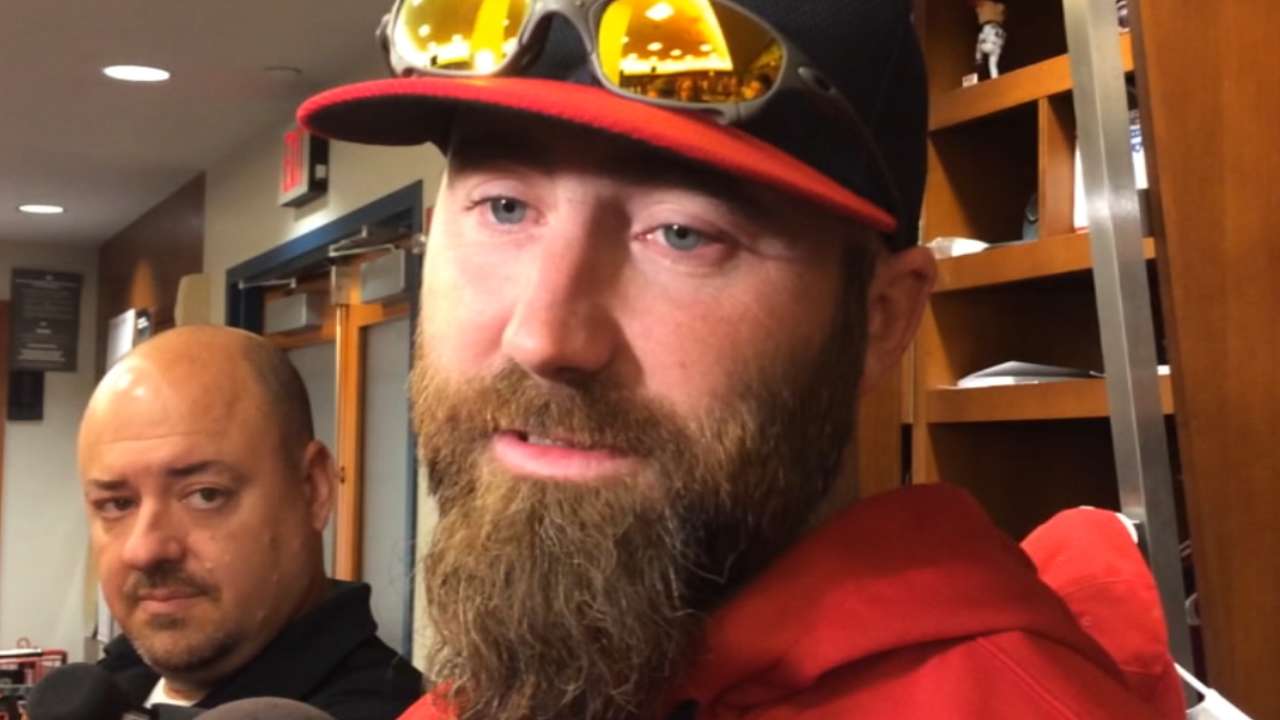 ESPN.com

Dec 16 (4 days ago)

The Colorado Rockies reached agreement Tuesday on a two-year contract with former St. Louis Cardinals infielder Daniel Descalso, the team announced.

Upvote Share Tweet

MLB.com

Dec 16 (4 days ago)

The Cubs have yet to officially announce that they have signed Jason Motte to a one-year contract, but the pitcher confirmed that he has signed with the Cardinals' rival. On Tuesday, Motte said goodbye to Cardinals fans via Twitter.

Upvote Share Tweet

After a week of meeting with agents of available players who could fill the Cardinals' need to add a right-handed-hitting first baseman, the club has found a fit in Mark Reynolds.

Upvote Share Tweet

MLB.com

Dec 11

It wasn't all that long ago that the Cardinals found themselves under the brightest of Winter Meetings spotlights while they attempted to re-sign a franchise first baseman. The club has yet to come close to generating that sort of Winter Meetings intere…

Upvote Share Tweet

St. Louis Cardinals right-hander Carlos Martinez will wear No. 18 next season to honor his late friend and former teammate Oscar Taveras, who died in a car accident in October.

Upvote Share Tweet

Orioles have earned benefit of the doubt

MLB.com

Dec 4

Maybe the Orioles will one day see the week in which they said goodbye to Nelson Cruz and Nick Markakis as one in which their discipline and smarts paid off. The Cardinals made a similar tough call three years ago in allowing Albert Pujols to depart, an…

Upvote Share Tweet

Cardinals willing to rework Lackey's reduced contract

Though the Cardinals have veteran starter John Lackey under contract for the 2015 season, general manager John Mozeliak said he plans to meet with Lackey's agent, Steve Hilliard, at next week's Winter Meetings to possibly discuss the good-faith gesture …

Upvote Share Tweet

Carpenter leaves Cardinals' front office

Nearly 11 months after general manager John Mozeliak announced that Chris Carpenter would move into a front-office role with the Cardinals, Mozeliak confirmed that Carpenter will not be returning to the organization next season.

Upvote Share Tweet

Braves prepare to gauge interest for remaining outfielders

Atlanta addressed its need for starting pitching by trading Jason Heyward to the Cardinals and acquired Nick Markakis to take over in right, but the club remains positioned to make at least one more significant move as it prepares for this year's Winter…

Upvote Share Tweet

Cards opt not to bring back Descalso

As had been anticipated, the Cardinals tendered contracts to all of their arbitration-eligible players except Daniel Descalso before Tuesday's deadline. By choosing not to move forward in the arbitration process with Descalso, the Cardinals have freed t…

Upvote Share Tweet

Cardinals agree to one-year deal with righty Belisle

Right-handed reliever Matt Belisle, an 11-year Major League veteran, has agreed to a one-year contract with the Cardinals, the organization announced on Tuesday. The addition further fortifies the Cardinals' bullpen, which is expected to lose 2014 contr…

Upvote Share Tweet

Braves facing tricky decisions on J. Upton, Gattis

When the Braves sent Jason Heyward to the Cardinals, there was reason to wonder if they would also trade Justin Upton or Evan Gattis. As the club looks toward the future -- with a weak farm system and limited financial flexibility -- there might be temp…

Upvote Share Tweet

Cardinals name Correa director of scouting

Moving swiftly to replace Dan Kantrovitz, who accepted an assistant general manager job with the A's last week, the Cardinals announced on Tuesday that they have promoted Chris Correa to fill their vacant director of scouting position.

Upvote Share Tweet

ESPN.com nytimes.com

Nov 24

Ray Sadecki, who pitched in the major leagues for 18 seasons and won 20 games for the 1964 World Series champion St. Louis Cardinals, has died from complications of blood cancer, his son, Steve, said. Sadecki was 73.

Upvote Share Tweet

MLB.com

Nov 23

Because the Braves dealt Jason Heyward to the Cardinals this offseason, there has been talk that Atlanta also might consider parting ways with fellow outfielder Justin Upton. As the Hot Stove season continues to heat up, multiple reports Sunday said the…

Upvote Share Tweet

Musial exhibit sure to be hit with Cardinals fans

MLB.com

Nov 22

On Friday, the St. Louis Cardinals Hall of Fame and Museum opened its first temporary exhibit, Stan Musial: "The Man" Off the Field. The exhibit focuses on the life and contributions that Musial made outside of baseball, and it will be in plac…

Upvote Share Tweet

Oscar Taveras' family uses his Twitter to share fan tributes

yahoo.com

Nov 21

The family of St. Louis Cardinals outfielder Oscar Taveras, who died last month at age 22 in a car accident in the Dominican Republic, has started using his Twitter account as a digital memorial. On Thursday night, an unidentified family member told the…

Upvote Share Tweet

Mariners acquire Gaviglio from Cards for Kelly

MLB.com

Nov 20

Mariners infielder Ty Kelly, who spent all of last season with Triple-A Tacoma, was traded to the Cardinals on Thursday for right-handed pitcher Sam Gaviglio.

Upvote Share Tweet

Miller excited to get started with Braves

MLB.com

Nov 18

Instead of worrying about what he is leaving behind, Shelby Miller has grown excited about the chance to become an integral part of a Braves organization that is currently making a flurry of changes with the hope of realizing some of the consistent succ…

Upvote Share Tweet

Red Sox Targeting Lester, Masterson

Dec 9

ESPNBoston.com's Gordon Edes reports the latest Red Sox news from the winter meetings, including Jon Lester's free-agent decision and Boston offering Justin Masterson a contract.

Braves Trade Heyward To Cardinals

Nov 17

Buster Olney breaks down the Braves' decision to trade Jason Heyward and Jordan Walden to the Cardinals for Shelby Miller and Tyrell Jenkins.

Heyward Addition Big Plus For Cardinals

Nov 17

Eric Karabell and David Schoenfield discuss the Cardinals' trade for outfielder Jason Heyward.

Mint Condition: Catching Up With Ozzie Smith

Nov 5

Baseball Hall of Famer Ozzie Smith discusses the amount of recognition he still receives for his appearance on "The Simpsons", the memorabilia he kept from his career and the strangest autograph request he's ever received.

Sports Columnists

Dallas Mavericks frontrunners for Jermaine O'Neal after Rajon Rondo acquis…

Dec 19

The acquisition of Rajon Rondo has given the Dallas Mavericks an undeniable edge in the race to lure veteran big man Jermaine O'Neal back to the NBA, according to league sources.

A New NFC West Rivalry

Dec 19

RENTON, Wash. — Remember, oh, about three long months ago, when 49ers-Seahawks was the best rivalry in the NFL? The Niners are 7-7, oddly out of the playoff hunt, and are 1-5 against Seattle since late in 2012. So, is it really such a great rivalry now,…

Source: Seahawks extend Avril four years

Dec 19

The Seahawks have signed pass-rusher Cliff Avril to a four-year extension worth $28.5 million, with $16 million guaranteed, a source confirmed to ESPN...