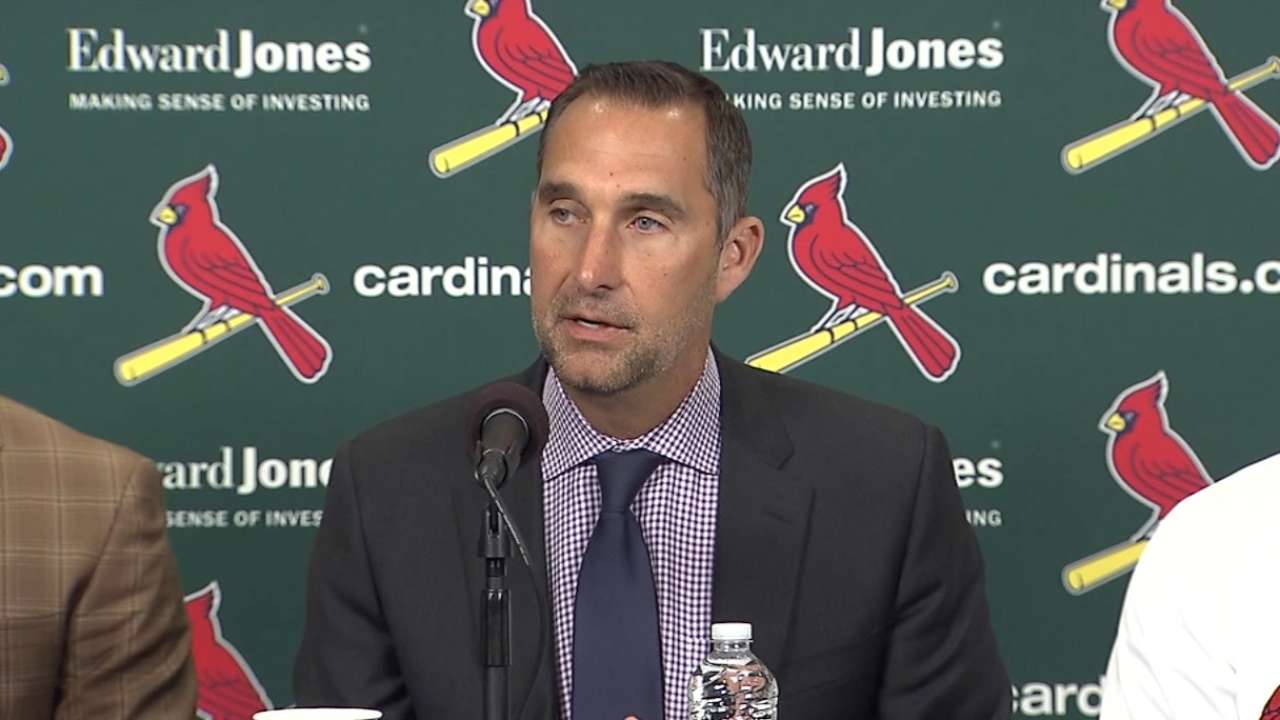 Cardinals in Asia: Oh just first step
MLB.com
Updated 10 hours ago
On the heels of South Korean reliever Seung Hwan Oh signing with the Cardinals, MLB.com began an examination of the organization's decade-long journey back into the Asian market. In this final installment, MLB.com will trace the road to signing Oh and e…
Share
Tweet
yahoo.com

Feb 3 (4 days ago)

In our Homer History series, writers re-tell the stories of memorable home runs from their perspective. In this installment, Yahoo Sports MLB columnist Tim Brown remembers the game in which little Shane Robinson came up big for the Cardinals against the…

Share Tweet

Risky to count out Cards in NL Central

MLB.com

Feb 2 (5 days ago)

The St. Louis Cardinals must be absolutely thrilled that some of us have already conceded the National League Central to the Chicago Cubs. The Cardinals? They're playing for second place -- or third. You can look it up.

Share Tweet

Around the Horn: Holliday anchors the OF

MLB.com

Feb 2 (5 days ago)

This is the fourth installment in a six-part Around the Horn series that will take a position-by-position look at the Cardinals' projected starters and backup options heading into Spring Training. After previously looking at the club's catching depth, c…

Share Tweet

Taking temperature of MLB's hottest rivalries

MLB.com

Jan 24

This is an attempt to identify, with the help of the Hot Stove, the five best rivalries in the game right now. With all due respect to the strict city or state divides, recent postseason history involving the Cardinals and Dodgers, the Royals-Blue Jays …

Share Tweet

Cards add Peguero to Spring Training camp

MLB.com

Jan 22

The Cardinals have added another outfielder to their Spring Training invite list with the signing of 28-year-old Carlos Peguero to a Minor League deal Friday. The contract includes a guaranteed invitation to Major League camp.

Share Tweet

Dynamic duo: Zobrist, Maddon reunite

MLB.com

Jan 20

Growing up in Eureka, Ill., Ben Zobrist was a Cardinals fan, and Ozzie Smith was his favorite player. His father, Tom, who is still the pastor at Liberty Bible Church in the downstate Illinois town, is well aware that a large part of his congregation is…

Share Tweet

MLB announces game times for 2016 season

MLB.com

Jan 19

It will all begin on April 3 at 1:05 p.m. ET, when the Pirates will host the Cardinals at PNC Park on ESPN. It will culminate on Oct. 2 at 3 p.m. ET, when every final-day game will once again have a simultaneous start.

Share Tweet

Martinez at '90 percent,' set for throwing program

MLB.com

Jan 18

Carlos Martinez, who was lost from the team's rotation in late September after suffering a right shoulder injury, estimated that he is back to "90 percent" health with the Cardinals a month away from opening Spring Training.

Share Tweet

Cubs-Cards now 'a rivalry in more than name alone'

MLB.com

Jan 18

When the Cubs and Cardinals played an intense weekend series last season in September, Joe Strauss, the St. Louis Post Dispatch columnist who recently passed away from leukemia, declared that Cubs-Cards was finally "a rivalry in more than name alon…

Share Tweet

DeWitt talks Cards' breach of Astros' system

MLB.com

Jan 17

Cardinals principal owner Bill DeWitt Jr. said he expects it to be a few months before the organization learns of any potential punishment from Major League Baseball regarding the illegal breach of the Astros' database by former scouting director Chris …

Share Tweet

yahoo.com

Jan 16

Those in favor of the designated hitter becoming universal in Major League Baseball were given new reason for hope on Saturday. Speaking at the St. Louis Cardinals Winter Warmup event on Saturday, general manager John Mozeliak says there's increased mom…

Share Tweet

Cubs welcome ex-Cardinals into fold

MLB.com

Jan 16

The Cubs weren't trying to weaken the Cardinals by signing two players who were with St. Louis last season. Free agents Jason Heyward and John Lackey were simply the best fit for the Cubs team.

Share Tweet

Cards seek catching depth as Yadi recovers

MLB.com

Jan 16

Yadier Molina made an appearance on the first day of the Cardinals' Winter Warm-Up event, signing autographs with his right hand while his left rested in a hard black cast. That cast, general manager John Mozeliak said, won't come off until mid-February…

Share Tweet

nytimes.com MLB.com

Jan 15

St. Louis agreed to one-year contracts with closer Trevor Rosenthal, reliever Seth Maness and Brandon Moss, a first baseman and outfielder.

Share Tweet

nytimes.com MLB.com yahoo.com

Jan 11

The St. Louis Cardinals said they had signed Seung Hwan Oh, who had 357 saves in South Korea and Japan.

Share Tweet

yahoo.com

Jan 11

Major League Baseball players will finally get their change to conquer "The Final Boss." The St. Louis Cardinals officially introduced reliever Seung-hwan Oh on Monday. While the 33-year-old compiled some strong stats in Nippon Professional Ba…

Share Tweet

Cardinals' Season Outlook

Feb 28

John Kruk breaks down his expectations for the St. Louis Cardinals this season.

Wainwright Feeling 'Dramatically Better'

Feb 28

Cardinals ace Adam Wainwright says he is not concerned about missing opening day due to an abdominal strain and is looking forward to getting back on the field and performing consistently.

Carpenter, Cardinals Ready For New Season

Feb 28

Cardinals third baseman Matt Carpenter discusses his process to hitting and talks about getting ready for the 2015 season.

Cardinals Taking Cautious Approach With Wainwright

Feb 27

ESPN.com senior writer Jerry Crasnick discusses how the Cardinals are handling Adam Wainwright's abdominal strain.