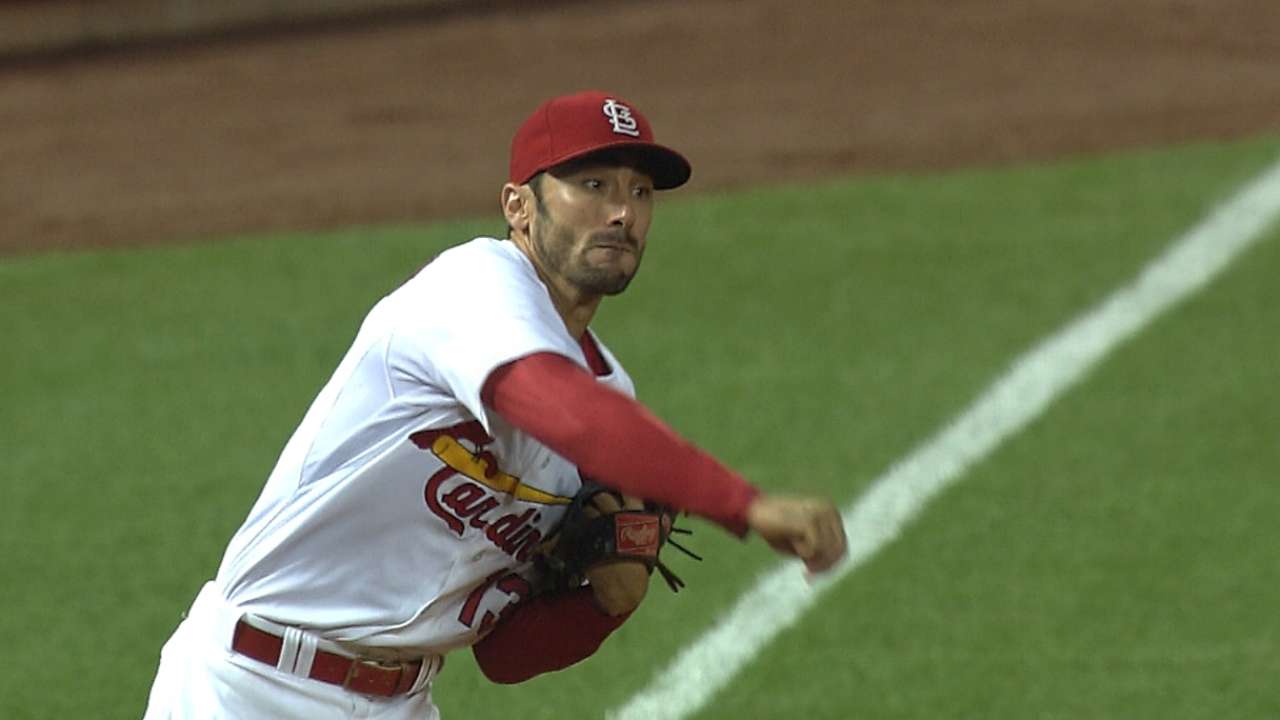 Carpenter plans to be aggressive, but smart
MLB.com
Updated 5 hours ago
The Cardinals have shown no indication that they plan to change Matt Carpenter's placement in their lineup. However, if Carpenter accomplishes what he has set as a season goal, he'll take a different look back into the familiar spot atop the batting ord…
Upvote
Share
Tweet
Martinez to start Grapefruit League opener

MLB.com

6 hours ago

In mapping out their spring pitching schedule, the Cardinals have decided to give Carlos Martinez not just a long look, but also the first one, as Martinez pursues a job in the starting rotation.

Upvote Share Tweet

Lester named to start Cubs' season opener

ESPN.com

7 hours ago

New Chicago Cubs ace Jon Lester will throw the first pitch of the new baseball season April 5 against the St. Louis Cardinals, manager Joe Maddon announced Monday.

Upvote Share Tweet

Haren likely to start first Grapefruit League tilt Thursday

MLB.com

Mar 1 (yesterday)

Marlins manager Mike Redmond said Sunday that veteran right-hander Dan Haren likely will be the starting pitcher for the Grapefruit League opener on Thursday against the Cardinals at Roger Dean Stadium.

Upvote Share Tweet

Grichuk swings, says back has improved

MLB.com

Mar 1 (yesterday)

With an eye on being cleared to return to the field on Monday, Cardinals outfielder Randal Grichuk increased his work in the batting cages on Sunday and reported improvement with his lower back afterward.

Upvote Share Tweet

nytimes.com ESPN.com

Feb 28 (3 days ago)

Adam Wainwright will not pitch in exhibition games until mid-March because of an abdominal strain,

Upvote Share Tweet

Consistent Cardinals have few worries

MLB.com

Feb 27 (3 days ago)

Once more, they have very few question marks. As usual, they have high expectations. In that way, the St. Louis Cardinals never seem to change much.

Upvote Share Tweet

MLB.com

Feb 27 (3 days ago)

Adam Wainwright returned to Cardinals camp on Friday, one day after a St. Louis-area specialist diagnosed him with an abdominal strain that should not keep him from continuing through a spring throwing program.

Upvote Share Tweet

Sure-handed infielder Ellis retires at 37

MLB.com

Feb 25 (5 days ago)

Second baseman Mark Ellis is retiring from baseball, according to a report by the San Francisco Chronicle. The 37-year-old Ellis, a ninth-round selection of the Royals in the 1999 First-Year Player Draft, played 12 years in the Majors with the A's, Rock…

Upvote Share Tweet

The Cardinals are sending ace Adam Wainwright to St. Louis to be examined by a doctor after his workout Tuesday was cut short by abdominal pain.

Upvote Share Tweet

Cardinals to address Taveras tragedy, educate

MLB.com

Feb 24 (6 days ago)

When manager Mike Matheny gathers his players for the first full team meeting of Spring Training on Wednesday, he plans to deliver a message that will reflect on the one missing from the group. It will be the first time that the entire team has been bac…

Upvote Share Tweet

Power arms Diaz, Rondon have chance to impress Rox

MLB.com

Feb 23

Right-hander Jairo Diaz was so shocked at being called up to the Angels from Double-A last September, "I cried." As for righty Jorge Rondon, he struck out 51 in 62 1/3 innings at Triple-A, but the Cardinals called him up for all of one game --…

Upvote Share Tweet

The St. Louis Cardinals intend to limit Adam Wainwright's workload during the spring and perhaps into the season, something their ace isn't completely confident should be a goal.

Upvote Share Tweet

Versatile Villanueva hungry to experience Cardinals baseball

MLB.com

Feb 20

Carlos Villanueva wanted to experience life outside of the National League Central, but when the Cardinals came calling this winter, the reliever jumped at the opportunity.

Upvote Share Tweet

Garcia begins camp optimistic he can regain his form

Within a 38-second portion, of a nine-plus minute interview on his first day in Cardinals camp, Jaime Garcia employed emphatic repetition in an attempt to erase any questions about his status. It came out seven times -- "I'm a starting pitcher."

Upvote Share Tweet

Part of big trade, Walden set to make name for himself

Though not the first name that folks reference when discussing the Cardinals' gain from a four-player trade with the Braves back in November, Jordan Walden likely won't continue to be overlooked. His stature, alone, ensures that.

Upvote Share Tweet

After head start, headstrong Cardinals open camp

If people were unaware of the team's report dates, it would appear to anyone who has stopped by the Cardinals' Florida complex that Spring Training began days ago. There have been games of catch, sessions of batting practice, conditioning drills in the …

Upvote Share Tweet

Bourjos back in action after recovering from hip injury

MLB.com

Feb 18

Recovered from October hip surgery, Cardinals outfielder Peter Bourjos already feels free from the constraints of an injury that affected him more than he had even realized.

Upvote Share Tweet

Cardinals flock to Spring Training early

MLB.com

Feb 16

Though the Cardinals won't hold their first official spring workout until Friday and don't require their position players to be present for another 10 days, the club's facility in Jupiter was buzzing with activity on Monday.

Upvote Share Tweet

MLB.com

Feb 12

There were indeed signs of an early spring on Thursday inside the clubhouse and tunnels of Busch Stadium, as the Cardinals' equipment staff was busy loading two trailers that will soon be bound for the club's Spring Training home in Jupiter, Fla.

Upvote Share Tweet

With his first multiyear deal, Jay avoids arbitration

MLB.com

Feb 9

Jon Jay, the Cardinals' lone remaining unsigned arbitration-eligible player, has avoided a hearing by agreeing to a two-year, $10.975 million deal, which the organization announced Monday. This marks the first multiyear contract of Jay's career and will…

Upvote Share Tweet

Cards sign Jay to 2-year, $10.9M contract

ESPN.com

Feb 9

St. Louis Cardinals outfielder Jon Jay avoided a salary arbitration hearing when he reached an agreement on a two-year, $10.975 million contract with the team Tuesday.

Upvote Share Tweet

Cardinals' Season Outlook

Feb 28

John Kruk breaks down his expectations for the St. Louis Cardinals this season.

Wainwright Feeling 'Dramatically Better'

Feb 28

Cardinals ace Adam Wainwright says he is not concerned about missing opening day due to an abdominal strain and is looking forward to getting back on the field and performing consistently.

Carpenter, Cardinals Ready For New Season

Feb 28

Cardinals third baseman Matt Carpenter discusses his process to hitting and talks about getting ready for the 2015 season.

Cardinals Taking Cautious Approach With Wainwright

Feb 27

ESPN.com senior writer Jerry Crasnick discusses how the Cardinals are handling Adam Wainwright's abdominal strain.