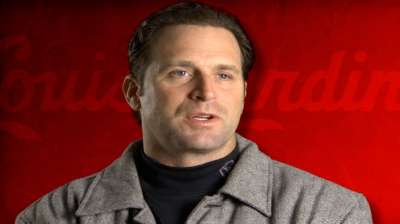 Cards GM Mozeliak preaching patience at Meetings
Updated 5 hours ago
Share
Tweet
A right-handed-hitting infielder remains atop the Cardinals' offseason wish list, but general manager John Mozeliak said he feels no pressure to ensure that a deal gets done during his four-day stay at the Winter Meetings.
Updated 15 hours ago

Share Tweet

The Hot Stove gets even hotter with this week's winter meetings. Here are the stories to watch for.

Cards set to add McCarver to broadcast team

Updated Dec 8 (yesterday)

Share Tweet

As first reported by the St. Louis Post-Dispatch, FOX Sports Midwest is nearing completion of a deal that would add Tim McCarver to the Cardinals' broadcast booth in a limited role next season.

Updated Dec 6 (3 days ago)

Share Tweet

Robinson Cano is leaving the Yankees and going to Seattle for $240M and one very simple reason.

Not done yet: Tim McCarver might join Cardinals broadcasts

Updated Dec 6 (4 days ago)

Share Tweet

Tim McCarver never said he was retiring. Not yet. No matter that he won't return to the national Fox broadcasts, there might be another TV job for him in 2014 with the St. Louis Cardinals. The St. Louis Post-Dispatch says discussions are underway that c…

Updated Dec 5 (4 days ago)

Share Tweet

Two people familiar with the situation say free-agent infielder Rafael Furcal and the Miami Marlins have agreed to terms on a contract.

Updated Dec 5 (4 days ago)

Share Tweet

A person familiar with the deal tells The Associated Press that the Boston Red Sox and reliever Edward Mujica have agreed on a two-year contract.

Updated Dec 2

Share Tweet

Unwilling to pay the salary John Axford would have commanded in the arbitration process, the Cardinals non-tendered the right-handed reliever Monday. As a result, Axford becomes a free agent a little more than three months after the Cardinals acquired h…

Shelby Miller's wedding gets extensive New York Times coverage

Updated Nov 30

Share Tweet

Congratulations are in order for St. Louis Cardinals right-hander Shelby Miller, who recently married his girlfriend of two years, Amy Peters, in a ceremony held in Missouri. Typically, this is news we wouldn't touch on here for a couple reasons. First …

Report: Diamondbacks against rewarding known PED users with big contracts

Updated Nov 27

Share Tweet

The aftershocks of Jhonny Peralta's four-year, $53 million contract with the St. Louis Cardinals may be felt for years to come if it leads to harsher penalties for PED users. For now, though, the Arizona Diamondbacks are happy to take their own stance a…

GM John Mozeliak answers Jhonny Peralta backlash: Not 'Cardinals' responsibility to be morality police'

Updated Nov 26

Share Tweet

Some don't like the St. Louis Cardinals signing of Jhonny Peralta because, to them, it shows that cheating can pay off. Right-hander Brad Ziegler of the Arizona Diamondbacks said as much but he isn't the only one holding such an opinion. After all, Pera…

Watch: Ortiz's Series speech that fired up Sox

Updated Nov 26

Share Tweet

The three-run homer hit by Boston's Jonny Gomes off Cardinals reliever Seth Maness in Game 4 represented the turning point of the 2013 World Series. Before Gomes hit it, St. Louis was ahead two-games-to-one, and tied 1-1 through five innings at home in …

Inbox: How do departures reshape Cards' roster?

Updated Nov 26

Share Tweet

In the latest Cardinals Inbox, fans ask if Matt Carpenter will replace David Freese at third base, if the club will pursue Robinson Cano, whether Oscar Taveras is likely to earn the nod in center and more.

Cards waste no time addressing needs to improve

Updated Nov 26

Share Tweet

It is difficult to make the argument that a team that won 97 games during the regular season and then reached the World Series is getting better. But this is what the evidence that the Cardinals present us says. The Cards have wrapped up their two most …

Updated Nov 25

Share Tweet

The St. Louis Cardinals factored in Jhonny Peralta's drug suspension when they negotiated a four-year deal worth more than $50 million with the free agent shortstop.

Updated Nov 24

Share Tweet

A quiet Saturday quickly turned into one of the busiest days of the offseason with Brian McCann joining the New York Yankees and Jhonny Peralta reportedly nearing a deal with the St. Louis Cardinals. Now comes word from CBS Sports' Jon Heyman that covet…

Updated Nov 22

Share Tweet

The St. Louis Cardinals have traded third baseman and former World Series MVP David Freese to the Los Angeles Angels for outfielder Peter Bourjos as part of a four-player trade, the teams confirmed Friday.

Updated Nov 21

Share Tweet

Boston Red Sox players are getting an extra $307K for winning the World Series, while the runner-up St. Louis Cardinals are each getting a bonus of $228K for their playoff run.Major League Baseball announced Thursday how it will distribute the $62,683,9…

Beltran To Yankees

Dec 6

ESPNNewYork.com's Andrew Marchand breaks down Carlos Beltran and the Yankees agreeing to a three-year, $45 million deal.

Are Mega-Deals Mega-Mistakes?

Dec 4

SC Centerpiece: Tim Kurkjian, Wallace Matthews and Colin Cowherd debate if long-term deals are a mistake.

SweetSpot TV: Rapid Recap

Nov 26

Eric Karabell and David Schoenfield break down the latest trade news with another edition of rapid fire

Peralta Agrees To Deal With Cardinals

Nov 24

ESPN senior baseball analyst Jim Bowden discusses Jhonny Peralta's four-year deal with the Cardinals worth around $52 million.