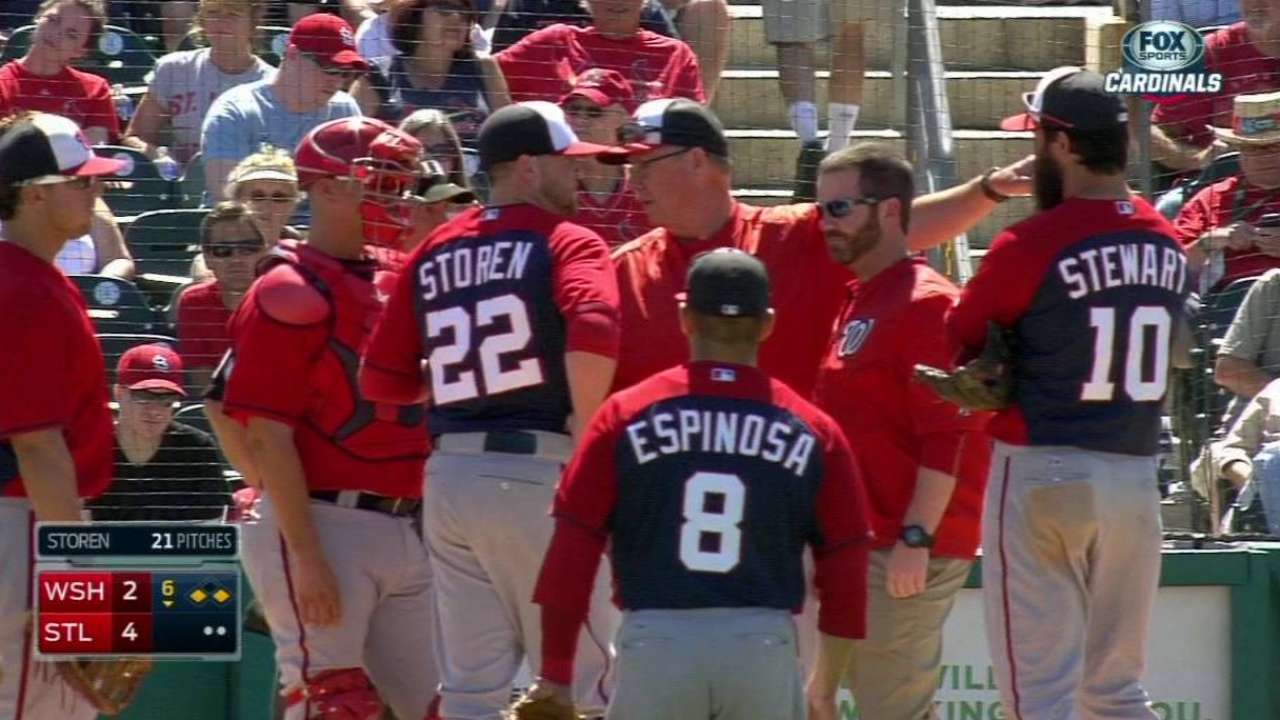 nytimes.com
MLB.com
Updated 12 hours ago
Washington Nationals closer Drew Storen exited early because of a blister on his right big toe Monday in a 6-2 loss to the St. Louis Cardinals.
Share
Tweet
Wong sees positives despite down spring

MLB.com

12 hours ago

In one of his better games of the spring, second baseman Kolten Wong drew two walks and scored a run in the Cardinals' 6-2 win against the Nationals on Monday. The fact that such a performance is notable is indicative of the tough time Wong has had in G…

Share Tweet

ESPN.com

13 hours ago

The St. Louis Cardinals have picked Carlos Martinez as their fifth starter and put pitcher Jaime Garcia on the 15-day disabled list.

Share Tweet

nytimes.com

Mar 29 (yesterday)

Dillon Gee allowed singles to four of his first five batters, then settled in to pitch seven innings Sunday in the New York Mets' 3-2 win over the St. Louis Cardinals.

Share Tweet

Jaime Garcia was scratched from Sunday's start by the St. Louis Cardinals because his surgically repaired shoulder doesn't feel right, making it unlikely he will start the season on the active roster.

Share Tweet

Cabrera Homers, Leads Tigers Over Cardinals 4-3

nytimes.com

Mar 28 (3 days ago)

Miguel Cabrera hit his second home run of the spring and raised his average to .385, leading the Detroit Tigers past the St. Louis Cardinals 4-3 Saturday.

Share Tweet

Cardinals trade Freeman to Rangers

MLB.com

Mar 28 (3 days ago)

Lefty Sam Freeman, whose roster status was complicated by his being out of Minor League options, was traded to the Rangers on Saturday. In return, the Cardinals will receive a player to be named later or cash considerations.

Share Tweet

Cardinals HOF candidacy brings back fond memories for Morris

MLB.com

Mar 28 (3 days ago)

This is the fourth in a series of stories profiling the eight modern candidates on the Cardinals' 2015 Hall of Fame ballot.

Share Tweet

nytimes.com

Mar 27 (3 days ago)

The Mets' ace has compiled a 1.45 earned run average over 18 2/3 innings, with 17 strikeouts and a walk.

Share Tweet

MLB.com nytimes.com

Mar 27 (4 days ago)

After using his first two spring starts to focus on specific pitches, John Lackey met with catcher Yadier Molina on Friday morning, asking him to call the game as he would in the regular season. What followed was a seven-inning performance from Lackey t…

Share Tweet

Storen passes test in return from hand surgery

Nationals closer Drew Storen entered Friday's 1-1 tie with the Cardinals in the seventh inning, making his first appearance in a Grapefruit League game since he had a minor surgery to remove the hook of the hamate bone in his left hand. Naturally, the f…

Share Tweet

Nationals 1B Zimmerman Leaves Early After Dive vs. Cardinals

nytimes.com

Mar 27 (4 days ago)

Washington first baseman Ryan Zimmerman made an early exit after jarring himself diving for a grounder, and the Nationals said he was OK after a 1-1 tie with the split-squad St. Louis Cardinals on Friday.

Share Tweet

yahoo.com

Mar 27 (4 days ago)

With opening day approaching, the Big League Stew crew is here to get you up to speed on the season ahead. We're examining each division over the next two weeks, looking at the big questions, the important players and making our predictions. Our series …

Share Tweet

Martinez cuts ERA in latest bid for Cards' rotation

Right-hander Carlos Martinez made his case in the competition for the final spot in the Cardinals' rotation during Friday's 1-1 tie with the Nationals. Martinez allowed one run on five hits in five innings while striking out six and walking two.

Share Tweet

Matt Harvey didn't let his 26th birthday celebration linger on Friday. The Mets' ace waited out a brief rain delay before setting a new high of 80 pitches in his 4 1/3-inning, one-run outing against the Cardinals.

Share Tweet

After correcting an issue with his eyes in the offseason, Uggla is tracking the ball better this spring. Entering Friday's game against the Cardinals, Uggla had more hits (10) and walks (7) than strikeouts (5) and was batting .323/.462/.581 overall. Yes…

Share Tweet

The Nationals' Bryce Harper missed his second straight game on Thursday while dealing with a stomach bug, but he returned to the lineup on Friday against the Cardinals, batting third and playing right field.

Share Tweet

Prosecutors say a white St. Louis-area man was driven by racism when he allegedly punched former Cardinals outfielder Curt Ford.

Share Tweet

nytimes.com

Mar 26 (4 days ago)

Heyward, a 25-year-old Cardinals outfielder with a wide range of skills, could become a free agent after this season.

Share Tweet

Rain Helps Cards' Wainwright Clean Up Tough Outing vs Miami

nytimes.com

Mar 26 (5 days ago)

St. Louis Cardinals ace Adam Wainwright gave up four runs, including a solo homer by Giancarlo Stanton, in 3 2-3 innings Thursday before a rain delay ended his outing in a 5-3 loss to the Miami Marlins.

Share Tweet

Cardinals' Season Outlook

Feb 28

John Kruk breaks down his expectations for the St. Louis Cardinals this season.

Wainwright Feeling 'Dramatically Better'

Feb 28

Cardinals ace Adam Wainwright says he is not concerned about missing opening day due to an abdominal strain and is looking forward to getting back on the field and performing consistently.

Carpenter, Cardinals Ready For New Season

Feb 28

Cardinals third baseman Matt Carpenter discusses his process to hitting and talks about getting ready for the 2015 season.

Cardinals Taking Cautious Approach With Wainwright

Feb 27

ESPN.com senior writer Jerry Crasnick discusses how the Cardinals are handling Adam Wainwright's abdominal strain.