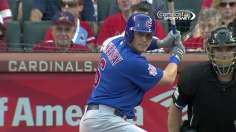 Cubs hand Cardinals their third loss in five games
Share
Tweet
Nats-Phils rivalry quiet now, but could erupt

MLB.com

Jun 18, 2013

The rivalry between the Nationals and Phillies is newly minted. As a result, it's not as entrenched as some of the more storied contentious relationships in baseball such as Yankees-Red Sox. Dodgers-Giants. Cardinals-Cubs. Expect that to change.

Share Tweet

First-round pick Kaminsky inks deal with Cardinals

MLB.com

Jun 18, 2013

After passing a physical, Rob Kaminsky, an 18-year-old left-handed pitcher out of St. Joseph Regional (N.J.) High School, signed his contract Tuesday at Busch Stadium. He will begin his Minor League career in Jupiter, Fla., with the Gulf Coast League Ca…

Share Tweet

Shelby Miller earned the win in the Cardinals' 5-2 victory over the Cubs on Monday, but he lasted only five innings because of cramping in his right leg. He was picked up by four relievers who preserved the lead.

Share Tweet

Sports Columnists

2013 NBA playoffs -- Spurs left to regroup after Game 6

Jun 18

The Spurs were less than a minute away from a title, but now they're forced to regroup for a Game 7.

2013 NBA Finals -- Chris Bosh of Miami Heat -- Danny Green of San Antonio …

Jun 18

After San Antonio Spurs guard Danny Green hit 66 percent of his 3-pointers through the first five games of the NBA Finals, the Miami Heat's Chris Bosh declared there will be a different look for Game 6: no more open shots.