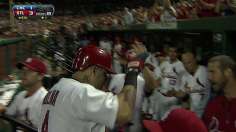 MLB.com
Updated Jun 19, 2013
Yadier Molina's tiebreaking two-run homer off former teammate Edwin Jackson in the sixth inning pushed the Cardinals toward a 4-1 win in the third meeting of the four-game rivalry series with the Cubs.
Share
Tweet
Travel plans adjusted to spend off-days at home

MLB.com

Jun 19, 2013

The Cardinals are nearing the end of a 48-day stretch in which they will have had just three scheduled off-days. And because of a quirk in the schedule, they'll follow it with a period in which the team will have three off-days during an eight-day span.

Share Tweet

'He tried to kill me': Starlin Castro after Shane Robinson's takeout slide

yahoo.com

Jun 19, 2013

Starlin Castro wouldn't let it slide this time. He expressed his displeasure at Shane Robinson because of Robinson's takeout attempt on the last play of the Chicago Cubs 4-2 victory against the St. Louis Cardinals on Tuesday night. His team down two run…

Share Tweet

ESPN.com

Jun 19, 2013

Ryan Sweeney and Cody Ransom hit back-to-back homers in a four-run first inning and that was plenty for Jeff Samardzija, who pitched the Chicago Cubs over the St. Louis Cardinals 4-2 Tuesday night.

Share Tweet

The GM's Office: Mark Of A Master

Jun 19

Cardinals GM John Mozeliak stops by the GM's Office to talk about Adam Wainwright's performance, star prospect Oscar Taveras, and how Tony La Russa's replacement, Mike Matheny, has done so far.

Molina's Home Run Gives Cards Flight

Jun 19

Yadier Molina's two-run home run lifted the Cardinals over the Cubs.