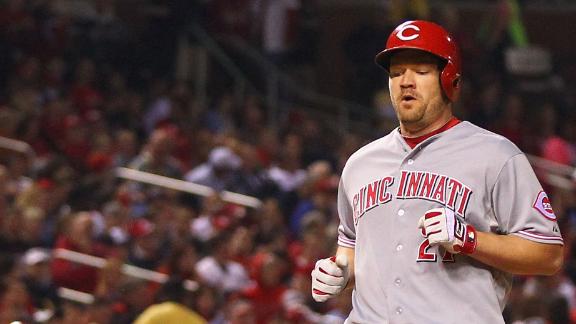 The Cardinals clinched baseball's final postseason berth Tuesday night when the Dodgers lost to San Francisco.
Share
Tweet
Matheny recognizes importance of celebrating

MLB.com

Oct 2, 2012

Over the past week, differing opinions emerged from the Cardinals' clubhouse about whether or not clinching a spot in the Wild Card game warranted a champagne-popping, raucous celebration -- much like the one the Braves partook in last week, when they s…

Share Tweet

Cardinals fans seem happy that Albert Pujols won't be appearing in the playoffs

yahoo.com

Oct 2, 2012

With one more victory or a Los Angeles Dodgers loss, the St. Louis Cardinals will clinch their second trip to the postseason in as many years. Now, is there a chance their journey might only last one day with a loss to the Atlanta Braves in Friday's wil…

Share Tweet

Dodgers ballboy takes funny tumble into stands after trying to snag foul ball (Video)

yahoo.com

Oct 2, 2012

The elimination number of the Los Angeles Dodgers is down to one, but they're not going quietly just yet. A 3-2 walkoff win over the San Francisco Giants on Monday night kept the team's hopes of forcing a Thursday tiebreaker with the St. Louis Cardinals…

Share Tweet

MLB.com

Oct 2, 2012

If the Nats end up with the best record in baseball, they could start on Sunday against the Wild Card team -- either the Braves or Cardinals. If they have the second-best record, behind the Reds, they'll start on Saturday, against the Giants.

Share Tweet

Reds Hold Off Cardinals

Oct 2

Scott Rolen homered off Chris Carpenter, helping the Reds keep the Cardinals' postseason plans on hold.