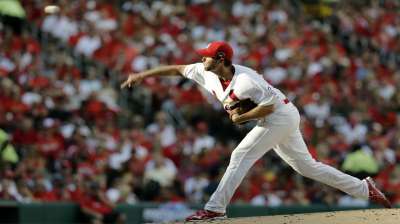 MLB.com
Updated Oct 9, 2013
Adam Wainwright spoke to the media after the Cardinals' Game 5 series-clinching victory over the Pirates.
Share
Tweet
Glum Pittsburgh Pirates Fans Still Grateful For Not-Awful Season

deadspin.com

Oct 9, 2013

The Pittsburgh Pirates got bounced Wednesday from their first postseason trip in approximately forever, losing to the St. Louis Cardinals by a score of who gives a flying crap to you knew they'd find a way to piss this one away. Not like the Cardinals h…

Share Tweet

Adam Wainwright pitched a complete game and the St. Louis Cardinals got two-run homers from David Freese and Matt Adams to beat the Pittsburgh Pirates 6-1 on Wednesday night and advance to the NL Championship Series.

Share Tweet

yahoo.com

Oct 9, 2013

Your browser does not support iframes. It's win-or-go-home for the Pittsburgh Pirates and St. Louis Cardinals on Wednesday night, and the effort and intensity shown by both teams has certainly reflected that. That's especially true on the defensive side…

Share Tweet

A conversation with Cardinals president DeWitt III

MLB.com

Oct 9, 2013

MLB.com sat down for an exclusive conversation with Bill DeWitt III, president of the St. Louis Cardinals, hours before Wednesday's Game 5 of the National League Division Series against the Pittsburgh Pirates.

Share Tweet

Baseball's Greatest: Top 10 postseason walk-off home runs

CNNSI.com

Oct 9, 2013

Mazeroski or Carter? Fisk or Freese? Here are the 10 greatest postseason walk-off home runs ever.

Share Tweet

Champagne on ice, ready for four straight clinches

MLB.com

Oct 9, 2013

After the Pirates and Cardinals, and Tigers and A's, conclude their Division Series on Wednesday and Thursday, it will be the fourth time in the post-1994 postseason expansion era that Major League Baseball has had a series clincher on four consecutive …

Share Tweet

MLB.com

Oct 2, 2013

The road to the 109th World Series resumes at 8 p.m. ET on Thursday as Justin Verlander starts a decisive Game 5 for Detroit against the A's in Oakland for the second year in a row, in a game that completes the field for the League Championship Series. …

Share Tweet

Wainwright: 'I Wanted It Bad'

Oct 9

Adam Wainwright discusses his complete game in Game 5 of the NLDS.

Wainwright Lifts Cards Past Pirates

Oct 9

SC Highlight of the Night: Adam Wainwright's complete game helped the Cardinals advance to the NLCS with a 6-1 win against the Pirates.

Freese Helps Cardinals Advance

Oct 9

Cardinals third baseman David Freese discusses St. Louis' win in the NLDS and the performance by pitcher Adam Wainwright in Game 5.

Dodgers Vs. Cardinals NLCS Preview

Oct 9

The Baseball Tonight crew looks ahead to the NL Championship Series between the Cardinals and the Dodgers.