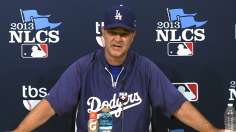 MLB.com
Updated Oct 17, 2013
The Cardinals and the Dodgers represent two different aspects of baseball culture. And the cultural differences here have nothing to do with ethnicity, race, or any of the arbitrary compartments into which humanity can be divided.
Share
Tweet
Don Mattingly said shortstop Hanley Ramirez and center fielder Andre Ethier would be back in the starting lineup for Game 6 of the National League Championship Series against the St. Louis Cardinals on Friday.

Share Tweet

A resurgent Adams could spark Cards' offense

Matt Adams is hitting .237 with one homer this postseason, and his struggles at the plate have mirrored the Cardinals' offensive woes in the NLCS.

Share Tweet

In familiar place, Cards embracing sense of urgency

They play for a manager that preaches the importance of the moment, and perhaps there has never been a more appropriate time for the Cardinals to resist looking back.

Share Tweet

With the Cardinals' decision not to hold a workout at Busch Stadium on Thursday, Allen Craig will wait until Friday to face live pitching for the first time since suffering a left foot injury on Sept. 4.

Share Tweet

Brass ring may finally be in reach for Beltran

Seven times, Carlos Beltran has played a game in which a win meant a trip to the World Series. Seven times, his team has lost, including the Cardinals' 6-4 loss to the Dodgers in Game 5 of the National League Championship Series on Wednesday.

Share Tweet

LA Beat Report

Oct 17

Mark Saxon recaps the Dodgers' Game 5 win and looks ahead as the series shifts back to St. Louis for Game 6.