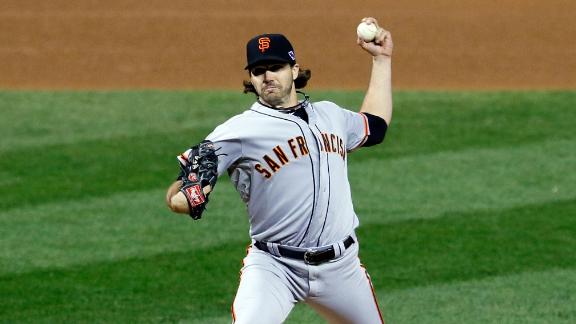 Barry Zito pitched the San Francisco Giants back into the NL championship series, dominating into the eighth inning of a 5-0 victory over the St. Louis Cardinals on Friday night that narrowed their deficit to 3-2.
Share
Tweet
yahoo.com

Oct 19, 2012

ST. LOUIS - Cardinals right-hander Lance Lynn threw to the right base in the fourth inning. The problem was, he threw right to the actual base, hitting it with the baseball while trying to start an inning-ending 1-6-3 double play. The ball skipped away

Share Tweet

Vogelsong hopes to play similar tune in Game 6

Ryan Vogelsong, author of the National League Championship Series Game 2 outstanding start, will get another one in Game 6 for the Giants, who clearly did not leave their heart in San Francisco. It was beating in their chest Friday night, in the 5-0 win…

Share Tweet

Missouri Man Holds Up Bank, Yells "Go Cards" As He Makes His Getaway

deadspin.com

Oct 19, 2012

Fans of the St. Louis Cardinals are just the best in baseball, aren't they? While everyone else robs banks in the greater St. Louis area in such a negative, surly way, Cardinals fans do it with gusto and spirit and enthusiasm. More »

Share Tweet

M. Carpenter takes full advantage of opportunity

With Carlos Beltran returning to the Cardinals' lineup for Game 5 of the National League Championship Series, Matt Carpenter makes his way back to the bench.

Share Tweet

Schoendienst a 'treasure' for Matheny, Cards

As the carousel of franchise icons passes through this Cardinals postseason, the constant presence of Red Schoendienst quietly continues.

Share Tweet

Cardinals have well-rested bullpen for Game 5

The Cardinals had a rested relief corps entering Game 5 of the National League Championship Series with a chance to close out the Giants, thanks to Adam Wainwright's marvelous seven-inning start and an offensive breakout in an 8-3 Game 4 victory.

Share Tweet

Carlos Beltran has returned to the starting lineup for the St. Louis Cardinals in Game 5 of the NL championship series.

Share Tweet

The Tigers are one Cardinals win away from a rematch of the 2006 World Series. They are not going to reprise the way they spent waiting for that World Series to actually get under way.

Share Tweet

Cards trying to join Tigers for rare Series

CNNSI.com

Oct 19, 2012

With one more win, the Cardinals will join the Tigers in a World Series that would be historically rare and say much about the current state of the game, writes Tom Verducci.

Share Tweet

CNNSI.com

Oct 19, 2012

The Giants have been here before. But facing tough Cardinals pitching and a lineup that won't stop hitting, a 3-1 deficit after an 8-3 loss may be too much to overcome, says Albert Chen.

Share Tweet

Surprising stars tilt NLCS in Cardinals' favor

You put the Buster Poseys and Carlos Beltrans and Matt Cains and Chris Carpenters of the world on a field and ask them to play a best-of-seven for the right to advance to the Promised Land, and you'd think the series would hinge on those we hype.

Share Tweet

Barry Zito After Game 5

Oct 19

Tim Kurkjian talks to Barry Zito after recording his first postseason win since 2006.

NLCS Game 6 Preview

Oct 19

Baseball Tonight looks ahead to Cardinals at Giants Sunday, 7:30pm ET.

Highlight Of The Night

Oct 19

Giants avoid elimination behind Barry Zito tossing 7.2 scoreless innings to send series back to San Francisco.