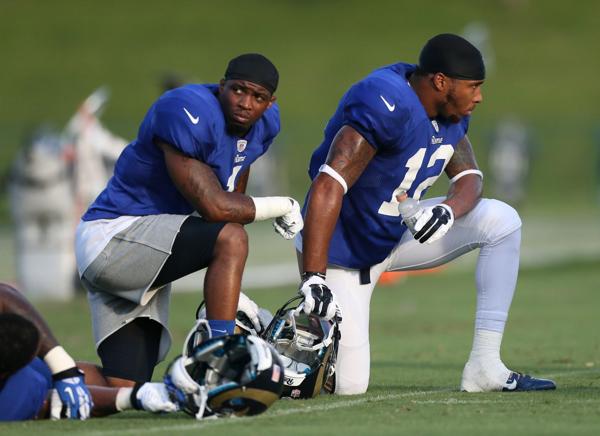 profootballtalk.com
stltoday.com
nytimes.com
ramsgab.com
yahoo.com
ESPN.com
deadspin.com
Updated 6 hours ago
Rams wide receiver Stedman Bailey is out of surgery and will spend the next 3-5 days in intensive care, NFL Network's Ian Rapoport tweeted Wednesday afternoon. Bailey's "doctors are hopeful," Rapoport tweeted. Bailey was shot in the head and shoulder Tu…
Share
Tweet
stltoday.com profootballtalk.com

10 hours ago

But if Rams are still in St. Louis, they would have to work out lease agreement with CVC for lost home game.

Share Tweet

NFL has conference call to remind all teams of concussion protocol

profootballtalk.com

12 hours ago

After last week's mistakes in letting Rams quarterback Case Keenum continue to play after he suffered a concussion, the NFL is trying to make sure it doesn't happen again. The league just put out a statement, saying that a mandatory conference call was …

Share Tweet

ESPN.com

15 hours ago

Ravens' Harbaugh: I never insinuated Rams dirty

Share Tweet

profootballtalk.com

18 hours ago

The Rams weren't able to tell that quarterback Case Keenum was concussed in a timely fashion Sunday, but they're paying close attention to his progress now. Via the Associated Press, Keenum watched film and went to meetings but did not practice Tuesday …

Share Tweet

Rams notes: For rookie QB Mannion, it's business as usual

stltoday.com

22 hours ago

Kennum injury or not, the ex-Oregon Beaver has prepared all season as if he were the starter.

Share Tweet

Reynolds: "Case said, I need a minute, and then he was all right."

stltoday.com

23 hours ago

Rams lineman was first to the scene to help up Keenum.

Share Tweet

Bailey out of surgery after shooting

Nov 25

John Clayton reports the latest on Rams WR Stedman Bailey, who is out of surgery and resting in intensive care after being shot twice in the head.

Bengals will regain confidence, defeat Rams

Nov 25

ESPN's Mark Schlereth and Antonio Pierce analyze the matchup between the Rams and the Bengals in Week 12.

Rams WR Bailey hospitalized after being shot

Nov 25

Rams WR Stedman Bailey was shot twice in the head Tuesday night and is in critical but stable condition.

Rookie RBs ready to shine

Nov 24

ESPN's John Clayton examines the impact rookie RBs are having this season.