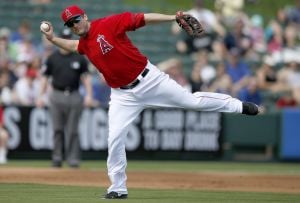 Daily Bits: Rough opening series for Pujols, Freese, Salas
stltoday.com
Updated Apr 3, 2014
The former Cardinals were part of a three-game nightmare against Seattle. Plus: the Rams and Jadeveon Clowney, Stanley Cup fever in STL, and St. Louisan Mark Buehrle rolls on.
Share
Tweet
ESPN.com

Apr 3, 2014

EARTH CITY, Mo. -- While the NFL moved the draft back a couple of weeks to May this year, it didn't do much to change the dates for offseason programs around the league. The league announced the starting dates and all of the organized team activities (O…

Share Tweet

ESPN.com

Apr 3, 2014

EARTH CITY, Mo. -- Whether it's general manager Les Snead or coach Jeff Fisher, the St. Louis Rams have consistently made it clear this offseason how much they like their current roster. They've backed up those words by forgoing any major signings in fr…

Share Tweet

stltoday.com

Apr 3, 2014

Organizers plan Saturday rally at Laclede's Landing. Rams are less than a year away from becoming franchise free agents.

Share Tweet

NFL.com Draft Do-Over: 2008

Apr 3

Could Matty Ice be Matty Sunshine? See how Atlanta Falcons quarterback Matt Ryan could have ended up near the ocean if the 2008 draft had a makeover.