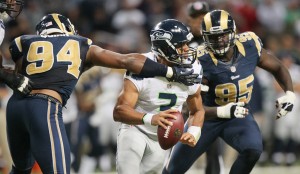 ramsgab.com
stltoday.com
Updated Dec 26, 2012
What number did Tory Holt wear prior to number 81? Holt started his career with #88 Who was the first draft pick for the St Louis Rams? Kevin Carter in 1995 Is Chris Long of the St Louis Rams single? Mr Long is a single man Did coach Dick Vermeil have a…
Share
Tweet
stltoday.com

Dec 26, 2012

Nine 49ers, four Seahawks selected. Also: Finnegan and the usual cast miss practice.

Share Tweet

QBs in focus for Rams-Seahawks rematch

ESPN.com

Dec 26, 2012

For the past couple years, the St. Louis Rams could point past their on-field struggles to a brighter future with a franchise quarterback. Sam Bradford was what separated the Rams from their division rivals, at least over the long term. The Rams have im…

Share Tweet

Rams' gamble on Janoris Jenkins is paying off in a major way

yahoo.com

Dec 26, 2012

Perhaps it was his time with the Chicago Bears of the 1980s that gave St. Louis Rams head coach Jeff Fisher a sense of how to bring the best out of players that other teams would find too much of a challenge. When your quarterback (Jim McMahon) is mooni…

Share Tweet

stltoday.com

Dec 26, 2012

Balky ankle isn't slowing down Rams rookie defensive tackle Michael Brockers.

Share Tweet

Blogger Blitz: Bradford vs. Wilson

Dec 26

NFC West blogger Mike Sando thinks this weekend will be key for Sam Bradford to prove he is still one of the best young quarterbacks in the division

Countdown Daily AccuScore: STL-SEA

Dec 26

Cary Chow goes inside the numbers for the Rams-Seahawks

Sports Columnists

Adrian Peterson inspires a list of the top 10 individual seasons in NFL hi…

Dec 26

Where does Minnesota Vikings star Adrian Peterson rank among the 10 best NFL seasons of all time?