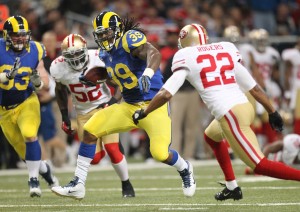 Updated Feb 26
Share
Tweet
Rams would lose leadership, consistent productivity. On the flip side: his activity level is decreasing; breakaway potential has diminished.
Sources:
stltoday.com
profootballtalk.com
ESPN.com
101ESPN St. Louis audio: Miklasz Show

Updated Feb 26

Share Tweet

We've been heavy on the Steven Jackson discussion following news of the running back's expected free agency. That will continue here as I pass along audio from my my Tuesday conversation with Bernie Miklasz of 101ESPN St. Louis. Bernie and I touched on …

Source:

ESPN.com

Updated Feb 26

Share Tweet

@elunique1982 asks via Twitter about salary-cap ramifications associated with Steven Jackson leaving the St. Louis Rams' roster, something that appears likely following news that Jackson plans to opt out of his contract. The Rams would save $7 million i…

Source:

ESPN.com

Updated Feb 26

Share Tweet

Mizzou standout considered one of the top defensive tackles available in the draft.

Source:

stltoday.com

Steven Jackson Done In St. Louis?

Feb 26

NFC West blogger Mike Sando discusses the report that Steven Jackson will void his contract with the Rams.