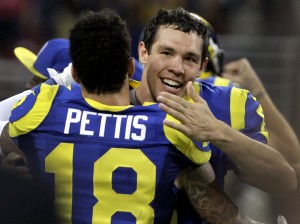 Bernie Bytes: It's Bradford's time to lead
stltoday.com
Updated Mar 19, 2013
Rams' emphasis on youth puts the onus on Sam Bradford to take over this team. He'll have to take his leadership to a higher level.
Share
Tweet
The Tennessee Titans announced Tuesday they have agreed to terms with former St. Louis Rams offensive lineman Rob Turner. Turner can play both guard and center and started all 16 games for the Rams last season. "Turner is a guy who got his first opportu

Share Tweet

101ESPN St. Louis audio: Miklasz Show

ESPN.com

Mar 19, 2013

PHOENIX -- There are a couple sides to the Jake Long story this offseason. Version one: The St. Louis Rams added a four-time Pro Bowl left tackle when Long agreed to a four-year contract with the team. Version two: The Miami Dolphins let Long hit the ma…

Share Tweet

Marshall Faulk: If runners can't lower their heads, eliminate helmets

Marshall Faulk would rather eliminate helmets from football than tell running backs they can't lower their heads into tacklers. Faulk, the Hall of Fame running back who played for the Colts and Rams, blasted the NFL Competition Committee's proposal to

Share Tweet

Rams aren't concerned about switching Rodger Saffold's position

When the Rams and Jake Long started their courtship last week, word circulated that the incumbent left tackle in St. Louis would ask for a trade if Long wound up signing with the team. Rodger Saffold's agent throttled back on that over the weekend, but

Share Tweet

Rule would have affected Seahawks-Rams

ESPN.com

Mar 19, 2013

PHOENIX -- A 49-yard pass sparking a Seattle Seahawks scoring drive against the St. Louis Rams in Week 17 would not have stood under a rule proposed at the NFL owners meeting this week. The proposal owes its existence to the controversial, season-ending…

Share Tweet

Bernie: Plenty of issues surround Long

Health and durability, recent decline in performance are chief among them. But Fisher and line coach Boudreau could boost career of Rams' new tackle.

Share Tweet

PHOENIX, Ariz. • For only the third time in the past 12 years, the Rams received no compensatory picks for an upcoming draft. All told, 16 NFL teams were awarded 32 compensatory picks Monday.

Share Tweet

Coach praised for his recruiting ability in getting Jake Long to play for Rams. Team's focus now turns primarily to the draft.

Share Tweet

Is Seahawks-49ers best rivalry in football?

Mar 19

With so much youth at the quarterback position in the NFC West, the "NFL AM" guys debate if the division has the best rivalry games in the NFL.