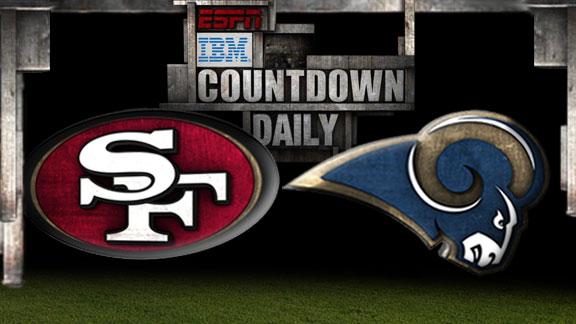 ESPN.com
stltoday.com
Updated Nov 29, 2012
St. Louis Rams wide receiver Danny Amendola wore a walking boot and missed a second straight day of practice.
Share
Tweet
101ESPN St. Louis audio: Miklasz Show

Steven Jackson is back on pace for an eighth consecutive 1,000-yard rushing season thanks to a three-week run with 321 yards. 2012 Steven Jackson Rushing That run began with a 101-yard game during the St. Louis Rams' 24-24 tie at San Francisco. The Rams…

Share Tweet

ramsgab.com ESPN.com

Nov 29, 2012

The St Louis Rams defensive TE Robert Quinn did not practice yesterday due to a concussion.  Quinn leads the Rams with sacks this season with 8.5.  This is bad news for the Rams  who play NFC West conference rival the SF 49ers this coming Sunday.  Qui

Share Tweet

profootballtalk.com

Nov 29, 2012

Rams running back Steven Jackson's season got off to a rough start this fall, but he's turned things around with 321 yards in his last three games. Erik Kuselias will ask him what's changed when Jackson stops by for a visit during Pro Football Talk

Share Tweet

profootballtalk.com

Nov 29, 2012

It's been a while since the Raiders have had one of their games blacked out on local television, but the streak will end this Sunday. The team couldn't sell 85 percent of their non-premium tickets to the game against the Browns, which means that their

Share Tweet

Bernie Bytes: Life after Warner ain't pretty

Rams and Cardinals haven't been the same since Kurt Warner went away.

Share Tweet

Throwing caution to the rookie QB wind?

Here in the NFC West, we like to ease our young quarterbacks into the starting role by having them drop back to pass as many times as possible in their very first starts. 2008-2012 Most Dropbacks in 1st NFL Start For example, when Sam Bradford made his …

Share Tweet

Around the NFC West: Nov. 29, 2012 St. Louis Rams coach Jeff Fisher is not full of bluster. He does exude assuredness, however, and that gives the Rams an edge they have not had in years. It's good for the Rams, good for the NFC West. Here's Fisher when…

Share Tweet

Detroit defensive tackle Ndamukong Suh was fined $30,000 by the NFL on Wednesday, but he says he didn't kick Houston quarterback Matt Schaub on purpose. That's why Suh insisted he doesn't need…

Share Tweet

Rams, 49ers fit to be untied

As Jeff Fisher sees it, the Rams are simply continuing that memorable, wacky and intense Nov. 11 game this Sunday.

Share Tweet

Tiebreaker: Rams see 49ers rematch as unfinished business

If it was up to many of the Rams, they would've kept playing against San Francisco until the outcome was decided 2½ weeks ago in Candlestick Park.

Share Tweet

Also: Amendola back in a walking boot; Jenkins honored as NFC defensive player of the week.

Share Tweet

Preview: San Francisco 49ers vs. St. Louis Rams

Nov 29

NFL Films previews the Week 13 matchup between the San Francisco 49ers and the St. Louis Rams.