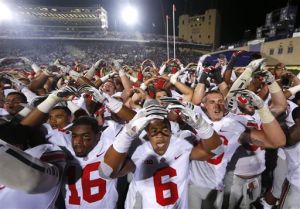 Diablo's inferno: Recovering from a degenerate's worst nightmare
stltoday.com
Updated Oct 11, 2013
Mizzou so far has been a monster against the number. Look for that to continue this week.
Share
Tweet
After missing practice on Wednesday, Rams rookie Zac Stacy is looking to build on the rushing success he enjoyed against Jacksonville.

Share Tweet

Finnegan-Johnson rematch unlikely

ESPN.com

Oct 11, 2013

EARTH CITY, Mo. -- A rematch of the 2010 Cortland Finnegan-Andre Johnson bout will have to serve as the undercard for the long-awaited Floyd Mayweather Jr.-Manny Pacquiao fight. Which is to say, it's almost certainly not going to happen. Rams cornerback…

Share Tweet

profootballtalk.com

Oct 11, 2013

Texans coach Gary Kubiak has been calling wide receiver Andre Johnson a game-time decision for Sunday's game against the Rams, but the receiver doesn't share the coach's uncertainty about his status for the game. Johnson practiced on Friday and declared…

Share Tweet

Rams' Fassel frustrated with penalties

ESPN.com

Oct 11, 2013

EARTH CITY, Mo. -- Like everyone else who plays, follows or coaches the St. Louis Rams, special teams coordinator John Fassel is frustrated with the continued penalties that his group racks up weekly. Fassel's frustration is probably greater than anyone…

Share Tweet

profootballtalk.com

Oct 11, 2013

When the Rams traded up from No. 16 to No. 8 in the 2013 draft to land receiver Tavon Austin, high expectations for the coming season became set in stone. Through five weeks, Austin has 23 catches for 156 yards and two touchdowns. He's averaging a mere …

Share Tweet

Rams muscle up using extra tight ends

Using two or three at a time is part of the Rams' plan to re-establish their running game.

Share Tweet

While the offense struggles, Houston's defense, led by talented and dynamic J.J. Watt, is as strong and disruptive as ever.

Share Tweet

'Playbook': St. Louis Rams vs. Houston Texans

Oct 11

Can Houston Texans QB Matt Schaub right the ship? Plus, is this the game St. Louis Rams wide receiver Tavon Austin breaks out?