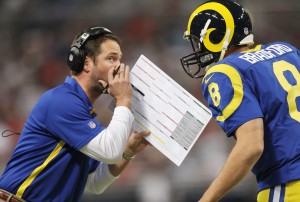 ESPN.com
stltoday.com
Updated Sep 24, 2013
EARTH CITY, Mo. -- There was a time not so long ago where the thought of trying to get an ailing running game revved up against San Francisco 49ers' defense would have spelled disaster for the team attempting to accomplish the feat. This week, that's pr…
Share
Tweet
Rams distance selves from Nsekhe tweet

A day after former St. Louis Rams offensive tackle Ty Nsekhe offered some apparently insensitive Twitter comments toward the military, the team and coach Jeff Fisher did all they could to distance themselves from the player.

Share Tweet

As rumors persist that the NFL would eventually like to have a team in London, St. Louis Rams defensive end Chris Long didn't mince words when discussing what he'd think if he ever had to play for such a team.

Share Tweet

EARTH CITY, Mo. -- On Monday's injury report, the St. Louis Rams listed nine players, but most weren't necessarily dealing with injuries so much as soreness from playing a game a little more than 24 hours earlier. Tuesday's injury report brought some re…

Share Tweet

Rams criticize former player over anti-military remarks

Former OT Ty Nsekhe tweets: "It doesn't take much skill to kill someone."

Share Tweet

Looking Good. Playing Good?

ramsgab.com

Sep 24, 2013

Check out the Rams new digs. The Rams will be sporting their new uniforms Thursday night against the 49ers. Hey, cause that's what's important right; looking good?

Share Tweet

Team must quickly focus on 49ers after shellacking in Dallas.

Share Tweet

After the Dallas fiasco, we're about to learn why Kroenke made Fisher one of the NFL's most lavishly paid coaches.

Share Tweet

Rams decided against trying a long field goal and went for a fake punt instead.

Share Tweet

St. Louis Rams linebacker James Laurinaitis: Defense 'embarrassed' by Cowboys

Sep 24

St. Louis Rams linebacker James Laurinaitis admits that the defense "didn't do anything well" against the Dallas Cowboys and is ready to make up for it vs. San Francisco Thursday.

NFL Nation Buzz: Rams

Sep 24

ESPN Rams reporter Nick Wagoner discusses the difficulties the Rams face in a short week to prepare for the 49ers.