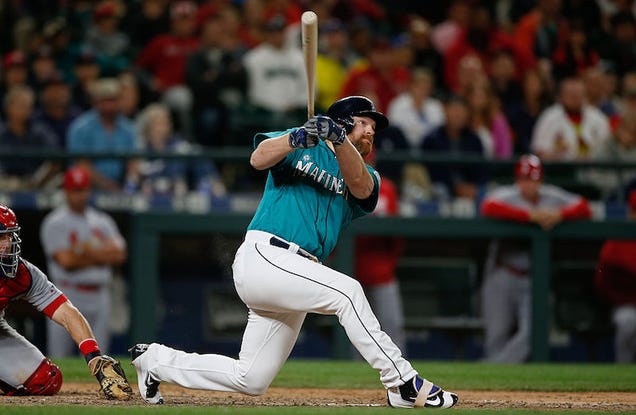 deadspin.com
MLB.com
nytimes.com
Updated 7 hours ago
Adam Lind smacked a three-run walkoff homer Friday as the Seattle Mariners beat the St. Louis Cardinals, 4-3.Read more...
Share
Tweet
Rams have sold 63,000 season tickets

profootballtalk.com

13 hours ago

Los Angeles is ready to support the Rams. Rams COO Kevin Demoff told the Ventura County Star that the Rams have already sold 63,000 season tickets. The team's goal is to sell 70,000 season tickets and leave the remaining seats for single-game sales. The…

Share Tweet

Three storylines left unresolved after Night 1 of the 2016 draft

thehockeynews.com

19 hours ago

BUFFALO – Night 1 of the 2016 NHL draft gave us a bit of everything, a blend of expectant nods and wide-eyed gasps. We saw the predictable occur. Auston Matthews went first overall, Patrik Laine second. The Calgary Flames acquired a goaltender in Brian …

Share Tweet

Adams scratched with lower back tightness

MLB.com

21 hours ago

Matt Adams was a game-time scratch by the Cardinals on Friday due to lower back tightness. He was replaced at first base by Jedd Gyorko, whose only previous start at that position came a week ago.

Share Tweet

thehockeynews.com NHL.com yahoo.com

22 hours ago

BUFFALO – There was a definitive St. Louis flavor to the Calgary Flames first round in the draft. Not only did they use the sixth overall pick to take Matthew Tkachuk, a product of the St. Louis minor hockey system and son of former Blues star Keith, th…

Share Tweet

LeBlanc tops flurry of roster moves by Mariners

MLB.com

22 hours ago

It was a busy day of transactions for the Mariners, who added lefty Wade LeBlanc and gave him a start Friday against the Cardinals. Outfielder Nori Aoki was also optioned to Triple-A Tacoma.

Share Tweet

Rams cut Wells, Worton

profootballtalk.com

Jun 24 (yesterday)

The Rams trimmed their offseason roster by two Friday, waiving linebacker Matthew Wells and wide receiver J.J. Worton. Wells was a sixth-round pick of the Patriots in 2015 and was traded to the Bears during his first training camp. He was waived by the …

Share Tweet

yahoo.com

Jun 24 (yesterday)

There is little drama surrounding the top three picks as the NHL Draft opens up Friday with Round 1. Auston Matthews, Patrik Laine and Jesse Puljujarvi are expected to go to the Toronto Maple Leafs, Winnipeg Jets and Columbus Blues Jackets, respectively…

Share Tweet

thehockeynews.com yahoo.com

Jun 24 (yesterday)

Entering the 2016 NHL draft, the trade speculation is ramping up on several notable NHL stars. Topping the list is Montreal Canadiens defenseman P.K. Subban. The trade chatter reached a fever pitch on Thursday when Vancouver Canucks GM Jim Benning admit…

Share Tweet

thehockeynews.com

Jun 23 (2 days ago)

Vladimir Tarasenko has had himself quite a year. In the past 365 days, the 24-year-old St. Louis Blues sniper has scored 40 goals for the first time in his NHL career, led the Blues in points with a career-high 74, added nine goals and 15 points in 20 p…

Share Tweet

Pipeline preview: Vlad Jr. to debut with dad in stands

MLB.com

Jun 23 (2 days ago)

Top Cardinals prospect Alex Reyes starts for Triple-A Memphis against Colorado Springs at 7:05 p.m. ET on MiLB.TV.

Share Tweet

yahoo.com

Jun 23 (3 days ago)

Welcome to The Walk Off, the nightly MLB recap from Big League Stew. Here we'll look at the top performers of the night, show you a must-see highlight and rundown the scoreboard. First, we start with a game you need to know about. After pulling off two …

Share Tweet

Schefter: 'Long shot for Johnson and Rams to reach agreement'

Jun 15

The NFL Insiders believe it's unlikely that Janoris Jenkins' "monster deal" with the Giants will help Trumaine Johnson's chances of securing a long-term contract with the Rams.

Why the Rams waived Stedman Bailey

Jun 8

ESPN NFL Insider Bill Polian says it's good for both the Rams and Stedman Bailey, who is still recovering from two gunshot wounds to the head, for him to transition into an off the field role with the team.

Goff throws out first pitch for Dodgers

Jun 6

Rams No. 1 overall draft pick Jared Goff throws out the ceremonial first pitch to Yasiel Puig at Dodger Stadium.

Jared Goff takes BP at Dodgers game

Jun 6

Before the Dodgers game, Los Angeles Rams rookie quarterback Jared Goff takes a few swings during batting practice.