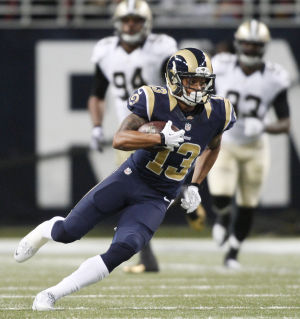 stltoday.com
Updated 7 hours ago
Rams wide receiver is mentored by Isaac Bruce, Aeneas Williams, Roy Green.
Upvote
Share
Tweet
What should the Rams do with the second pick?

CNNSI.com

7 hours ago

St. Louis may hold the key to the draft with the No. 2 overall pick. What direction should the Rams go?

Upvote Share Tweet

nytimes.com ESPN.com MLB.com

8 hours ago

St. Louis starter Adam Wainwright was a factor as well, needing only 79 pitches to stymie Mets batters for seven innings.

Upvote Share Tweet

NHL.com thehockeynews.com CNNSI.com

12 hours ago

CHICAGO - The St. Louis Blues don't want their recent playoff history repeating itself. The Blues face the Blackhawks in Game 4 of their opening round series at Chicago on Wednesday night. The Blues lost 2-0 in Game 3, but still lead the s...

Upvote Share Tweet

ESPN.com stltoday.com

15 hours ago

St. Louis Rams head coach Jeff Fisher has said it. General manager Les Snead has said it. Chief operating officer Kevin Demoff has said it. The Rams even put it in their renewal letter to season-ticket holders. On Monday afternoon, Rams linebacker James…

Upvote Share Tweet

Clarkson, Weiss among NHL's biggest free-agent flops

thehockeynews.com

16 hours ago

The NHL's unrestricted free agency period is a crapshoot and sometimes the emphasis is on the crap. For every savvy signing – say, Tampa Bay's five-year contract with Valtteri Filppula, or Boston's one-year deal with Jarome Iginla – there is at least on…

Upvote Share Tweet

profootballtalk.com

21 hours ago

Alabama quarterback A.J. McCarron worked out for the Browns last week and he's meeting with them on Tuesday, which comes as no surprise given the Browns' need for a long-term starter at quarterback. The Ravens and Rams hope they have those answers alrea…

Upvote Share Tweet

Cardinals Cruise Past Mets

Apr 22

The Cardinals' pitching staff held the Mets to just four hits in St. Louis' 3-0 win over New York.

SportsCenter's Inside The NHL

Apr 22

Steve Levy, Barry Melrose and Scott Burnside look at what's next for the Penguins-Blue Jackets series, the bad blood simmering between the Blues and Blackhawks, and what are the highs and lows of the playoffs so far.

Bad Blood Boiling Between Blues-Blackhawks

Apr 22

Brent Seabrook's hit on David Backes has taken the Blues-Blackhawks series to an even higher level of hate.

Mets Shut Out Cardinals

Apr 21

David Wright extended his hit streak to 12 games in the Mets' 2-0 win over the Cardinals.

Sports Columnists

2014 NBA playoffs - Chicago Bulls couldn't buy a basket in Game 2, need to…

Apr 23

Joakim Noah is a very worthy defensive player of the year, but he still needs to play alongside a true offensive star.

2014 NBA draft - ESPN Insider's 360-degree NBA draft prospect profiles

Apr 22

ESPN Insider's NBA draft experts offer a guide to their 20-plus prospect draft profiles.

NFL to release schedule Wednesday night

Apr 22

The NFL schedule is going to be officially announced and released at 8 p.m. ET Wednesday.