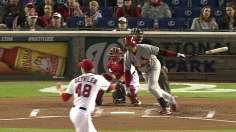 101ESPN St. Louis audio: Miklasz Show

Bernie Miklasz tricked his 101ESPN St. Louis guest -- me -- into saying the St. Louis Rams have had the worst offseason to date among NFC West teams. We laughed about it Tuesday during our weekly conversation . Let's just call the Rams' offseason the fo…

Share Tweet

What's going on: Our eight divisional bloggers are participating in an ongoing mock draft Tuesday. Each blogger can make selections or trade picks for the four teams in his division. How to access: Blogger mock console, and via #bloggermock on Twitter. …

Share Tweet

Around the NFC West: Lingering effects

The St. Louis Rams sacrificed salary-cap space in future years to create room right now when they reworked Chris Long's contract Monday. Around the NFC West: April 23, 2013 The move, detailed by Jim Thomas of the St. Louis Post Dispatch, counts as a rel…

Share Tweet

But major areas of need remain obvious: wide receiver, safety, running back, outside LB and offensive line.

Share Tweet

Notebook • Fisher, Schottenheimer and QB coach all went to Clemson for workouts.

Share Tweet

Chris Long restructures deal with Rams

profootballtalk.com

Apr 23, 2013

The St. Louis Rams have had little cap room for the majority of the offseason after big money deals were given to tackle Jake Long and tight end Jared Cook. St. Louis had just $244,053 in cap space and needed room to sign their upcoming draft class whic…

Share Tweet

Move frees up cap space that could help Rams re-sign safety Mikell or free-agent LB Daryl Smith.

Share Tweet

Wainwright Strikes Out Nine In Cardinals' Win

Apr 23

Adam Wainwright pitches the Cardinals past the Nationals.

Wainwright Back To Dominant Form

Apr 23

Aaron Boone and Alex Cora discuss Adam Wainwright's dominant performance against the Nationals and his return to form after Tommy John surgery two seasons ago.