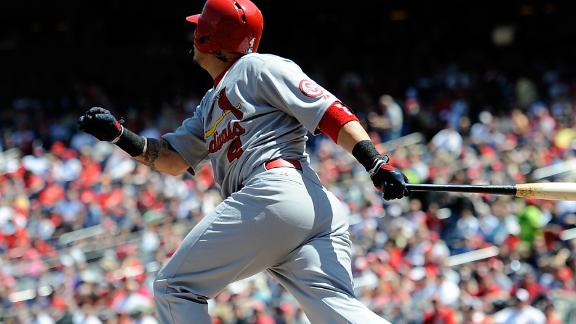 'Ball's Not Dropping In Our Favor'

CNNSI.com

Apr 24, 2013

The Nationals are struggling, as they fell to 10-11 after Wednesday's loss to the Cardinals. Now, they must shake off the bad start and look towards tomorrow, writes Thomas Lake.

Share Tweet

Jim Thomas sees Texas safety, Alabama running back coming to Rams with Nos. 16 and 22 picks.

Share Tweet

Wide receivers led march to Rams Park

Seven WRs were among 23 players known to make pre-draft visits.

Share Tweet

Pead calls rookie season "miserable"

profootballtalk.com

Apr 24, 2013

As this year's crop of incoming players, especially those taken in the first two rounds, celebrate their new circumstances, they need to keep one thing in mind. Several months from now, there's a chance they will think those circumstances stink. Rams

Share Tweet

Around the NFC West: Shorter QBs, WRs

ESPN.com

Apr 24, 2013

Around the NFC West: April 24, 2013 St. Louis Rams coach Jeff Fisher caught my attention this week with a comment regarding shorter wide receivers. "I think they've got a chance to play if you have a tall quarterback because he can find them,"…

Share Tweet

Shamarko Thomas is the only safety known to make pre-draft visit to Rams park.

Share Tweet

Cardinals Beat Strasburg To Sweep Nationals

Apr 24

St. Louis scored three runs in the first inning as the Cardinals beat the Nationals 4-2.