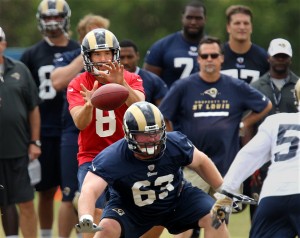 Updated Jul 8
Share
Tweet
ESPN analyst Jaworski likes a lot of what he sees in the Rams' fourth-year QB, but wants to see him reduce mistakes
Updated Jul 8

Share Tweet

The ESPN analyst likes a lot of what he sees in the Rams' fourth-year quarterback but wants to see Bradford reduce mistakes

Updated Jul 8

Share Tweet

In this episode of Upon Further Review, Bryan Burwell sits down with CineSport's Noah Coslov to discuss concern over Yadier Molina's knee, Yasiel Puig & the Rams new stadium.

Carlos Beltran's playing like a kid out there

Updated Jul 8

Share Tweet

His performance Sunday had St. Louis Cardinals sportswriters wondering if 36-year-old slugger Carlos Beltran had found a fountain of youth. Beltran reached on a bunt single to stoke the Cardinals' two-run third inning — following it up with a steal of h…

Source:

yahoo.com

Sports Columnists

Marreese Speights agrees to deal with Golden State Warriors, sources say

Jul 8

The Golden State Warriors have agreed to terms on a new deal with Marreese Speights, according to sources with knowledge of the deal.