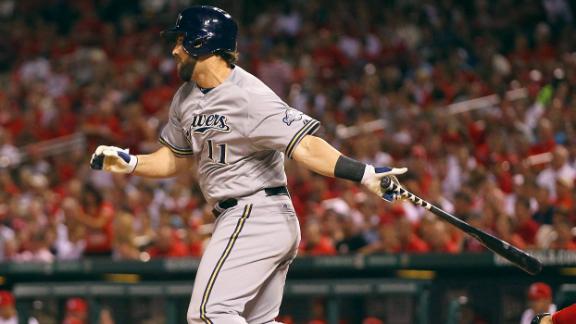 ESPN.com
Updated Sep 12, 2013
Tyler Thornburg threw six solid innings and Sean Halton homered to lead the Milwaukee Brewers over St. Louis 5-3 on Thursday night, snapping the Cardinals' five-game winning streak.
Share
Tweet
The Rams are off to a solid start on the field and in the television ratings. Their entreating 27-24 comeback victory Sunday over the Arizona Cardinals was seen in 24.1 percent of St. Louis ar…

Share Tweet

EARTH CITY, Mo. -- Rams defensive end Robert Quinn impressed just about everyone with his three-sack, two forced fumble performance against the Arizona Cardinals in week 1. Everyone, that is, except defensive line coach Mike Waufle. Waufle leads the Ram…

Share Tweet

After practicing fully on Wednesday, defensive end Chris Long was on the Rams' injury report Thursday with a hip injury. His practice on Thursday was limited.

Share Tweet

Ogletree cracks Kiper's rookie rankings

EARTH CITY, Mo. -- ESPN NFL draft analyst Mel Kiper Jr. has been keeping tabs on this year's rookie class and how it's progressing throughout the preseason and into week 1. Kiper released his first edition of the rookie rankings for Insider on Wednesday…

Share Tweet

EARTH CITY, Mo. -- Rams running back Daryl Richardson returned to practice Thursday on a limited basis after missing Wednesday's practice with a foot injury. Defensive end Chris Long joined Richardson in the limited category on the team's injury report …

Share Tweet

Plenty of awards remain up for grabs in final two weeks

CNNSI.com

Sep 12, 2013

With two weeks left, several surprises could be in store for MVP, Cy Young and Rookie of the Year.

Share Tweet

Ram Bytes: A look at the Rams' formidable foursome

Rams brought the pass-rush heat to take down Arizona. Now it's on to Atlanta: Can they melt Matty Ice?

Share Tweet

EARTH CITY, Mo. -- ESPN Insider Mike Sando posted an interesting look at the disconnect between Rams quarterback Sam Bradford's glistening traditional quarterback rating and the very average number he registered in his total QBR last week against Arizon…

Share Tweet

Atlanta wide receiver Roddy White drew a lot of attention in the offseason when he compared the Falcons' offense to "The Greatest Show on Turf." That was the nickname for the St. Louis Rams in their heyday. Ironically, the Falcons host the modern-d…

Share Tweet

For a player who had 9 bittersweet seasons in St. Louis, last Sunday was a bittersweet start in Atlanta.

Share Tweet

Morning Ram-blings: Dealing with tempo

EARTH CITY, Mo. -- Unless it happens in the postseason, the Rams won't get an up-close-and-personal look at the Eagles and coach Chip Kelly's high-octane offense in 2013. That doesn't mean they aren't aware of the offensive experiment going on in Philad…

Share Tweet

Running back got plenty of work in practice with starter Richardson resting a sore foot.

Share Tweet

They'll face the leading rusher in franchise history, and counter with a set of backs who have no NFL history at all.

Share Tweet

Preview: St. Louis Rams vs. Atlanta Falcons

Sep 12

NFL Films previews the Week 2 matchup between the St. Louis Rams and the Atlanta Falcons.

Countdown Daily Prediction: STL-ATL

Sep 12

The NFL Live crew make their picks for St. Louis at Atlanta.

Inside Edge: Rams at Falcons

Sep 12

ESPN NFL Insider Mike Sando delivers some stats to help you make your pick for St. Louis at Atlanta.

Cards' Win Streak Snapped

Sep 12

Sean Halton homered and drove in three runs as the Brewers ended the Cardinals' five-game win streak with a 5-3 win.