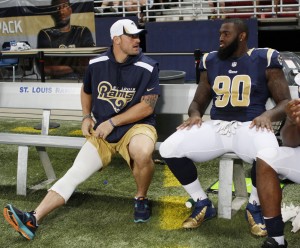 stltoday.com
Updated Sep 13, 2013
Defensive end is slowed by hip injury, listed as questionable for Sunday's game in Atlanta.
Share
Tweet
TEMPE, Ariz. – Sometimes all a team needs is a little reassurance. Players don't need fans to fawn over them or to put them on a pedestal. A simple endorsement from their coach can do wonders. Just ask the Arizona Cardinals. A day after their Week 1 los…

Share Tweet

Rams have much to gain in Atlanta

EARTH CITY, Mo. – This weekend, the Seattle Seahawks and San Francisco 49ers will take center stage Sunday night as the entire nation will get a chance to see two teams expected to contend for a Super Bowl berth in 2013. Earlier in the day, the St. Loui…

Share Tweet

EARTH CITY, Mo. -- In non-Chris Long related injury news, it appears that St. Louis Rams running back Daryl Richardson will be available for the team Sunday against the Atlanta Falcons. Richardson is listed as probable on the team's injury report after …

Share Tweet

Cortland Finnegan fined $7,875 for late hit on Larry Fitzgerald

profootballtalk.com

Sep 13, 2013

Rams cornerback Cortland Finnegan had a rough opening to the 2013 season. The Cardinals picked on him all day long and got several good gains on passes thrown in Finnegan's direction. Finnegan was also penalized three times, two of which were personal f…

Share Tweet

ESPN.com profootballtalk.com

Sep 13, 2013

EARTH CITY, Mo. -- St. Louis Rams defensive end Chris Long did not practice Friday and will be questionable for Sunday's game against the Atlanta Falcons. The Rams list Long as dealing with a hip injury that apparently has slowed him as the week has gon…

Share Tweet

Football Friday: Bernie and Bryan on SJ39

On this episode of Football Friday, Post-Dispatch columnists Bryan Burwell and Bernie Miklasz break down the Rams matchup with the Falcons. Will Steven Jackson welcome his former team to Atlanta?

Share Tweet

CNNSI.com

Sep 13, 2013

The Nationals are finally starting to play up to their preseason projections. Here's what they need to do to reach October.

Share Tweet

Bernie: Is Jackson a Hall of Famer?

Former Rams running back Steven Jackson hasn't done enough to warrant Hall of Fame status, but he still has a chance to make it.

Share Tweet

Pipeline Inbox: Taveras could be tops in 2014

MLB.com

Sep 13, 2013

In the first Pipeline Inbox, Jim Callis writes that Cardinals outfield prospect Oscar Taveras is most likely to make the biggest impact at the Major League level in 2014.

Share Tweet

Welcome to "Breakfast with Bernie," a daily take on the sports world brought to you from the First Bank studio by Papa John's pizza.

Share Tweet

Morning Ram-blings: Getting cap creative

EARTH CITY, Mo. -- It's nothing out of the ordinary for teams to look for new and creative ways to find salary-cap space at this time of year. Teams up against the cap will restructure contracts, make cuts, trade players or all of the above in order to …

Share Tweet

Rams defensive end started season with three-sack outing; Falcons try to shore up pass-blocking issues.

Share Tweet

Rays cling to Wild Card spot; NL Central a dead heat

MLB.com

Sep 13, 2013

Heading into a crucial weekend of games, the American League Wild Card is still very much a toss-up, and the National League Central is knotted up once again, thanks to a Pirates win and a Cardinals loss.

Share Tweet

Friday the 13th: The scariest NFL players of all time

Sep 13

On Friday the 13th, the "NFL Total Access" crew unleashes its top five scariest players in NFL history.

'Playbook': St. Louis Rams vs. Atlanta Falcons

Sep 13

After a road loss, the Atlanta Falcons haven't lost at home in their next game over the last five years. Can the St. Louis Rams end that streak? The "Playbook" guys have the answer.

Cardinals Walk Off In Extras

Sep 13

Pete Kozma scored on a passed ball in the 10th inning to lift the Cardinals past the Mariners 2-1.