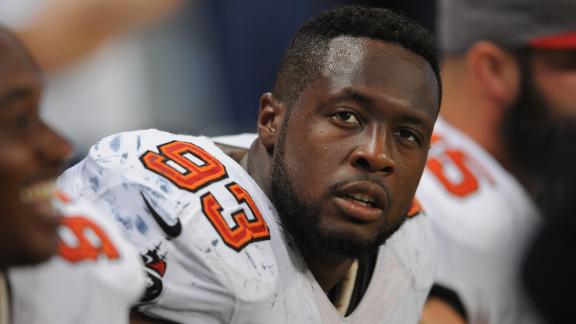 profootballtalk.com
ESPN.com
Updated 5 hours ago
Gerald McCoy promised yesterday that he wouldn't let a contract issue keep him from training camp. That's in large part because he's looking to replicate the work done by a Hall of Famer. McCoy said a recent conversation with former Buccaneers defensive…
Upvote
Share
Tweet
deadspin.com

Apr 15 (yesterday)

Your browser does not support iframes. The Bucs and Reds combined for 10 home runs in just six innings, before being suspended due to rain. Here are all 10 of them, hit to dwindling crowds, increasing rain, and—because it was Cincinnati's "Bark in …

Upvote Share Tweet

Derek Carr to visit Bucs next week

profootballtalk.com

Apr 11 (5 days ago)

The Buccaneers have Josh McCown and Mike Glennon at quarterback, but they aren't letting that stop them from considering some of the top quarterbacks in this year's draft. Johnny Manziel, Teddy Bridgewater and Jimmy Garoppolo have all visited with the t…

Upvote Share Tweet

Bucs lead NFL in guaranteed money

ESPN.com

Apr 11 (5 days ago)

The Tampa Bay Buccaneers already lead the league in one category. Since the start of free agency, the Bucs have given out $74.3 million in guaranteed money to their incoming free agents and the ones they've re-signed, according to ESPN Stats & Infor…

Upvote Share Tweet

QB still a possibility for Buccaneers

ESPN.com

Apr 10 (6 days ago)

The steady parade of quarterbacks into One Buccaneer Place likely isn't a smokescreen. Every action we've seen out of coach Lovie Smith and general manager Jason Licht so far has been very deliberate. That's why Johnny Manziel's visit Thursday is the la…

Upvote Share Tweet

ESPN.com profootballtalk.com

Apr 9

The Tampa Bay Buccaneers are hosting one of the biggest names in this year's NFL draft on Wednesday. Texas A&M quarterback Johnny Manziel is visiting the Bucs, according to The Tampa Tribune's Roy Cummings. Manziel becomes the third quarterback know…

Upvote Share Tweet

Jimmy Garoppolo visits with Bucs

profootballtalk.com

Apr 8

Mike Glennon said Tuesday that he still thinks he has a shot at winning the starting quarterback job in Tampa this season despite the addition of Josh McCown in free agency. The Buccaneers, meanwhile, continue to meet with some of the top quarterback pr…

Upvote Share Tweet

Tampa Bay Buccaneers quarterback Mike Glennon must wake up each day wondering what he did wrong. Glennon was a third-round draft pick who was forced to start after three games last season because of a rift between former coach Greg Schiano and quarterba…

Upvote Share Tweet

Bucs happy to be treated 'like men'

ESPN.com

Apr 8

TAMPA, Fla. -- Greg Schiano is gone from One Buccaneer Place, but the former Tampa Bay Buccaneers coach hasn't been forgotten. You had to read between the lines only slightly to see the players are happy they now are coached by Lovie Smith. On the secon…

Upvote Share Tweet

Bucs announce Lavelle Hawkins signing

profootballtalk.com

Apr 7

After the Buccaneers traded wide receiver Mike Williams last week, reports indicated that they would be signing Lavelle Hawkins to fill his spot on the depth chart. The Buccaneers confirmed those reports on Monday with the announcement that Hawkins has …

Upvote Share Tweet

profootballtalk.com ESPN.com

Apr 7

The Buccaneers bought themselves a quarterback for the future when they signed Josh McCown. But that doesn't mean they're not looking for a quarterback of the future. The team confirmed that Louisville quarterback Teddy Bridgewater visited the team head…

Upvote Share Tweet

Bears safety Major Wright is returning to the state where he played his college ball, agreeing to terms on a one-year deal with the Bucs, Rick Stroud of the Tampa Bay Times reports. The former Florida Gators star had 100 tackles, two forced fumbles and …

Upvote Share Tweet

Report: Bucs expected to sign Lavelle Hawkins

profootballtalk.com

Apr 4

The Buccaneers traded away wide receiver Mike Williams on Friday, opening up a spot on their depth chart with most of the top free agent pickings already snapped up. Lavelle Hawkins was not one of those players and it looks like he'll be headed to Tampa…

Upvote Share Tweet

If Tampa Bay Buccaneers receiver Mike Williams did not know coach Lovie Smith is not a person to mess with, he learned that lesson the hard way on Friday. Smith continued to clean house in Tampa and reportedly traded Williams to the Buffalo Bills for a …

Upvote Share Tweet

Buccaneers now have a huge hole at wide receiver

profootballtalk.com

Apr 4

The Buccaneers made it clear in recent months they were growing weary of the Mike Williams Show, which occassionally played out on the football field. And their statement on today's trade makes that clearer than it ordinarily would have been. "We thank …

Upvote Share Tweet

profootballtalk.com

Apr 3

Before 2011, all NFL teams would have opened their offseason workout programs by now. This year, no one has. On Monday, seven will. Teams with new coaches can get started on April 7. Accordingly, the Browns, Lions, Texans, Vikings, Buccaneers, Titans, a…

Upvote Share Tweet

ESPN.com

Apr 3

It's my pleasure to pinch hit for Vaughn McClure today. In addition to covering the Buccaneers, I filled in for Vaughn on a conference call the NFL Nation reporters did with ESPN draft guru Mel Kiper Jr. I know Atlanta has needs on the offensive and def…

Upvote Share Tweet

Mike Williams sued by insurance company for kitchen fire

profootballtalk.com

Apr 3

Buccaneers wide receiver Mike Williams continues to put the old saying that there's no such thing as bad publicity to a stern test. Williams' 2013 season ended early because of injury, but he keeps popping up in the headlines for things that aren't doin…

Upvote Share Tweet

Lovie Smith: Bucs not looking for quick fix

ESPN.com

Apr 1

I thought Tampa Bay Buccaneers general manager Jason Licht made a very nice statement last week when he said he didn't think it was fair to ask fans to be patient. Licht was talking about why the Buccaneers have been so active in free agency. Coming off…

Upvote Share Tweet

Buccaneers sign Jorvorskie Lane

profootballtalk.com

Apr 1

The Buccaneers lost fullback Erik Lorig to the Saints as a free agent last month and the team has kicked off April by adding a player to take his spot on the roster. Agent David Canter tweeted an announcement that his client Jorvorskie Lane has signed w…

Upvote Share Tweet

Bucs' McCoy Won't Hold Out

Apr 15

Jeff Saturday discusses why he isn't surprised that Buccaneers DT Gerald McCoy has indicated that he will be at camp this summer regardless of his contract status.

Who will win NFC South?

Apr 10

The Tampa Bay Buccaneers made some big moves during the offseason, including hiring a new head coach, but will they be able to knock off the New Orleans Saints, Carolina Panthers and Atlanta Falcons?

Roster Reset: Tampa Bay Buccaneers

Apr 10

Jeff Darlington reports on the Tampa Bay Buccaneers' offseason and the direction the team is headed under new coach Lovie Smith.

Tampa Bay Buccaneers head coach Lovie Smith: 'Easy decision' to name McCown starter

Apr 10

Tampa Bay Buccaneers head coach Lovie Smith speaks about the team's offseason signings, the loss of cornerback Darrelle Revis and the thought process behind naming Josh McCown the starting quarterback.