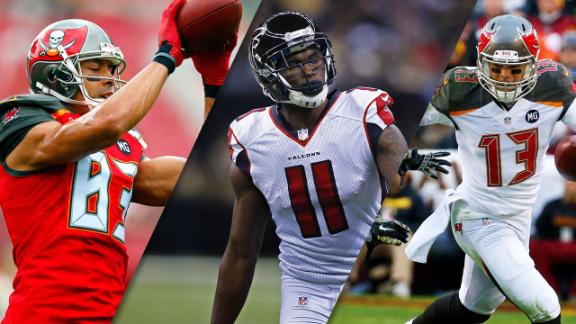 Ronde Barber sees "zero fear" in Jameis Winston

profootballtalk.com

Jul 5 (2 days ago)

Former Buccaneers cornerback Ronde Barber struck plenty of fear in the hearts of quarterbacks, thanks to a level of versatility that made his approach to any given play unpredictable. But Barber apparently wouldn't have rattled new Buccaneers quarterbac…

Share Tweet

Colts sign linebacker Justin Shirk, waive Camaron Beard

profootballtalk.com

Jul 3 (5 days ago)

The Indianapolis Colts signed linebacker Justin Shirk and waived defensive end Camaron Beard on Thursday. Shirk, an undrafted free agent out of Division II Bloomsburg, spent time with the Tampa Bay Buccaneers during their rookie mini-camp in May. A tran…

Share Tweet

Kaufman knows he'd have a hard time getting Warren Sapp in the Hall of Fame now

profootballtalk.com

Jul 2 (5 days ago)

In early 2013, Ira Kaufman of the Tampa Tribune managed to persuade the Hall of Fame voters to induct former Buccaneers defensive tackle Warren Sapp on the first ballot. While off-field, post-career behavior technically isn't an official factor in the s…

Share Tweet

Brandon Magee still waits for NFL call, would give up baseball

profootballtalk.com

Jul 1 (6 days ago)

In March, the Buccaneers released linebacker Brandon Magee. The next day, he reported for Red Sox training camp. The offseason program came and went without any team offering Magee an NFL job. In the interim, Magee has kept playing baseball — continuing…

Share Tweet

Jeremy Hill focused on breaking more tackles this year

profootballtalk.com

Jun 30

After Bengals running back Jeremy Hill ran for 40 yards on 13 carries against the Buccaneers last season, he said there wasn't a lot of running room available because the Bucs were playing eight men in the box. Offensive coordinator Hue Jackson didn't c…

Share Tweet

profootballtalk.com

Jun 30

A year ago, Seahawks defensive end Michael Bennett signed a new four-year deal to stay with Seattle, after jumping to the Seahawks from the Buccaneers on a one-year contract. Now, he's not happy with the contract he signed, and he's not getting much sym…

Share Tweet

Jameis Winston won't stop using social media now

profootballtalk.com

Jun 29

Within hours of being drafted, Buccaneers quarterback James Winston had already found at least a small pot of hot water, tweeting out of a photo of him sitting behind a plate of crab legs. And while that caused a bit of temporary embarrassment (and subs…

Share Tweet

Longtime Patriots guard Dan Connolly may call it a career

profootballtalk.com

Jun 28

Dan Connolly has been a starting guard for the Patriots for the last five years, but he may be done. Connolly, whose contract with the Patriots expired after last season, drew some interest from the Buccaneers and Seahawks in free agency but declined to…

Share Tweet

A lot of people try to lose weight before hitting the beach during the summer. Buccaneers quarterback Jameis Winston's major plans for the season are leading him elsewhere, but he's still going to be keeping an eye on the scale for the next few weeks. W…

Share Tweet

yahoo.com

Jun 25

Warren Sapp is not having a good year. Sapp, the former Tampa Bay Buccaneers and Oakland Raiders defensive tackle who is in the Pro Football Hall of Fame, was reportedly arrested for the second time this year, and this time he was charged with three cou…

Share Tweet

Buccaneers head Coach Lovie Smith has had a little over a month to work with his new quarterback, Jameis Winston. Smith said that so far, Winston's been exactly what the Bucs had hoped for, Joe Kania of Buccaneers.com reports. "I think in Jameis' case, …

Share Tweet

Heading into contract year, Doug Martin has his best offseason

profootballtalk.com

Jun 23

Sometimes the promise of free agency can spur a player to kick it into another gear. That seems to be the case with Buccaneers running back Doug Martin. The Bucs didn't pick up the fifth-year option on Martin's rookie contract, meaning he becomes an unr…

Share Tweet

Jameis Winston looks forward to "fun matchup" with J.J. Watt

profootballtalk.com

Jun 22

With the 2015 regular season looming and Buccaneers quarterback Jameis Winston among the rookies to whom the football-following world will be paying the closest attention, Winston is paying the closest attention for now to his third game that counts. Vi…

Share Tweet

yahoo.com ESPN.com profootballtalk.com

Jun 19

With still more than a month to go until the beginning of training camp, the Tampa Bay Buccaneers want to do anything they can to develop quarterback Jameis Winston for his rookie season. With that in mind, according to Fox Sports, the team plans to pur…

Share Tweet

Texans and Buccaneers joining the trend of calling minicamp early

profootballtalk.com

Jun 18

Maybe it's the heat, maybe it's just a reward. But the trend of calling off minicamp practices is spreading. The Patriots had previously canceled their final day of minicamp, and now other teams are following suit. Per multiple reports, both the Buccane…

Share Tweet

Demar Dotson on return to Bucs: "I didn't want to lose any money"

profootballtalk.com

Jun 17

Most players show up at mandatory minicamps because they want to keep their jobs, and some do it for the good of the team. And some of them are simply pragmatists. Buccaneers tackle Demar Dotson said there was a simple reason he ended his absence from t…

Share Tweet

yahoo.com profootballtalk.com

Jun 17

Tampa Bay Buccaneers quarterback Jameis Winston worked mainly with the second-team offense during Tuesday's minicamp, but the first overall pick – and expected starter – is taking it all in stride. "As soon as I earn it," Winston told the Tampa Bay Time…

Share Tweet

profootballtalk.com

Jun 15

When the Patriots released tight end Tim Wright, the Bucs were quick to put in a claim, to bring back a former player they traded a year ago. But they were far from the only ones. According to Field Yates of ESPN, 10 teams put in claims on Wright: The B…

Share Tweet

profootballtalk.com

Jun 12

Tim Wright is a Buccaneer again. Wright, the tight end sent to New England in last year's trade that brought Logan Mankins to Tampa Bay, is now back with the Buccaneers. The Patriots waived Wright yesterday, and the Bucs claimed Wright off waivers today…

Share Tweet

profootballtalk.com

Jun 12

It seems the Buccaneers' policy of not negotiating contracts with players who aren't taking part in the team's practices has led tackle Demar Dotson to rethink his decision to stay away from the team. Dotson has missed the last couple of weeks of OTAs, …

Share Tweet

Winston: 'It's about my actions'

Jun 26

ESPN Buccaneers reporter Pat Yasinskas discusses whether Tampa Bay quarterback Jameis Winston will be able to manage his image in the spotlight.

Inside The Huddle: Bucs receiver Mike Evans

Jun 25

Buccaneers see big things ahead for receiver Mike Evans

Jameis Winston looking forward to facing J.J. Watt

Jun 23

ESPN NFL Insider Jarrett Bell discusses rookie QB Jameis Winston's comments that J.J. Watt is the player he is most looking forward to facing.

TE Tim Wright heading back to Tampa

Jun 12

Tim Hasselbeck discusses whether tight end Tim Wright will be able to make an impact on the field for the Tampa Bay Buccaneers, or whether he'll even make the final roster.