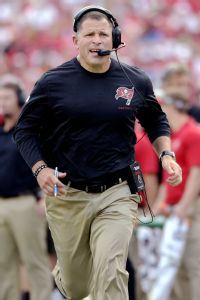 ESPN.com
Updated Dec 8, 2013
TAMPA, Fla. -- Take a look at the stat sheet from the Tampa Bay Buccaneers' 27-6 victory against the Buffalo Bills on Sunday at Raymond James Stadium. It will show you that the Bucs had seven sacks, four interceptions, nine tackles for loss and 13 quart…
Share
Tweet
profootballtalk.com ESPN.com

Dec 8, 2013

In a bad game between two losing teams on Sunday in Tampa, the Buccaneers proved a much better team than the Bills. Tampa Bay jumped out to an early lead when Bobby Rainey ran for an 80-yard touchdown on the second play of the game, and the Buccaneers n…

Share Tweet

ESPN.com

Dec 8, 2013

Join our ESPN.com NFL experts as they break down the Buffalo Bills' visit to the Tampa Bay Buccaneers. Contribute your thoughts and questions beginning at 1 p.m. ET. And, be sure to visit our NFL Nation Blitz page for commentary from every game, as well…

Share Tweet

Sunday Blitz: Bills-Buccaneers Recap

Dec 8

Cary Chow and Tom Waddle break down the Buccaneers' Week 14 win over the Bills.

Rainey, Bucs Run Over Bills

Dec 8

Bobby Rainey ran for 127 yards and a touchdown to lead the Buccaneers past the Bills 27-6.

Buccaneers postgame press conference

Dec 8

Buccaneers react following game with Bills

Week 14: Buffalo Bills vs. Tampa Bay Buccaneers highlights

Dec 8

Tampa Bay Buccaneers running back Bobby Rainey ran for an 80-yard touchdown early in the first quarter and it was all Buccaneers from there, as they defeat the Buffalo Bills 27-6 in Week 14 of NFL action.