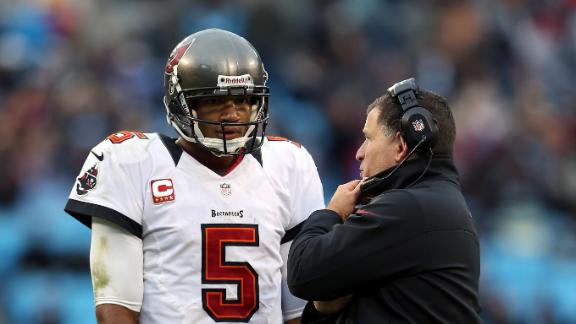 ESPN.com
profootballtalk.com
yahoo.com
Updated Sep 12, 2013
TAMPA, Fla. -- On a sweltering May afternoon in 2011, Josh Freeman stood on a field at the University of South Florida and seemingly never broke a sweat. This was during the NFL lockout, and I couldn't help but admire how firmly the 23-year-old quarterb…
Share
Tweet
nytimes.com

Sep 12, 2013

The Broncos' John Fox said he wanted to remind people that Von Miller's recent legal troubles involve only traffic citations.

Share Tweet

Bucs avoid blackout, which means everyone can gawk

If you live in the greater Tampa region, and enjoy watching a good grease fire, you're in luck. In an announcement with perfect "Hey, look over there" timing, the Buccaneers said Sunday's game with the Saints will not be blacked out. That means they sol…

Share Tweet

ESPN.com yahoo.com profootballtalk.com

Sep 12, 2013

Lavonte David's penalty for pushing New York Jets quarterback Geno Smith out of bounds late in the fourth quarter last Sunday led to a field goal that cost his Tampa Bay Buccaneers the game. He'll have to pay a financial penalty for the hit now, as well…

Share Tweet

After reports emerged regarding the Buccaneers' pre-Week One players only meeting that addressed among other things the legitimacy of the vote for 2013 captains, reports emerged that quarterback Josh Freeman (who lost his "C" after three years wearing i…

Share Tweet

Reports: Buccaneers Already A Dysfunctional Shitshow

deadspin.com

Sep 12, 2013

The NFL season hasn't truly started until one team melts down, revealing locker room divisions via anonymous leaks. And who better than the underachieving Buccaneers, with a hardass college coach and a disappointing young QB with a notoriously bad relat…

Share Tweet

The Bills aren't getting any healthier in the secondary. The Dolphins, on the other hand, are getting some CBs back. The Patriots claimed DT Chris Jones off waivers from the Buccaneers. The Jets are trusting former seventh-rounder Antonio Allen as a sta…

Share Tweet

ESPN.com

Sep 12, 2013

TAMPA, Fla. – Gerald McCoy gave the usual high praise when asked for his scouting report on New Orleans Saints quarterback Drew Brees on Wednesday. "It's the same scouting any first-ballot Hall-of-Famer that's still playing,'' the Tampa Bay Buccaneers d…

Share Tweet

Buccaneers LB David Fined $7,875

Sep 12

Damien Woody discusses the fine levied against Buccaneers LB Lavonte David for his late hit against Jets QB Geno Smith.

Countdown Daily Prediction: NO-TB

Sep 12

The NFL Live crew make their picks for New Orleans at Tampa Bay.

Preview: New Orleans Saints vs. Tampa Bay Buccaneers

Sep 12

NFL Films previews the Week 2 matchup between the New Orleans Saints and the Tampa Bay Buccaneers.

Inside Edge: Saints at Buccaneers

Sep 12

ESPN NFL Insider Mike Sando delivers some stats to help you make your pick for New Orleans at Tampa Bay.