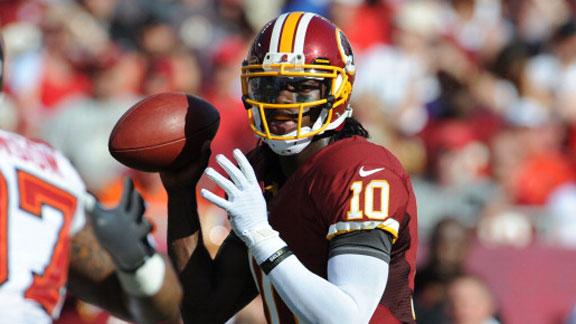 Updated Sep 30, 2012
Share
Tweet
Thoughts on the Tampa Bay Buccaneers' 24-22 loss to the Washington Redskins at Raymond James Stadium: What it means: The Bucs put out another solid effort, but all it added up to was their third straight loss, all against NFC East opponents. The Bucs ar
Sources:
ESPN.com
tampabay.com
Bucs double up: Williams, Jackson go over 100 yards

Updated Sep 30, 2012

Share Tweet

A week after coaches and players were grilled about a conservative offensive approach, the Bucs took a markedly different posture Sunday against the Redskins. Four of their first seven plays from scrimmage were passes, including two first-down throws. A…

Updated Sep 30, 2012

Share Tweet

CB Eric Wright left the game in the third quarter with what was described as a head injury after taking a knee to the back of the head. He left the locker room without addressing reporters, but the Bucs were fortunate his loss came on a day E.J. Biggers…

Ill-timed penalties helped do in the Bucs

Updated Sep 30, 2012

Share Tweet

The Bucs had 10 penalties for a season-high 107 yards, but more important, they had impeccable timing. "There are certain penalties I can live with," coach Greg Schiano said. "There are others that are inexcusable. We had a few of those today." Th

Updated Sep 30, 2012

Share Tweet

Washington safety Brandon Meriweather is inactive for Sunday's game against the Tampa Bay Buccaneers after colliding with teammate Aldrick Robinson on the field during pregame warmups.

Sources:

ESPN.com profootballtalk.com

Pierre Garcon likely to play today in Tampa Bay

Updated Sep 30, 2012

Share Tweet

Redskins receiver Pierre Garcon may finally be ready to take the field today. Garcon, who had a great start to the season in Week One but suffered a foot injury in that game and hasn't played since, is listed as questionable for today's game against t

Source:

profootballtalk.com

Sunday Blitz: Redskins-Buccaneers Recap

Sep 30

Jim Basquil and Eric Allen break down the Redskins 24-22 win over the Buccaneers

Buccaneers postgame press conference

Sep 30

Buccaneers react following game with Redskins

Redskins Win Wild One

Sep 30

Billy Cundiff's 41-yard field goal with three second left gave the Redskins a 24-22 win over the Buccaneers.

Redskins vs. Buccaneers

Sep 30

The Washington Redskins defeated the Tampa Bay Buccaneers in Week 4, 24-22.