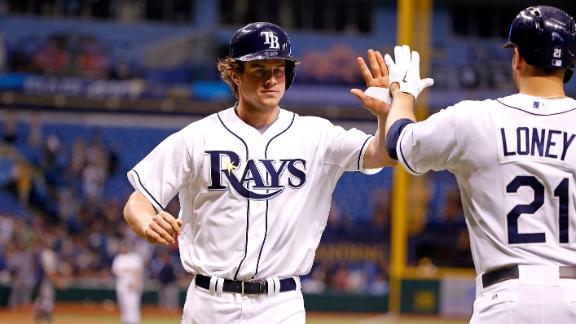 ESPN.com
Updated Aug 15, 2013
Alex Cobb pitched five strong innings in his first big league game since being hit in the head by a batted ball two months ago and the Tampa Bay Rays beat the Seattle Mariners 7-1 on Thursday night.
Share
Tweet
The union of the snake was on the climb at Tropicana Field on Thursday, because the Tampa Bay Rays invited a 20-foot python named Asia into the home clubhouse. Sounds like a Joe Maddon-Luke Scott collaboration, doesn't it? Between Maddon's progressive m…

Share Tweet

MLB.com

Aug 15, 2013

Commissioner Bud Selig, speaking to reporters on Wednesday at the quarterly Owners Meetings, said he is considering assigning someone from his office to become directly involved with what he called the "stalled" negotiations to build a new bal…

Share Tweet

Myers Powers Rays Past M's

Aug 15

Wil Myers drove in four runs in the Rays' 7-1 win over Mariners.

Python Visits Rays Clubhouse

Aug 15

Rays manager Joe Maddon brought a 20-foot python into the Rays clubhouse for "a little bit of motivation within the clubhouse."