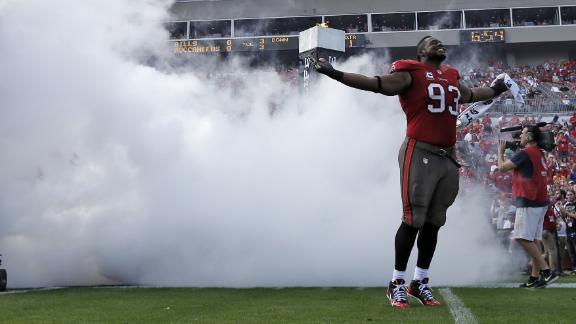 yahoo.com
ESPN.com
nytimes.com
profootballtalk.com
Updated 1 hour ago
There aren't many defensive tackles who are the face of their franchise, but Gerald McCoy probably is the face of the Tampa Bay Buccaneers. At very least, he's paid like it now. McCoy signed a contract extension through the 2021 season, giving him a sev…
Upvote
Share
Tweet
$32.25 million guaranteed, as a practical matter, for McCoy

profootballtalk.com

1 hour ago

The Buccaneers have announced that defensive tackle Gerald McCoy has signed a seven-year extension. Some have reported the guaranteed money as being in excess of $50 million. But how much is really guaranteed as of right now? At signing, McCoy is fully …

Upvote Share Tweet

Watch Brian Boyle help push Lightning reporter through tough workout

thehockeynews.com

8 hours ago

Brian Boyle is, undoubtedly, one of the hardest working big-bodied forwards in the NHL. A defensive monster throughout his career, Boyle eats tough minutes and isn't afraid to get in front of a booming shot. Off the ice, however, Boyle works just as har…

Upvote Share Tweet

Winnipeg has the shots but Tampa Bay has the goals as Lightning down Jets 4-2

NHL.com

20 hours ago

WINNIPEG - A well-rested Tampa Bay Lightning got off half as many shots at one point but made a lot more count as they beat the Winnipeg Jets 4-2 Friday night behind solid goaltending from Ben Bishop. Steven Stamkos, Jonathan Drouin, Vladisla...

Upvote Share Tweet

thehockeynews.com

20 hours ago

After spending last year in junior and missing the start of this season with a broken thumb, former Tampa Bay Lightning third overall pick Jonathan Drouin has his first NHL goal in just his third game. With Nikita Kucherov holding the puck behind the Wi…

Upvote Share Tweet

nytimes.com MLB.com nydailynews.com yahoo.com ESPN.com

Oct 24 (yesterday)

Tampa Bay Rays manager Joe Maddon has exercised an opt-out clause and has left the organization with one year remaining on his contract, the Major League Baseball team said on Friday.

Upvote Share Tweet

Josh McCown making progress for Bucs

ESPN.com

Oct 24 (yesterday)

TAMPA, Fla. -- After a full week of practice, Buccaneers quarterback Josh McCown said he's pleased with the progress of his injured right thumb. McCown has been out since suffering the injury in a Week 3 loss to Atlanta. He began practicing on Monday. "…

Upvote Share Tweet

ESPN.com

Oct 24 (yesterday)

TAMPA, Fla. – If Tampa Bay Buccaneers linebacker Lavonte David and Vikings quarterback Teddy Bridgewater cross paths on Sunday – which they almost certainly will – it won't be the first time. When David was a senior at Miami's Northwestern High, Bridgew…

Upvote Share Tweet

profootballtalk.com ESPN.com

Oct 23 (2 days ago)

Because the trade deadline is coming up, and because the Buccaneers are in flux, and because Vincent Jackson is 31, it's reasonable to think he'll make phones ring. But the veteran wide receiver said Thursday he wants to stay put, and fix things with th…

Upvote Share Tweet

NHL.com

Oct 23 (2 days ago)

TAMPA BAY –The Tampa Bay Lightning have reassigned defenseman Luke Witkowski to the Syracuse Crunch of the American Hockey League today, vice president and general manager Steve Yzerman announced. Witkowski, 6-foot-2, 213 pounds, was recalled...

Upvote Share Tweet

profootballtalk.com ESPN.com

Oct 23 (2 days ago)

Defensive tackle Gerald McCoy looks at the Buccaneers defense from a different vantage point from outside observers but he's reached the same conclusion. It's not a good unit. The Bucs are allowing more yards per game than any team in the league and McC…

Upvote Share Tweet

Buccaneers sign linebacker Orie Lemon away from Chiefs

profootballtalk.com

Oct 23 (2 days ago)

The Bucs filled an unexpected roster spot Thursday, finding another defensive player to take the spot created by Da'Quan Bowers' two-week PED suspension. The team announced they had signed linebacker Orie Lemon off the Chiefs practice squad. Lemon has b…

Upvote Share Tweet

ESPN.com

Oct 23 (2 days ago)

Don't expect any fine offensive displays Sunday at Raymond James Stadium. That's because the Minnesota Vikings and Tampa Bay Buccaneers both are struggling on offense. The Vikings (2-5) and Bucs (1-5) are starting young quarterbacks and ranked near the …

Upvote Share Tweet

TAMPA, Fla. – Buccaneers coach Lovie Smith almost never criticizes players publicly. But he made an exception Wednesday. Smith said he was disappointed in fullback Jorvorskie Lane and defensive lineman Da'Quan Bowers, who each were suspended for the nex…

Upvote Share Tweet

Signs point to Mike Glennon for Bucs

TAMPA, Fla. – The early signs Wednesday were that Mike Glennon will be the Buccaneers' starting quarterback on Sunday against Minnesota. Glennon went first among the quarterbacks during the portion of practice that was open to the media. He also spoke t…

Upvote Share Tweet

Bucs rookie RB Charles Sims returns to practice

TAMPA, Fla. -- The Tampa Bay Buccaneers will have an extra running back at Wednesday's practice. Rookie Charles Sims will practice for the first time since the preseason. Sims has been on injured reserve with the designation to return due to an ankle in…

Upvote Share Tweet

buccaneersgab.com

Oct 22 (3 days ago)

New Era has released an excellent new Buccaneers hat for the 2014 season, and now you can get it officially from their site – HERE! This Bucs NFL 2014 On Field 39THIRTY Cap features an embroidered (raised) Buccaneers logo on front, stitched New Era® fla…

Upvote Share Tweet

Memorable night for young guns as three rookies register first point

thehockeynews.com

Oct 22 (3 days ago)

In 50 years, there will be three separate sets of grandkids hearing tell of Tuesday night's NHL action. The reason being for rookies Jonathan Drouin, Adam Lowry, and Seth Griffith, it was the night they registered their first NHL point. The Bruins' Grif…

Upvote Share Tweet

McCoy Signs $98M Extension

Oct 25

ESPN Buccaneers reporter Pat Yasinskas discusses the Buccaneers signing DT Gerald McCoy to a seven-year extension worth $98 million.

Maddon Exercises Opt-Out Option

Oct 24

ESPN MLB Insider Buster Olney discusses why Joe Maddon exercised the opt-out clause in his contract with the Rays and identifies the teams that could be interested in hiring him.

Maddon's Future

Oct 24

Doug Glanville and Mark Mulder discuss Joe Maddon's future after the manager opted out of his contract with the Tampa Bay Rays.

Inside Edge: Vikings-Buccaneers

Oct 23

ESPN NFL Insider Mike Sando delivers stats to help you make a pick for Minnesota at Tampa Bay.