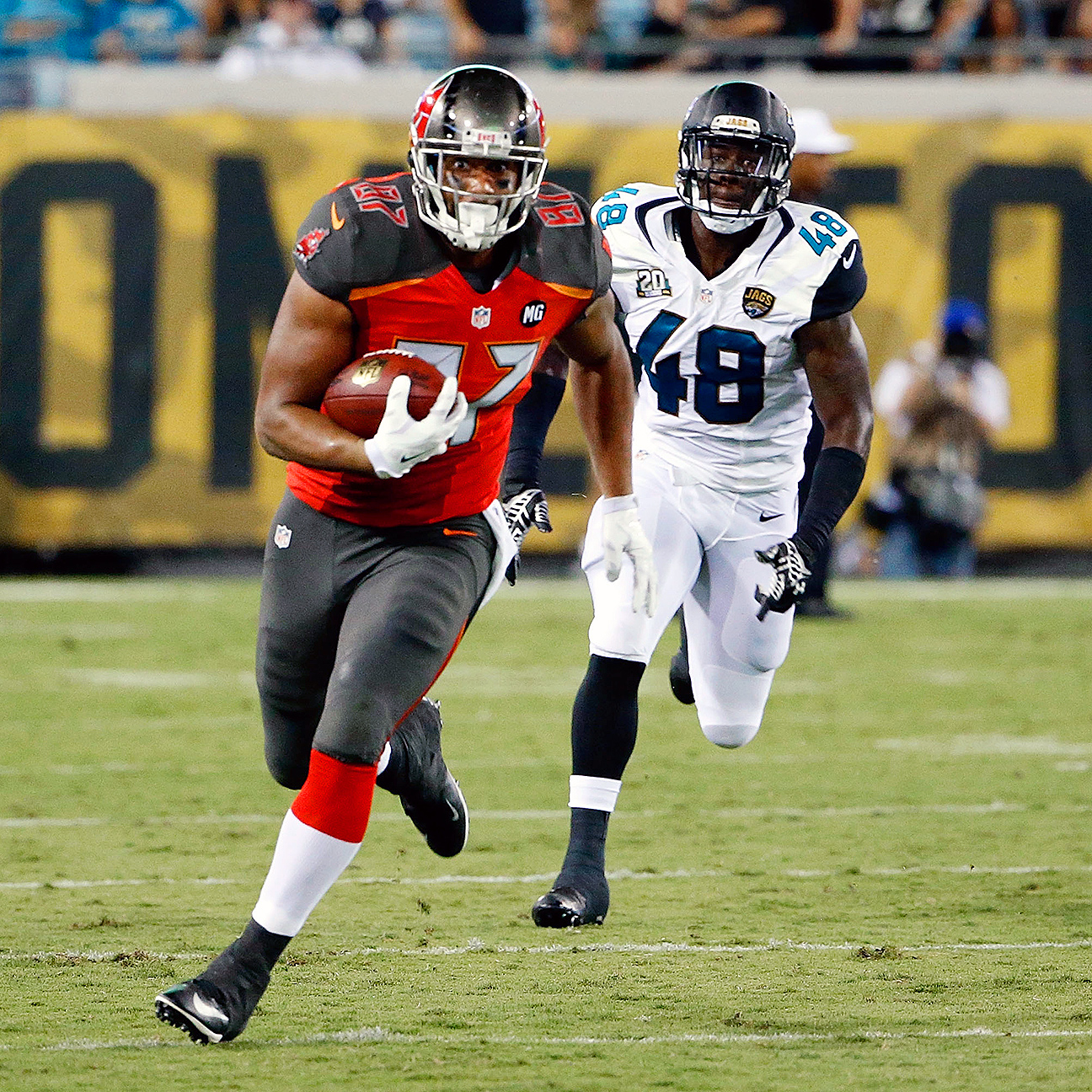 Capitals score 3 power-play goals, win 4th in a row by defeating Lightning 4-2

NHL.com

1 hour ago

WASHINGTON - Jason Chimera scored a power-play goal and had an assist during another man advantage to help the Washington Capitals win 4-2 over the Tampa Bay Lightning on Friday. Alex Ovechkin and T.J. Oshie also scored against Tampa Bay's us...

Share Tweet

NHL.com

2 hours ago

WASHINGTON - Tampa Bay Lightning centre Tyler Johnson left after the first period of a game Friday at the Washington Capitals and will not return. The team did not provide a reason for his departure. Johnson played only one first-period sh...

Share Tweet

Anthony Castonzo won't play against Bucs

profootballtalk.com

7 hours ago

The Colts are 3-0 without their starting quarterback this season and they'll try to go to 1-0 without their starting left tackle against the Buccaneers on Sunday. Anthony Castonzo has been ruled out due to the sprained MCL he suffered in last week's win…

Share Tweet

Tampa Bay Buccaneers Black Friday shopping list includes body armor

ESPN.com

Nov 26 (yesterday)

Tampa Bay Buccaneers Black Friday shopping list includes body armor

Share Tweet

profootballtalk.com

Nov 26 (yesterday)

After the Eagles' debacle last week against the Buccaneers, there was talk that their Thanksgiving game against the Lions would be a referendum on Chip Kelly. The verdict is in: The Eagles have quit on their coach. In an epic 45-14 beatdown in Detroit, …

Share Tweet

Bucs receive notice of Kwon Alexander suspension, subject to appeal

profootballtalk.com

Nov 26 (yesterday)

It's official, sort of. The Buccaneers have received notice that linebacker Kwon Alexander has been suspended for four game for violating the league's PED policy, via Rick Stroud of the Tampa Bay Times. The suspension is subject to appeal, and Alexander…

Share Tweet

NHL.com

Nov 26 (yesterday)

TAMPA, Fla. - Valtteri Filppula scored the game-winning goal in the third round of a shootout, and the Tampa Bay Lightning beat the Los Angeles Kings 2-1 on Wednesday night. The Lightning won the tiebreaker 2-1 after Filppula made a nice move...

Share Tweet

Andrew Luck "very confident" he'll play again this year

The Colts won without Andrew Luck last week and they'll try to do it again against the Buccaneers this week, but Luck said Wednesday that he doesn't think they'll have to play without him for the rest of the 2015 season. In his first meeting with the me…

Share Tweet

Shutdown Corner Playoff Projection: Can Buccaneers find way to sneak in?

yahoo.com

Nov 25 (2 days ago)

We're going to switch things up on the projections this week and take a look at the glut of teams in the middle class of the NFL that still could find their way into the playoffs. It's stunning how much parity there is outside the bottom few and the top…

Share Tweet

ESPN.com

Nov 25 (2 days ago)

Bucs offensive coordinator on Jameis Winston: 'He's going to be somebody'

Share Tweet

Two picks, one TD make David NFC Defensive Player of the Week

After intercepting Eagles quarterback Mark Sanchez twice and returning one for a touchdown last Sunday, Buccaneers linebacker Lavonte David has been named the NFC Defensive Player of the Week. The interceptions were his first two of the season. David re…

Share Tweet

Cam Newton and Jameis Winston each threw five touchdown passes last week, but it seems Winston may not be old enough to win NFC offensive player of the week yet. Newton took the honors for Week 11 over the Buccaneers rookie, which makes him a five-time …

Share Tweet

Eagles offensive tackle Lane Johnson issued an apology after criticizing Philadelphia fans for not being more supportive of the team. Johnson was asked today about the home fans booing the Eagles during Sunday's loss to the Buccaneers, and he responded …

Share Tweet

Prospect Need to Know: Jack LaFontaine is a hidden draft gem in net

thehockeynews.com

Nov 24 (3 days ago)

The NHL's Central Scouting Bureau released its latest Watch List today for the 2016 draft and there have been a bunch of movers. This is not surprising, since the early September edition was largely speculative and now the prospects actually have a good…

Share Tweet

PFT Live: Buccaneers talk with Ira Kaufman, Eagles talk with Geoff Mosher

The Buccaneers thrashed the Eagles in Week 11 and the two teams are moving in very different directions as we move closer to the end of the regular season. On Tuesday's PFT Live, we'll check in with each of the teams to see if those trends will continue…

Share Tweet

When faced with a decision about picking up the $5.6 million fifth-year option on running back Doug Martin's contract, the Buccaneers opted not to pull the trigger. Two years of injuries and middling production influenced that decision, but Martin has t…

Share Tweet

Can Colts' Hasselbeck outshine Bucs' Winston?

Nov 25

On NFL Live OT, ESPN's Mark Schlereth and Antonio Pierce break down the Sunday afternoon matchup between the Buccaneers and the Colts.

Jameis Winston: I don't like being the underdog

Nov 25

Buccaneers QB Jameis Winston explains why he doesn't like playing the role of an underdog while Tampa Bay's offensive coordinator Dirk Koetter discusses how Winston's progression will make him a star in the NFL.

Double Check: Buccaneers-Colts

Nov 25

ESPN NFL Insider Mike Sando delivers stats to help you make a pick for Buccaneers at Colts.

What you need to know for Week 12

Nov 25

NFL Insider Dan Graziano tells you everything you need to know heading into Week 12 of the NFL.