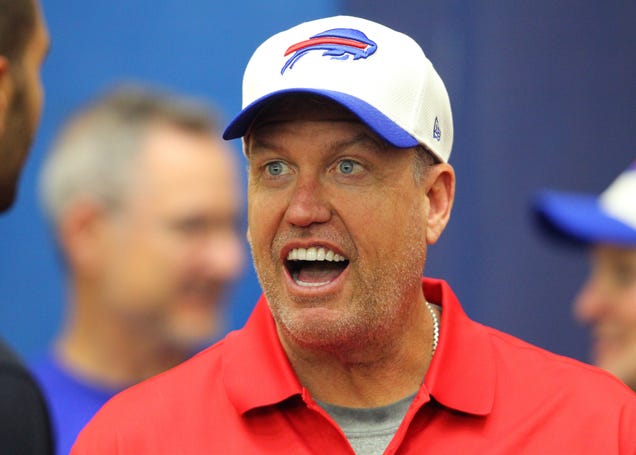 deadspin.com
Updated 12 hours ago
Thanks to new rules instituted after HBO and the NFL had difficulty finding a team to appear on Hard Knocks, the league can now force teams to take part if they meet certain criteria. Nine teams fit the bill: The Browns, Redskins, Giants, Buccaneers, Vi…
Share
Tweet
No developments yet in Mariota talks

profootballtalk.com

27 minutes ago

The Titans and quarterback Marcus Mariota had intended to commence contract negotiations this week. If they did, they didn't get very far. Per a source with knowledge of the situation, no developments are expected this week. Mariota is the only pick tak…

Share Tweet

Tell us about your most unexpected NFL memorabilia find

profootballtalk.com

May 21 (yesterday)

There has never been a better time to find sports apparel and memorabilia. Titans fan in Alaska? Saints fan in Spain? There are numerous websites to find what you seek. (Including, we will add helpfully, this one.) However, the knick-knacks we find unex…

Share Tweet

yahoo.com

May 20 (2 days ago)

Hey, Tony Allen, where did you think you'd end up in the All-Defensive Team voting this year again? [Follow Dunks Don't Lie on Tumblr: The best slams from all of basketball] Right you are, "Grindfather." Right you are. The score-stopping Memph…

Share Tweet

deadspin.com ESPN.com

May 19 (3 days ago)

NFL sellout streaks are practically meaningless except to show fans' interest when lobbying for a stadium financing, and to avoid blackouts. According to a report from NewsChannel 5 in Nashville, the Titans had a deal with a ticket broker to keep their …

Share Tweet

yahoo.com

May 18 (4 days ago)

How They Got Here • Golden State: After a season of near-constant highs, the Warriors finally experienced real adversity in the Western Conference Semifinals against the Memphis Grizzlies. After dispatching the Grizzlies with ease in Game 1, Golden Stat…

Share Tweet

The Memphis Grizzlies head into the offseason with a major goal: re-signing their free agent All-Star center.

Share Tweet

Titans sign two tryout players from rookie minicamp

profootballtalk.com

May 18 (4 days ago)

The Titans held their rookie minicamp over the weekend and two of the players trying out for the club impressed enough to earn spots on the 90-man roster. The team announced Monday that tight end Tevin Westbrook and linebacker Dezmond Johnson will be st…

Share Tweet

Offset language could be a snag for Titans, Mariota

profootballtalk.com

May 17 (5 days ago)

Before Marcus Mariota can become the Titans' franchise quarterback, he'll need to be officially employed by the franchise. Of the first seven picks in the 2015 draft, Mariota is the only one who remains unsigned. Per a league source, the two sides inten…

Share Tweet

Lewan doesn't care who the Titans quarterback is

profootballtalk.com

May 16 (6 days ago)

Titans left tackle Taylor Lewan has said, since the drafting of quarterback Marcus Mariota, that Lewan and other teammates still regarded Zach Mettenberger as the starter. Lewan now says that he has no agenda against the rookie. "That's not the case at …

Share Tweet

yahoo.com

May 16 (7 days ago)

The Golden State Warriors were in some trouble. After falling behind by double digits early in Game 6 of the Western Conference Semifinals at FedExForum, the Memphis Grizzlies came through with a very strong third-quarter to cut the margin to as little …

Share Tweet

Grizzlies Hold Pregame "Moment Of Song" In Memory Of B.B. King

deadspin.com

May 15

Memphis legend B.B. King died last night , and given his importance as a cultural icon to the Blues capital, it was a given the Grizzlies would do some sort of tribute before tonight's Game 6 against the Warriors. But the occasion didn't call for the st…

Share Tweet

nytimes.com profootballtalk.com

May 15

Marcus Mariota has started the process of getting used to being under center as an NFL quarterback, and the Tennessee Titans liked what they saw during the quarterback's first day on the field.

Share Tweet

yahoo.com

May 15

We've got a pair of potential closeout Game 6s on tap this evening, with the Washington Wizards and Memphis Grizzlies each looking to stave off elimination. Can they follow in the Houston Rockets' thrilling footsteps by staying alive and forcing Game 7s…

Share Tweet

nba.com

May 15

Grizzlies guard Tony Allen says he's definitely playing Game 6 against the Golden State Warriors with Memphis needing a win to avoid elimination trailing their Western Conference semifinal 3-2.

Share Tweet

Former Titans Player: Aaron Hernandez Said He'd Kill Me In A Game

deadspin.com

May 15

Former Titans cornerback and current CFL nomad Ryan Mouton had a story to share Thursday. When the Patriots and Titans played in 2012, Mouton laid out Aaron Hernandez after a catch, knocking off the tight end's helmet. Believe it or not, Mouton claimed …

Share Tweet

Jagr and Eichel proving age means nothing at the World Championship

thehockeynews.com

May 15

As we pause briefly from the Stanley Cup playoffs, let's turn our eyes over to Europe for a second, where the World Championship is down to four teams. Canada plays the Czech Republic in one semifinal, while Russia and the United States renew hostilitie…

Share Tweet

Titans reach deals with David Cobb, Jalston Fowler

profootballtalk.com

May 14

The Titans took a pair of running backs in the 2015 draft and they announced Thursday that both of them have signed four-year contracts with the team. Tennessee made fullback Jalston Fowler one of their two fourth-round selections with the 108th overall…

Share Tweet

The Warriors Are Cruel

deadspin.com

May 14

I won't presume to know how Grizzlies fans were feeling during the first few minutes of last night's Game 5 loss to the Warriors. It was certainly too early for them to be feeling confident, but the Grizzlies being up by double digits early, with Marc G…

Share Tweet

yahoo.com

May 14

The Golden State Warriors looked in crisis just four days ago. After a second straight blowout victory over the Memphis Grizzlies, it's safe to say that the best team of the NBA's regular season is still one of the league's obvious championship contende…

Share Tweet

Titans fans should keep eyes on Jeremiah Poutasi

May 20

ESPN Titans reporter Paul Kuharsky says the team needs 6-foot-5, 335-pound Jeremiah Poutasi, their third-round pick, to step up and solidify the offensive line.

Adjustments for Mariota

May 16

Antonio Pierce discusses the adjustments QB Marcus Mariota will need to make playing under center and learning Tennessee's playbook.

Titans WR Green-Beckham is confident

May 15

ESPN Titans reporter Paul Kuharsky discusses rookie wide receiver Dorial Green-Beckham's confidence that he'll make an immediate impact in the NFL.

Mariota reacts to first Titans practice

May 15

Marcus Mariota goes over his first practice with the Titans and how he's excited for the quarterback competition with Zach Mettenberger.

Sports Columnists

2015 NBA playoffs - Golden State Warriors learning what it takes to be cha…

May 21

Steve Kerr is trying to impress upon his inexperienced Warriors just how hard the playoffs can be, without them actually proving it by adding to the degree of difficulty.

NBA Playoffs 2015 - Golden State Warriors and Houston Rockets going small …

May 21

The Western Conference finals are downsizing. And while Houston has no problem going small, it might be playing right into Golden State's hand.