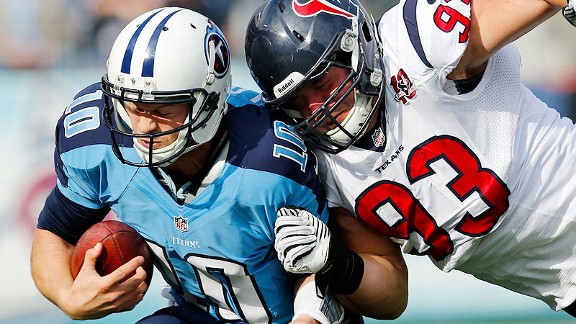 ESPN.com
Updated Dec 2, 2012
NASHVILLE, Tenn. -- No champagne. No confetti. No cartwheels. The Houston Texans left Tennessee happy, for sure. They weren't about to pretend that clinching a playoff berth didn't mean something. But after a 24-10 victory over the Tennessee Titans, t
Share
Tweet
Megatron Makes It Look Easy: Your Sunday NFL GIF Roundup

deadspin.com

Dec 2, 2012

We'll be putting all our GIFs for the day here, from the silky-smooth Calvin Johnson to Mark Sanchez getting his hopes up. We'll update the post as the later games conclude, so stay tuned. More »

Share Tweet

ESPN.com

Dec 2, 2012

Thoughts on the Jaguars' 34-18 loss to the Bills in the rain at Ralph Wilson Stadium in Buffalo: What it means: The Jaguars couldn't build off of last week's upset of the Titans. Jacksonville played poorly and is 2-10 for the first time in franchise

Share Tweet

ESPN.com profootballtalk.com

Dec 2, 2012

Tennessee right tackle David Stewart was carted off the field after breaking his right leg on the opening series against the Houston Texans.

Share Tweet

Miami Stays Undefeated At Home; Spurs Are Still Best In The West

dimemag.com

Dec 2, 2012

The last time Miami played Brooklyn at home, the Nets got beatdown by 30. For one half last night, it seemed like things were changing. LeBron James wasn't playing well. The Nets were killing it offensively. Even Jerry Stackhouse was turning back the cl

Share Tweet

Aging Big Three leads Spurs past Griz in OT

ESPN.com

Dec 2, 2012

Tony Parker scored 30 points, Tim Duncan had 27 points and 15 rebounds, and the San Antonio Spurs shook off a "disappointing" $250,000 fine by the NBA to beat the Memphis Grizzlies 99-95 in overtime Saturday night.

Share Tweet

Sunday Blitz: Texans-Titans Recap

Dec 2

Prim Siripipat and Cris Carter break down the Texans' 24-10 win over the Titans

Texans Clinch Playoff Berth

Dec 2

Matt Schaub threw for 207 yards and two touchdowns to lead the Texans over the Titans 24-10.

Texans vs. Titans highlights

Dec 2

Matt Schaub led the Houston Texans with 207 pass yards, 2 TD in a 24-10 win over the Tennessee Titans.

The cutest touchdown ever

Dec 2

Tennessee Titans quarterback Jake Locker hits wide receiver Kenny Britt for a 34-yard touchdown, but the real star is the little fan who receives the ball.