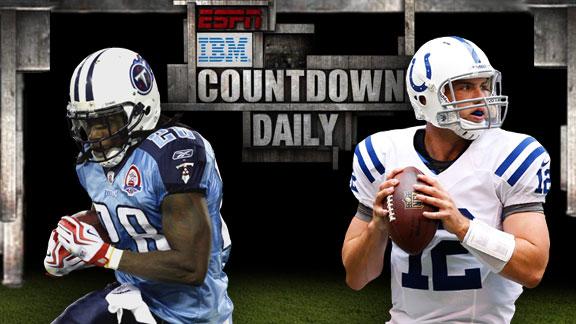 profootballtalk.com
ESPN.com
Updated Dec 5, 2012
A day after placing right tackle David Stewart on injured reserve due to a broken leg, the Tennessee Titans had to end the season for yet another starting offensive lineman. Tennessee placed left guard Steve Hutchinson on injured reserve Wednesday. He's
Share
Tweet
Grizzlies off to unusually fast start

nba.com

Dec 5, 2012

Sitting atop the NBA standings is new territory for Memphis. Getting off to a winning start is just as unusual for the Grizzlies.

Share Tweet

Titans need to form final opinions on linemen

ESPN.com

Dec 5, 2012

Do the Titans have full reads on Leroy Harris and Eugene Amano going forward? They should. And now with another shuffling of the offensive line, they should complete their research on Fernando Velasco, Deuce Lutui and Kevin Matthews, too. Tennessee flir…

Share Tweet

RTC: What ifs for the Titans

ESPN.com

Dec 5, 2012

Reading the coverage… Create the playoff field by playing out the remaining games with our playoff machine. Reviewing the Texans' win against the Titans with Khaled Elsayed of Pro Football Focus. Houston Texans Veteran cornerback Stanford Routt has be

Share Tweet

David Stewart, Robert Johnson land on IR for Titans

profootballtalk.com

Dec 5, 2012

The Tennessee Titans lost their third offensive lineman this season to injury when right tackle David Stewart went down with a broken leg Sunday against the Houston Texans. On Tuesday, the Titans placed Stewart and safety Robert Johnson on injured reser…

Share Tweet

LeBron, The Heat Lose To The NBA's Worst Team; New Orleans Has A Terrible New Team Name

dimemag.com

Dec 5, 2012

LeBron James dropped a ridiculous triple-double last night (26 points, 13 rebounds, 11 assists) but no one's going to remember him carving up the Wizards. They'll remember that with about 20 seconds left, he missed a wide-open wing triple that could"

Share Tweet

Countdown Daily AccuScore: TEN-IND

Dec 5

Prim Siripipat goes inside the numbers for the Titans-Colts

Sports Columnists

Sources: Los Angeles Lakers rebuffing trade inquiries for Pau Gasol

Dec 5

The Los Angeles Lakers, largely at the behest of general manager Mitch Kupchak, have rebuffed trade inquiries from at least two teams for Pau Gasol, according to sources with knowledge of the Lakers' thinking.