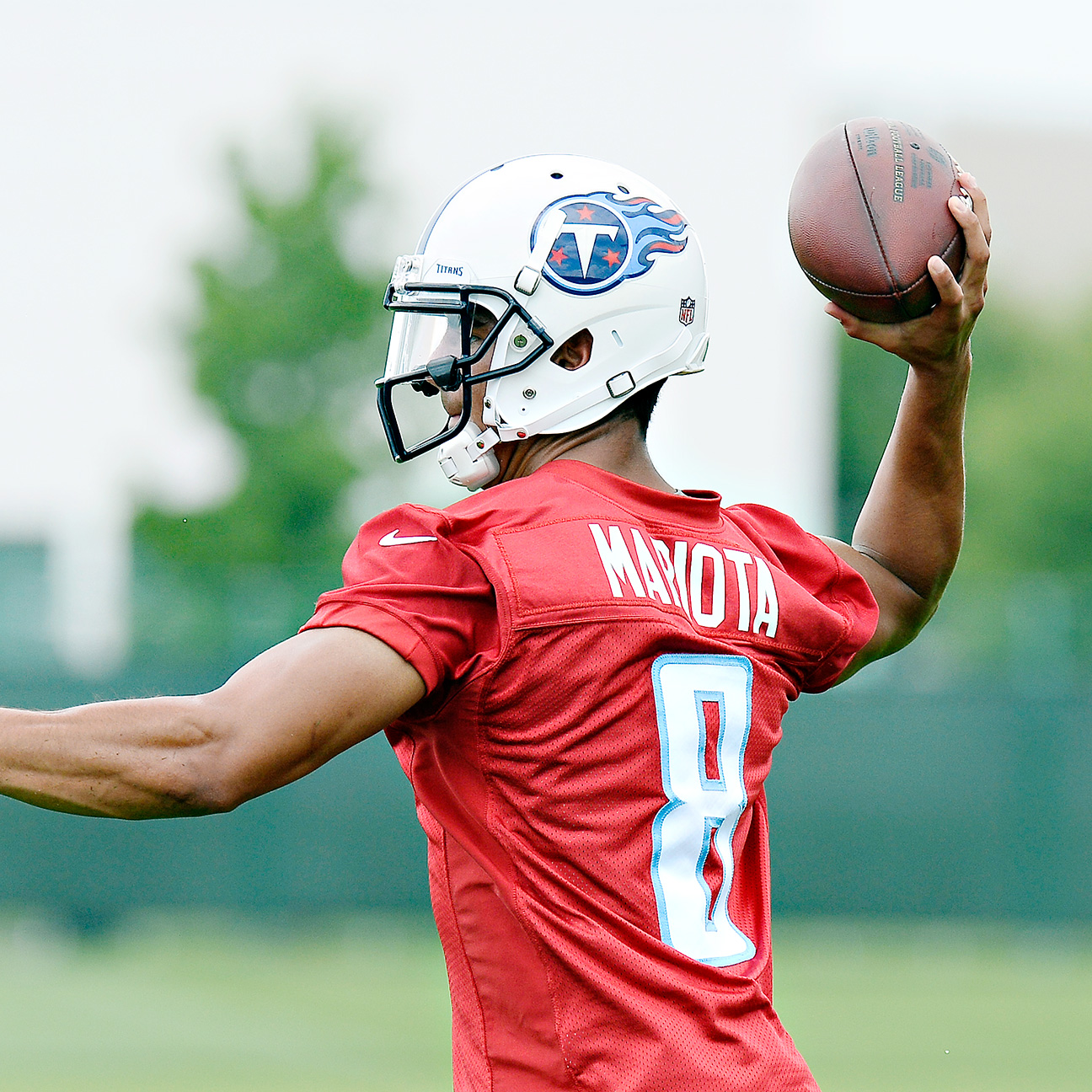 ESPN.com
profootballtalk.com
Updated Jul 3 (yesterday)
Will Marcus Mariota's accuracy mean more yards after the catch for Titans?
Share
Tweet
Kenneth Adams IV could be emerging as face of Titans ownership

profootballtalk.com

Jul 3 (yesterday)

The latest reminder from the Titans that the team still isn't for sale came not only from interim CEO/president Steve Underwood but also from Kenneth Adams IV. As noted by David Climer of the Tennessean, some see that as the first step in the emergence …

Share Tweet

Titans Trends: Offseason Travels

titansonline.com

Jul 1 (3 days ago)

Only one month remains until Training Camp, and Titans players are taking this opportunity to enjoy what's left of their offseason. Here's a rundown of how some of your favorite Titans spent their week.

Share Tweet

Congratulating New Titans Dads

titansonline.com

Jul 1 (3 days ago)

This week we want to welcome the newest members of our Titans family.

Share Tweet

Beau Brinkley Has a Barrel of Fun on the Golf Course

titansonline.com

Jun 26

The Titans long snapper scored a hole-in-one Thursday during the Nashville Sports Council Golf Tournament at Gaylord Springs.

Share Tweet

The Titans are still not for sale

profootballtalk.com

Jun 25

Generalissimo Francisco Franco is still dead. And the Tennessee Titans are still not for sale. The current owners of the team once again have declared that the team isn't on the market, which may serve only to fuel speculation that they're trying to pla…

Share Tweet

profootballtalk.com ESPN.com

Jun 25

An interesting theory has emerged in the past couple of days, fueled by a remark from Titans quarterback Marcus Mariota while in Browns training facility for an event held in conjunction with the Rookie Symposium. The theory is particularly interesting …

Share Tweet

Report: Nissan reaches naming rights deal for Titans stadium

profootballtalk.com

Jun 24

LP Field is no more. According to Jim Wyatt of the Tennessean, the Tennessee Titans have reached a naming rights agreement with Nissan North American to take over the sponsorship for the Nashville stadium. The agreement to re-name the venue "Nissan Stad…

Share Tweet

Doral Green-Beckham says the NFL's message is loud and clear

profootballtalk.com

Jun 24

Wide receiver Dorial Green-Beckham said when he left Titans minicamp, he knew he had to make good decisions. One of them was walking ears-open into the NFL's rookie symposium. Via Jeremy Fowler of ESPN.com, the talented wideout with the history of troub…

Share Tweet

NFLPA wants to look into Titans releasing Taylor Thompson

profootballtalk.com

Jun 22

The Titans didn't seem quite sure about how Taylor Thompson ended up hurt before they cut him. And the players union doesn't seem quite sure why they did. According to Adam Caplan of ESPN, the NFLPA is looking into the release of the third-year tight en…

Share Tweet

Webster shrugs at a short holdout from Mariota

profootballtalk.com

Jun 20

All but three of the 256 draft picks from less than two months ago have signed rookie deals. Titans quarterback Marcus Mariota, the second overall selection, is one of the few who has yet to agree to terms. The man responsible for getting the deal done …

Share Tweet

Quarterback Marcus Mariota was the second player picked in the entire draft, but he may wind up being the final draft pick to sign a contract. He'll definitely be the last Titans draft pick to sign a contract after Friday's announcement that the team ha…

Share Tweet

Ticket Sales for USA-Guatemala on July 3 Surpass 25,000

titansonline.com

Jun 19

Kickoff Set for 5:30 p.m. CT; Game Will be Broadcast Live on FOX Sports 1, UniMás and Univision Deportes Network

Share Tweet

Dorial Green-Beckham knows he has to be in "great situations" the next six weeks

NFL teams have wrapped up their OTAs and minicamps and many coaches offered reminders to their players about avoiding trouble during the break before everyone scattered until training camp. Titans coach Ken Whisenhunt was among those coaches and a playe…

Share Tweet

Delanie Walker: Titans should be a great team this year

The Titans are coming off of a 2-14 season, their third straight losing season, and they're breaking in a rookie quarterback, which usually isn't a recipe for tremendous success in the coming year. Tight end Delanie Walker isn't one for lowering expecta…

Share Tweet

Titans get rid of tight end Taylor Thompson after mysterious knee issue

The Titans weren't really sure what was wrong with tight end Taylor Thompson, but they cut him anyway. Of perhaps because of that. According to Jim Wyatt of the Tennesseean, the Titans waived Thompson Thursday, after a mysterious knee problem kept him o…

Share Tweet

Titans owe NFL money, too

profootballtalk.com

Jun 18

The Titans owe the local government a $3-per-ticket tax for seats sold at a deep discount or given away free to a broker in order to keep a sellout streak alive. And that won't be the only expense associated with that practice. The Titans have acknowled…

Share Tweet

Trumped-up sellout streak comes with a tax bill for Titans

profootballtalk.com

Jun 18

How have the Titans been able to keep selling out games despite becoming decreasingly relevant in recent years? As NewsChannel 5 in Nashville reported last month, the Titans cut a deal with a ticket broker for free and discounted tickets in order to cle…

Share Tweet

Jaguars sign third-rounder A.J. Cann, and we're down to eight unsigned

profootballtalk.com

Jun 17

The ranks of unsigned draft picks got thinner again Wednesday, as we're into the single digits now. The Jaguars announced they had signed third-rounder A.J. Cann, a guard from South Carolina. He was the 67th overall pick. That leaves just three first ro…

Share Tweet

Marcus Mariota can prove himself to Titans quickly in season open...

Jun 29

ESPN Titans reporter Paul Kuharsky says Marcus Mariota will face a favorable matchup in the team's season opener.

Sink a hole-in-one, get a barrel of JD whiskey

Jun 27

Tennessee Titans long-snapper Beau Brinkley sinks a hole-in-one at a golf tournament in Nashville, Tennessee. His prize? An entire single barrel select of Jack Daniels Tennessee Whiskey -- the equivalent 250 bottles.

Titans' Green-Beckham: I know what I can't do

Jun 23

Darren Woodson discusses the effectiveness of the NFL rookie symposium in teaching players such as Titans wide receiver Dorial Green-Beckham how to avoid getting into trouble off the field.

NFLPA looking into Taylor Thompson release

Jun 22

ESPN NFL Insider Jarrett Bell discusses the questions surrounding TE Taylor Thompson's release by the Titans.