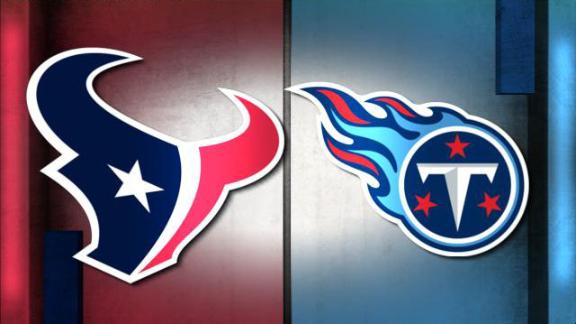 ESPN.com
yahoo.com
profootballtalk.com
Updated 12 hours ago
The Tennessee Titans have decided to start rookie Zach Mettenberger at quarterback against the visiting Houston Texans on Sunday, a league source told ESPN's Adam Caplan on Wednesday.
Upvote
Share
Tweet
ESPN.com

3 hours ago

They are two teams with new head coaches trying to install big changes. The Houston Texans are only 3-4, but it's a mark that has them in second place in the AFC South. The Tennessee Titans could pull even with the Texans with a win Sunday at LP Field. …

Upvote Share Tweet

profootballtalk.com

Oct 22 (yesterday)

Washington linebacker Keenan Robinson was all over the place Sunday, and was rewarded for it Wednesday. Robinson had a career-high 14 tackles in the win over the Titans to earn NFC defensive player of the week honors. That was part of a defensive effort…

Upvote Share Tweet

ESPN.com

Oct 22 (yesterday)

ESPN Houston Texans reporter Tania Ganguli talks about No. 1 overall pick Jadeveon Clowney's recovery from knee surgery and his status for Sunday's game against the Titans.

Upvote Share Tweet

profootballtalk.com ESPN.com yahoo.com

Oct 22 (yesterday)

Linebacker Akeem Ayers is officially a member of the New England Patriots. The Patriots formally announced that they have acquired Ayers in a trade with the Titans, which means that Ayers passed his physical with the team. That probably wasn't a foregon…

Upvote Share Tweet

ESPN.com profootballtalk.com

Oct 21 (2 days ago)

A weekly look at what the Tennessee Titans must fix: To beat the Houston Texans Sunday at LP Field, the Tennessee Titans need to keep their offense in situations that need 10 yards or fewer to sustain a drive. In the loss at the Washington Redskins, the…

Upvote Share Tweet

Will a feature like this on Zach Mettenberger become a Monday regular?

ESPN.com

Oct 20 (3 days ago)

NASHVILLE, Tenn. -- The Tennessee Titans' hazy quarterback situation could gain some clarity by the time the team practices on Wednesday. Coach Ken Whisenhunt said Jake Locker, who has missed the past two games with a bruised thumb, will throw Tuesday a…

Upvote Share Tweet

profootballtalk.com

Oct 20 (3 days ago)

Brian Orakpo's second annual contract year has not ended well. The Washington linebacker, who had been struggling while playing under the $11.45 million franchise tag, suffered a torn pectoral muscle on Sunday against the Titans, per a league source. Or…

Upvote Share Tweet

profootballtalk.com

Oct 20 (3 days ago)

On a weekend dominated by record-breaking quarterbacks, the Titans are still wondering when they'll get their broken one back. After watching backup Charlie Whitehurst lead the Titans to another come-from-ahead loss, they're hoping to get starter Jake L…

Upvote Share Tweet

NFL Live Prediction: Texans-Titans

Oct 22

The NFL Live crew make their picks for Houston at Tennessee.

Titans Offensive Line Has To Quickly Turn It Around

Oct 21

ESPN Titans reporter Paul Kuharsky says a disappointing offensive line will have its hands full facing the Houston Texans and J.J. Watt this weekend.

Sunday Blitz: Titans-Redskins Recap

Oct 19

Jim Basquil and Merril Hodge break down the Redskins' 19-17 win over the Titans.

Game Balls: Tennessee at Washington

Oct 19

Redskins reporter John Keim's game ball goes to quarterback Colt McCoy, who drove Washington 76 yards in the final minutes for the winning field goal. Titans receiver Kendall Wright gets the honor from Paul Kuharsky.