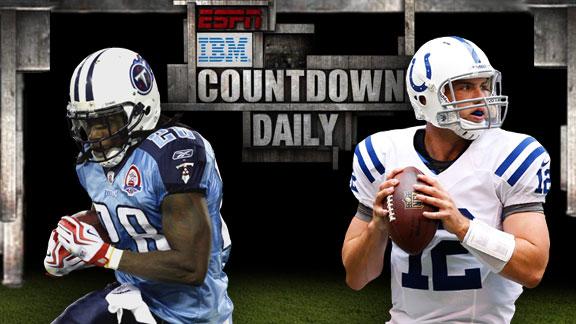 Updated Dec 7, 2012
Share
Tweet
Tennessee middle linebacker Colin McCarthy will miss his second consecutive game with a concussion, and his sixth overall, when the Titans visit the Indianapolis Colts on Sunday.
Source:
ESPN.com
Chris Johnson "very upset" about workload in second half last week

Updated Dec 7, 2012

Share Tweet

Titans running back Chris Johnson had a string of six straight games with 80 or more rushing yards snapped in last Sunday's loss to the Texans and he's not happy about the workload he got on offense in the second half. Johnson had three carries after

Source:

profootballtalk.com
'Playbook': Tennessee Titans vs. Indianapolis Colts

Dec 7

"Playbook" breaks down the Indianapolis Colts' game-winning touchdown from Week 13 and explains why they're getting a lot of production from the linebacker position.
Sports Columnists
Peter King: Griffin, 'Skins taking advantage of opponents' aggressive defe…

Dec 7

So I am fairly smitten with this option offense Washington is running, called by offensive coordinator Kyle Shanahan and executed with precocious zeal by 22-year-old franchise quarterback Robert Griffin III. A big test comes Sunday at home against Balti…