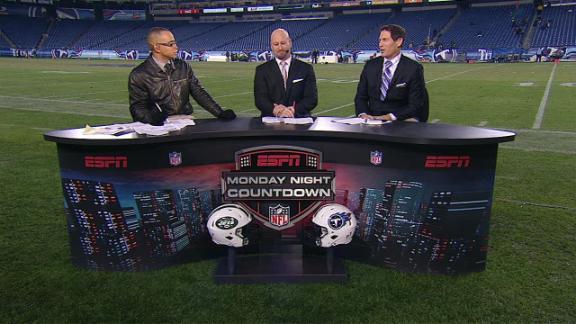 Updated Dec 18, 2012
Share
Tweet
What I think they should be thinking at the headquarters of the Tennessee Titans this afternoon… Hey, it's a W. We're not good enough or in position to grade its caliber. There is a lot to correct but it's better to go back to work grading an ugly
Source:
ESPN.com
Kendall Wright cracked a rib on Monday night

Updated Dec 18, 2012

Share Tweet

Most of the coverage of Monday night's 14-10 Titans win has focused on the Jets offense finding new and deeper bottoms of the barrel, but there was fallout for the Titans as well. One piece of that fallout is the rib injury suffered by rookie wide recei

Source:

profootballtalk.com

Chris Johnson's touching Sandy Hook tribute, spectacular run were the sole highlights of Monday Night Football

Updated Dec 18, 2012

Share Tweet

If you didn't watch the Monday Night Football showdown between the Jets and Titans, consider yourself fortunate. This was an indisputably wretched game, a race for the bottom that the Jets "won" by virtue of five humiliating turnovers. Titans …

Source:

yahoo.com

Updated Dec 18, 2012

Share Tweet

The silver lining for the Jets and for their fans in Monday's loss to the Titans is that the Mark Sanchez era at quarterback may be over.

Jets defense getting frustrated with team's offensive woes

Updated Dec 18, 2012

Share Tweet

OK, who had Week 15 in the pool? The Jets defense has apparently had enough of the non-support, and finally aired the grievances after last night's 14-10 loss to the Titans, which ended their faint playoff hopes. "Story of our season. Shooting yoursel

Source:

profootballtalk.com

Updated Dec 18, 2012

Share Tweet

A look at the initial reactions on Twitter as the Jets were eliminated from the playoffs in a 14-10 loss to the Tennessee Titans.

Sources:

nytimes.com deadspin.com

About Last Night: Sanchize Delivers Christmas Gift to Titans

Updated Dec 18, 2012

Share Tweet

In case you were out living a life of leisure, here's what you missed in sports on Monday. Mark Sanchez finished with five turnovers, including thre...

Source:

grantland.com

New York Jets vs. Tennessee Titans highlights

Dec 18

Chris Johnson runs for a 94-yard touchdown, and the Tennessee Titans cause five New York Jets turnovers, including four interceptions, to help themselves pick up a 14-10 win Monday night.