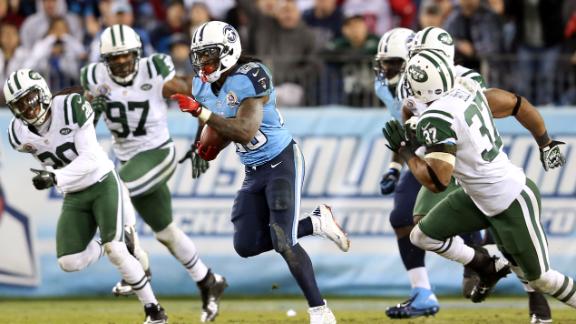 After family tragedy, Delanie Walker works for tougher DUI laws

profootballtalk.com

Jun 5, 2013

Hours after they watched their nephew play with the 49ers in the Super Bowl, Delanie Walker's aunt and uncle were killed in New Orleans by a suspected drunk driver. Walker, who now plays for the Titans, is honoring their memory by working to strengthen

Share Tweet

ESPN.com

Jun 5, 2013

Matt Williamson has reviewed every player addition and every roster deletion in a large-scale run thorough of the AFC, grading all offseasons. Here's a rundown of some of what he had to say about the AFC South. Tennessee Titans -- B Williamson on Delani

Share Tweet

Johnson Confident He Can Reach 2K

Jun 5

Adam Schefter discusses Chris Johnson's comments that he knows he could still rush for 2,000 yards in a season.

McCourty: Gregg Williams brings new attitude

Jun 5

Tennessee Titans cornerback Jason McCourty talks about how the additions of Gregg Williams and safety Bernard Pollard are shaping the defense.