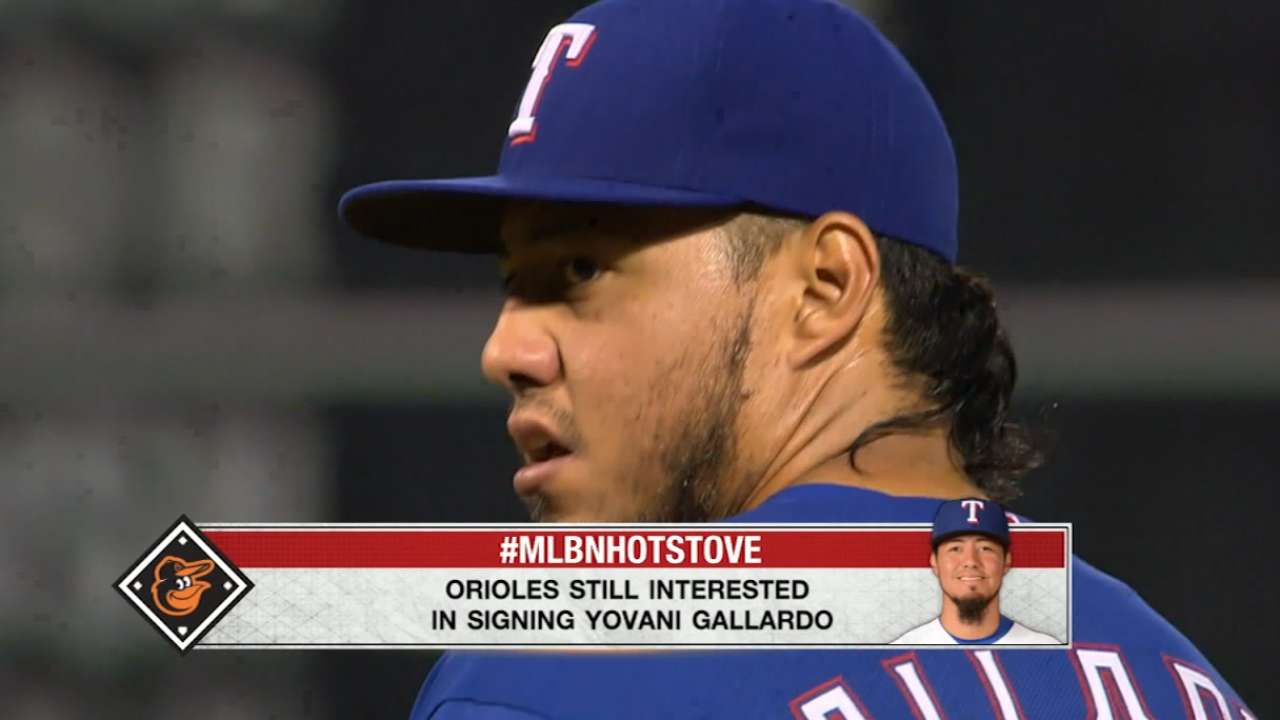 MLB.com
Updated Feb 10 (3 days ago)
The Orioles may be gearing up for a run at one of the best starting pitchers left on the market. According to a report Wednesday by FoxSports.com, Baltimore is "making progress" in its pursuit of right-hander Yovani Gallardo, who pitched to a …
Share
Tweet
nytimes.com MLB.com

Feb 10 (3 days ago)

First baseman Mitch Moreland has agreed to a $5.7 million, one-year contract with the Texas Rangers, avoiding a salary arbitration hearing set for Wednesday.

Share Tweet

nytimes.com MLB.com

Feb 9 (4 days ago)

Yu Darvish says he feels stronger than he did before elbow surgery last spring and plans to be back on the mound for the Texas Rangers by mid-May or early June.

Share Tweet

Rangers on the rebound entering camp

MLB.com

Feb 8 (5 days ago)

The time has come to begin the final countdown to Spring Training as Rangers pitchers and catchers report on Feb. 19. The usual storylines are in play going into camp concerning position battles, top prospects, new players and those on the rebound. The …

Share Tweet

Hulett up for challenge of managing Philippines

MLB.com

Feb 4

Tim Hulett, who manages the Rangers' Class A Short-Season team in the Northwest League, is at the helm of Team Philippines for the World Baseball Classic qualifying round.

Share Tweet

Marlins prospect Haynal to play in WBC qualifier

MLB.com

Feb 3

A Marlins catching prospect will be gaining some international experience next week in a World Baseball Classic qualifying event. Brad Haynal will play for the Philippines, which will be led by Tim Hulett, manager of the Rangers' Class A affiliate in Sp…

Share Tweet

Early struggles in 2015 keep Odor hungry

MLB.com

Feb 3

Rougned Odor goes into Spring Training as the Rangers starting second baseman. He earned that right by the way he played over the final 3 1/2 months of last season, but the Dominican Winter League batting champion may think otherwise.

Share Tweet

Truckin': Rangers' Spring gear off to Arizona

MLB.com

Feb 2

The Rangers' equipment truck left Globe Life Park in Arlington on Tuesday afternoon, another tangible sign that Spring Training is coming up soon.

Share Tweet

Former managing partner Rose passes away at 74

MLB.com

Jan 30

Edward W. "Rusty" Rose, who was a major partner in the ownership group headed by George W. Bush that bought the Rangers in 1989, passed away on Friday night. He was 74 years old.

Share Tweet

Rangers to install LED lighting at Globe Life

MLB.com

Jan 27

The Rangers are making significant upgrades to the lighting at Globe Life Park in Arlington. The club announced Wednesday that it has entered into an agreement with Eaton's Ephesus Lighting to install an advanced light-emitting diode (LED) system for th…

Share Tweet

yahoo.com

Jan 26

There's nothing more relaxing on a warm summer day than sitting down in the shade and settling in to watch a baseball game. Actually, that may no longer be the case. The Frisco RoughRiders, the Texas Rangers Double-A affiliate, are planning to install a…

Share Tweet

yahoo.com

Jan 26

Two important things to remember about Texas Rangers third baseman Adrian Beltre: He's a fantastic player, in the middle of what could very likely be a Hall of Fame career. And he hates people touching his head. This is a fact that is well known both in…

Share Tweet

Hamels, Prince ready to spark Rangers

MLB.com

Jan 26

The Rangers get pitcher Cole Hamels for a full season and they get designated hitter Prince Fielder another year removed from his neck surgery.

Share Tweet

nytimes.com

Jan 25

Major League Baseball has determined Texas Rangers pitcher Yu Darvish had no role in any of the activities that led to the arrest of his brother in Japan for allegedly running an illegal gambling ring.

Share Tweet

A Major League Baseball investigation found no links between Texas Rangers pitcher Yu Darvish and the alleged illegal gambling activities of his younger brother, Sho, sources have informed the Dallas Morning News. According to the report, Yu Darvish was…

Share Tweet

General manager Jon Daniels said the Rangers will have to help outfielder Josh Hamilton "manage" his surgically-repaired left knee through the 2016 season.

Share Tweet

Beltre energized, hoping for extension

MLB.com

Jan 22

Third baseman Adrian Beltre showed up for the Rangers' awards banquet on Friday feeling good about his overall health.

Share Tweet

Moreland looking forward to healthy '16 season

MLB.com

Jan 21

Rangers first baseman Mitch Moreland had an unusual offseason by his standards. It was injury rehab free.

Share Tweet

Iapoce wants to connect with Rangers hitters

MLB.com

Jan 21

New Rangers hitting coach Anthony Iapoce has a simple message for his players. "Win every pitch."

Share Tweet

Bacon-Loving Rangers Fans Rejoice!

Mar 18

ESPN sports business reporter Darren Rovell discusses the new bacon-related items being offered by the Texas Rangers this season.

Yu Darvish To Undergo Tommy John Surgery

Mar 13

Tim Kurkjian reacts to the news that Yu Darvish's season will end before it even begins as the Rangers' ace will undergo Tommy John surgery.

Future Cloudy For Yu Darvish's Return

Mar 13

Stephania Bell explains the unknown of when Yu Darvish will be able to return and whether he can avoid a second corrective surgery down the line.

Darvish's MRI Reveals Sprain In Elbow

Mar 7

ESPN.com senior writer Jerry Crasnick discusses the news that Rangers ace Yu Darvish has a sprained ligament in his pitching elbow and how Texas could try to replace Darvish at the top of its rotation.