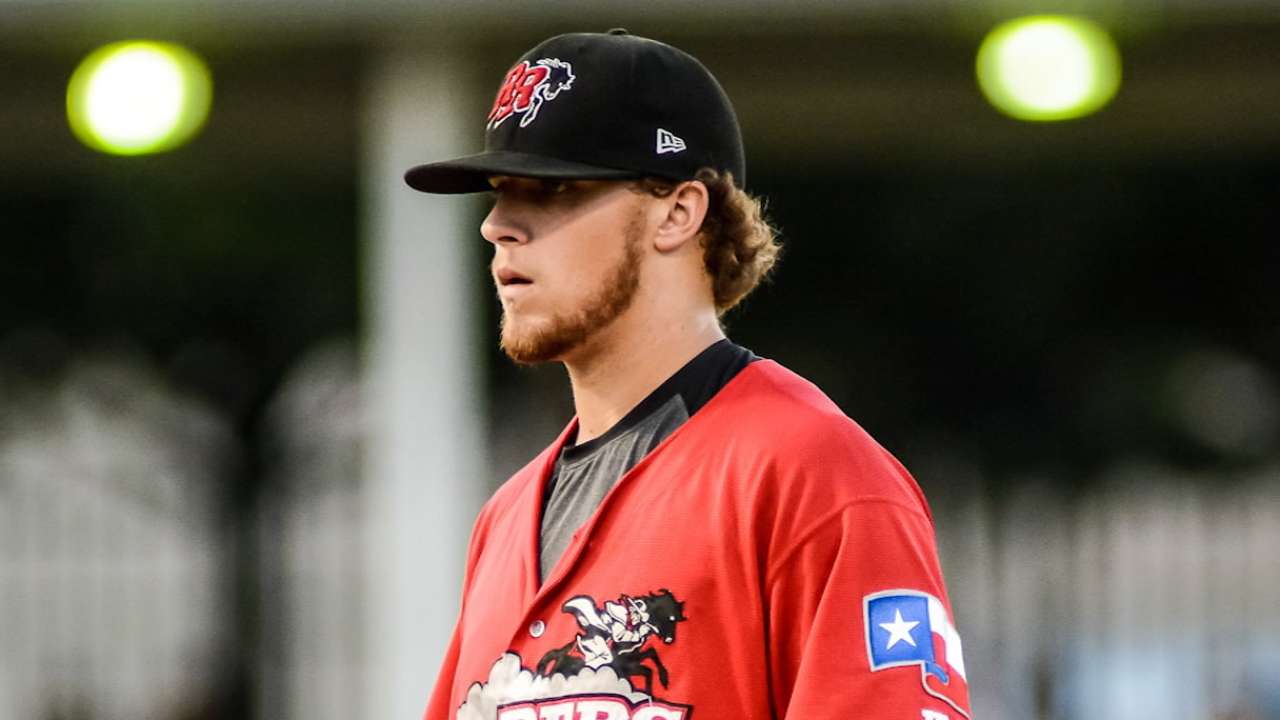 MLB.com
nytimes.com
deadspin.com
Updated 5 hours ago
The Phillies have waited and waited and waited to get the best deal possible for Cole Hamels, one that could help restock an organization thin on talent in the Majors and Minors. They finally did so Wednesday, consummating an eight-player deal with the …
Share
Tweet
yahoo.com

Jul 27 (3 days ago)

MLB trade deadline week keep rolling on. Clubs can complete non-waiver trades until 4 p.m. ET Friday, and as the seconds tick toward that deadline, there will be no shortage of news and rumors. On Wednesday, the action picked up a notch with Cole Hamels…

Share Tweet

MLB.com nytimes.com

6 hours ago

Colby Lewis went six strong innings and the Rangers strung together 11 hits, 10 of which were singles, on the way to defeating the Yankees, 5-2, on Wednesday night at Globe Life Park.

Share Tweet

yahoo.com

21 hours ago

Normally when a team scores five runs in the first inning, and chases the other team's starter, it wins. Normally that team doesn't lose by 16 runs. Tuesday's game between the Rangers and Yankees was anything but normal. The Yankees used a 10-hit, 11-ru…

Share Tweet

Yanks rally, score 21 runs in rout of Rangers

The Yankees, down five runs after the first, scored 11 runs in the top of the second inning and went on to a 21-5 victory over the Rangers on Tuesday night. The Yankees' 19 hits included Chris Young's second grand slam of the year.

Share Tweet

ESPN.com

Jul 29 (yesterday)

Diego Moreno provides big boost in Yankees' rout of Rangers

Share Tweet

DYK: 10 facts from Yankees-Rangers slugfest

While there was obviously plenty of offense in New York's 21-5 victory over Texas, there were also -- believe it or not -- some notable and history-making pitching performances as well.

Share Tweet

Infielder Rosales pitches for 2nd time in 2015

It's never a good sign when Rangers infielder Adam Rosales is icing his arm after pitching in a nine-inning game.

Share Tweet

nytimes.com

Jul 29 (yesterday)

Didi Gregorius had four hits, Chris Young hit a grand slam,and the Yankees rode an 11-run second inning to their fourth straight win.

Share Tweet

Mark Teixeira Eases His Pace and, Eventually, His Temper

nytimes.com

Jul 28 (yesterday)

Teixeira, thrown out after having been told by the third-base coach Joe Espada to take it easy as he rounded third, knocked over a trash can in the dugout and then criticized Espada to reporters after Monday night's win.

Share Tweet

Rangers' trade talks revolve around pitching

MLB.com

Jul 28 (yesterday)

The Rangers continue to have conversations with other teams as Friday's non-waiver Trade Deadline approaches, and starting pitching remains a prime topic of conversation.

Share Tweet

nytimes.com

Jul 28 (2 days ago)

Rodriguez commemorated the occasion by hitting yet another home run — his 24th of the season and his fifth in five games.

Share Tweet

Martin robs Teixeira with leaping catch at wall

MLB.com

Jul 27 (2 days ago)

Rangers center fielder Leonys Martin is sure to be seen on highlight reels everywhere after his second-inning catch Monday against the Yankees.

Share Tweet

Joyce exits after collision with Aybar

MLB.com

Jul 26 (4 days ago)

The Angels had a couple of scary moments in the outfield in the fourth inning of Sunday's 13-7 victory over the Rangers. First, Mike Trout landed awkwardly on his left wrist attempting to make a diving catch, but was able to stay in the game. Then Matt …

Share Tweet

yahoo.com

Jul 26 (4 days ago)

Your browser does not support iframes. Texas Rangers shortstop Elvis Andrus isn't above goofing around on the field. In fact, in years past we've seen both Andrus and Adrian Beltre attempt to agitate and even distract each other while the other camps ou…

Share Tweet

Gallardo struggles as Trade Deadline nears

MLB.com

Jul 26 (4 days ago)

Two pitchers of great interest to the Rangers took the mound on Saturday. Cole Hamels threw a no-hitter for the Phillies. Yovani Gallardo, for the second time since the All-Star break, couldn't get past the fifth inning for the Rangers.

Share Tweet

MLB.com nytimes.com

Jul 26 (4 days ago)

The Rangers rallied from two runs down in the eighth inning, getting clutch RBI singles from Robinson Chirinos and Delino DeShields to beat the Angels, 7-6, on Saturday night at Angel Stadium.

Share Tweet

MLB.com nytimes.com

Jul 25 (5 days ago)

Colby Lewis was charged with two runs in 7 2/3 innings on Friday night, snapping his six-start losing streak against the Angels and leading the Rangers to a 4-2 victory. Josh Hamilton went 2-for-4 in his first game at Angel Stadium since he was traded t…

Share Tweet

Bacon-Loving Rangers Fans Rejoice!

Mar 18

ESPN sports business reporter Darren Rovell discusses the new bacon-related items being offered by the Texas Rangers this season.

Yu Darvish To Undergo Tommy John Surgery

Mar 13

Tim Kurkjian reacts to the news that Yu Darvish's season will end before it even begins as the Rangers' ace will undergo Tommy John surgery.

Future Cloudy For Yu Darvish's Return

Mar 13

Stephania Bell explains the unknown of when Yu Darvish will be able to return and whether he can avoid a second corrective surgery down the line.

Darvish's MRI Reveals Sprain In Elbow

Mar 7

ESPN.com senior writer Jerry Crasnick discusses the news that Rangers ace Yu Darvish has a sprained ligament in his pitching elbow and how Texas could try to replace Darvish at the top of its rotation.

Sports Columnists

5-on-5: Biggest risers, fallers for 2015-16 NBA season

Jul 28

After a summer of deals, which teams are on the inside track to success next season and which are headed for a down year? Our 5-on-5 panel weighs in.

The MMQB Mailbag

Jul 22

Today is a good day for logic around the NFL. Because: • The Tennessee Titans on Tuesday signed the second pick in the draft, quarterback Marcus Mariota, meaning that five days before the first practice of the NFL preseason, all 32 first-round picks hav…

Adande: Jordan wouldn't let pride get in the way

Jul 21

The healthiest sign in DeAndre Jordan's return engagement with the Clippers is that the final decision was made for the right reasons, overcoming what would have been a prideful mistake.