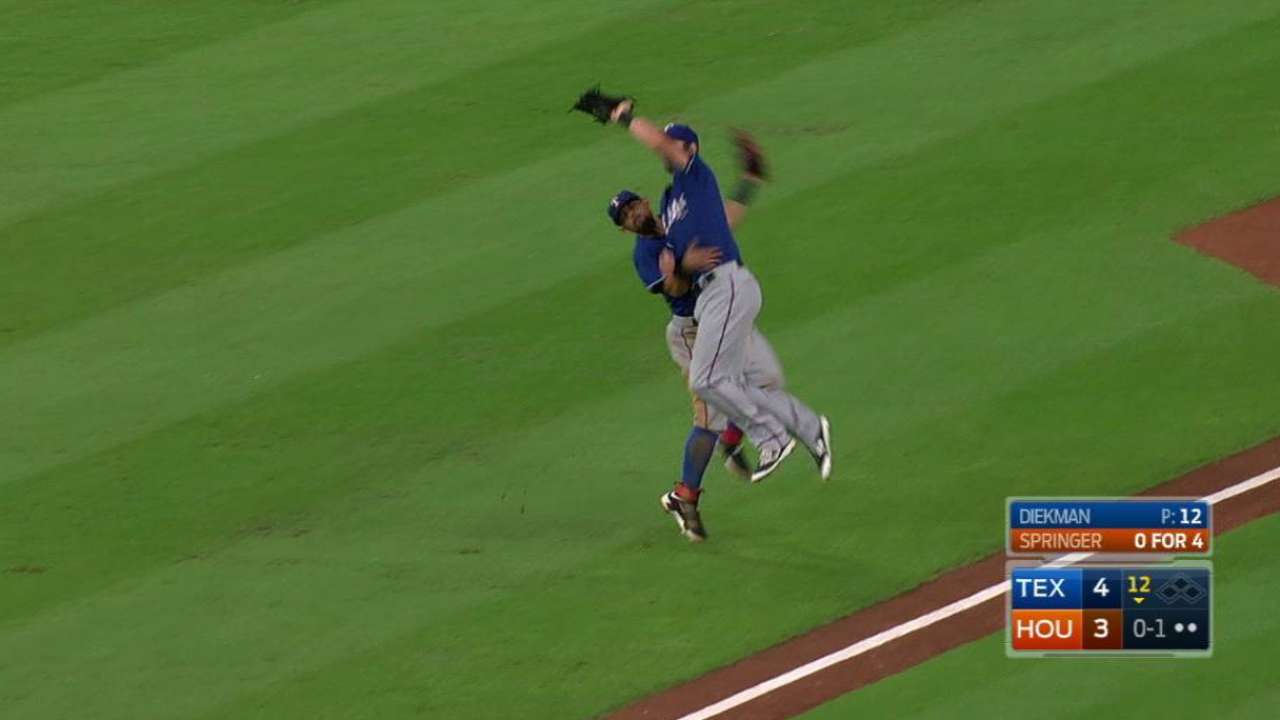 MLB.com

Nov 29 (6 days ago)

Rangers right-hander Nick Martinez said he enjoyed everything about pitching for the Toros del Este in the eastern city of La Romana. It was his first time pitching in winter ball and it appears to a complete success for the 25-year-old who will once ag…

Share Tweet

Sale, Cutch, Encarnacion intriguing to Texas

MLB.com

Nov 22

Chris Sale. Andrew McCutchen. Edwin Encarnacion. Those are the three most intriguing players to the Rangers this offseason. One is a free agent, and the other two are available by trade.

Share Tweet

A group of Texas Rangers prospects were questioned and potentially face charges from police in the Dominican Republic after a video surfaced that allegedly shows the hazing assault of a teammate, according to a report.

Share Tweet

MLB.com

Nov 21

Andrew Cashner received interest from multiple teams when he entered the free-agent market this offseason. The Rangers were way ahead of the competition.

Share Tweet

Report: Rangers Prospect Alleged Sexually Assaulted By Teammates At Dominican Academy 

deadspin.com

Nov 21

An underage baseball prospect as the Texas Rangers' baseball academy in the Dominican Republic was allegedly sexually assaulted by at least four teammates, reports Yahoo's Jeff Passan. Eight Rangers prospects were questioned by police and at least four …

Share Tweet

yahoo.com

Nov 18

Beardless Andrew Cashner pitching for the Miami Marlins. (Getty Images) It looks like the Texas Rangers have finally gotten their man. The team has reportedly signed right handed starter Andrew Cashner to a one-year deal worth $10 million. Looks like it…

Share Tweet

MLB.com

Nov 15

Rangers manager Jeff Banister received four first-place nods in American League Manager of the Year voting by the Baseball Writers' Association of America, finishing second behind Cleveland's Terry Francona.

Share Tweet

Lucroy to catch for Team USA in World Baseball Classic

MLB.com

Nov 14

Rangers catcher Jonathan Lucroy will play for Team USA in the 2017 World Baseball Classic, according to MLB Network contributor Joel Sherman.

Share Tweet

yahoo.com

Nov 9

Globe Life Park in Arlington, Texas. (Getty Images) The voters of Arlington, Texas have spoken, and they want the Texas Rangers to have a new stadium. The proposition to fund the new park passed in a landslide on Tuesday night, with the opposition conce…

Share Tweet

ESPN.com

Nov 8

Giants, Cubs, Rangers had the Golden touch defensively in 2016

Share Tweet

Texas to pick up Lucroy's option, not Holland's

MLB.com

Nov 3

The World Series is over, and now the Rangers have to address their own free agents.

Share Tweet

Rangers not expected to pick up Holland's option

MLB.com

Oct 31

The Rangers are not planning to pick up pitcher Derek Holland's $11 million option, and a trade could be a possibility, Major League sources said Monday. Holland has been informed of the Rangers' intention not to pick up his option.

Share Tweet

The Texas Rangers' Ballpark Scam Is Even Worse Than We Thought

deadspin.com

Oct 18

Back in June, WFAA-TV took a close look at the Texas Rangers' proposal to build a new stadium in Arlington, which the city and team insist would be built with a 50-50 split of private and public money. WFAA-TV discovered an unprecedented clause in the p…

Share Tweet

yahoo.com

Oct 13

(Yahoo Sports) Sorry, Texas Rangers, your World Series trophy is in another castle, one that doesn't care one iota about run differential. The Rangers proved that 2015 wasn't an aberration, charging through the regular season with an American League lea…

Share Tweet

Beasley, Rangers coaches will return in 2017

MLB.com

Oct 11

The Rangers are not planning any changes in their coaching staff this winter, manager Jeff Banister said Tuesday.

Share Tweet

Rangers' sweeping loss to Toronto a total team collapse

ESPN.com

Oct 11

Rangers' sweeping loss to Toronto a total team collapse

Share Tweet

MLB.com nytimes.com

Oct 10

It was another unforgettable night in Toronto, as the Blue Jays enjoyed another dramatic, walk-off win in the postseason in their 7-6, 11-inning triumph over the Rangers on Sunday night.

Share Tweet

MLB.com

Oct 10

Devon Travis didn't take the field in Sunday night's series-clinching 7-6 victory in 10 innings over the Rangers, but the Blue Jays' injured second baseman is hoping a few days off will allow him to get back into action when the American League Champion…

Share Tweet

Fernandez tributes carry into postseason

MLB.com

Oct 10

Tributes for Marlins ace Jose Fernandez have carried into the postseason. On Sunday night, in the Blue Jays' 7-6 win over the Rangers to close out their American League Division Series, Toronto right-hander Aaron Sanchez took the mound sporting "JD…

Share Tweet

Sanchez puts 'JDF16' on hat in tribute to Fernandez

MLB.com

Oct 9

On a night when his team advanced to the American League Championship Series with a walk-off, 7-6 win over the Rangers, Blue Jays starter Aaron Sanchez paid tribute to late Marlins pitcher Jose Fernandez.

Share Tweet

Bacon-Loving Rangers Fans Rejoice!

Mar 18

ESPN sports business reporter Darren Rovell discusses the new bacon-related items being offered by the Texas Rangers this season.

Yu Darvish To Undergo Tommy John Surgery

Mar 13

Tim Kurkjian reacts to the news that Yu Darvish's season will end before it even begins as the Rangers' ace will undergo Tommy John surgery.

Future Cloudy For Yu Darvish's Return

Mar 13

Stephania Bell explains the unknown of when Yu Darvish will be able to return and whether he can avoid a second corrective surgery down the line.

Darvish's MRI Reveals Sprain In Elbow

Mar 7

ESPN.com senior writer Jerry Crasnick discusses the news that Rangers ace Yu Darvish has a sprained ligament in his pitching elbow and how Texas could try to replace Darvish at the top of its rotation.