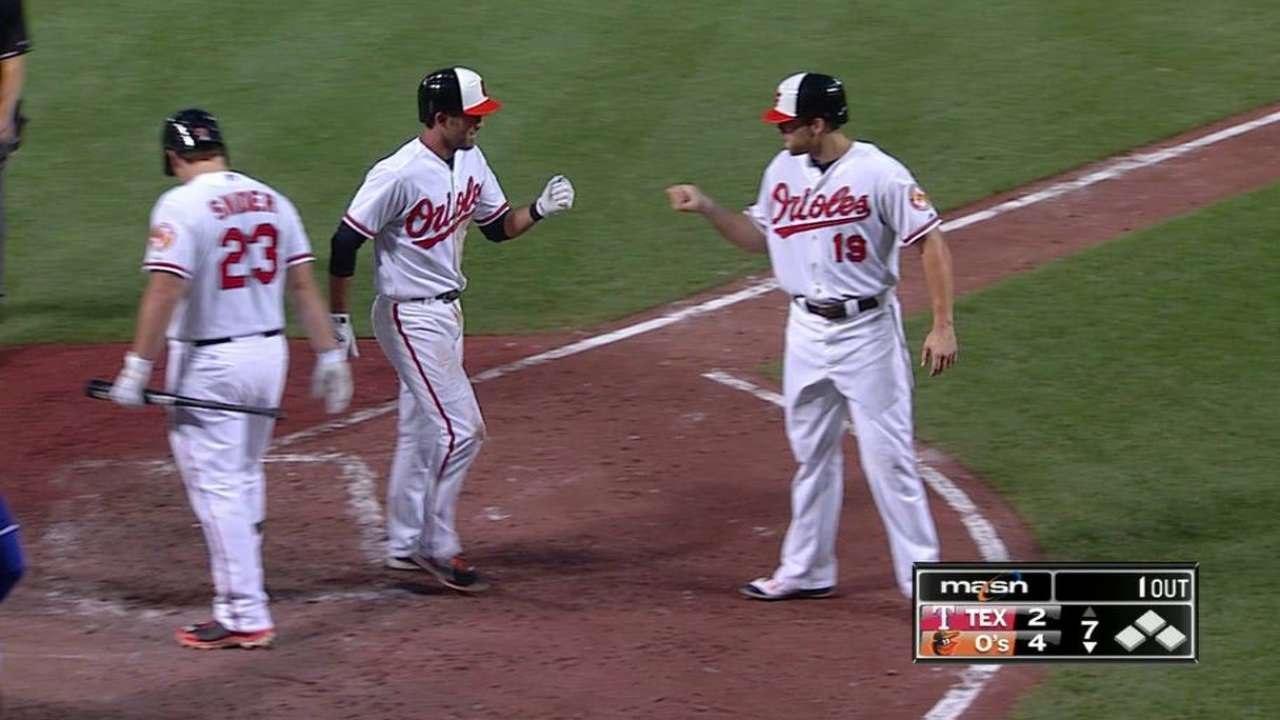 O's add Wilson to bullpen, designate Young

MLB.com

3 hours ago

Working with a six-man bullpen, the Orioles added reliever Tyler Wilson from Triple-A Norfolk prior to Wednesday's game against the Rangers. The move came with a tough corresponding decision as Baltimore designated Delmon Young for assignment, making hi…

Share Tweet

MLB.com nytimes.com

24 hours ago

Mitch Moreland thought he was beat on Chaz Roe's 0-1 pitch in the eighth inning of Tuesday's 8-6 win over the Orioles, and he jogged to first expecting the ball to end up in Travis Snider's glove in left field. Instead, it ended up in the left-field sta…

Share Tweet

Sent down, Gallo takes lessons back to Minors

MLB.com

Jun 30 (yesterday)

Rangers top prospect Joey Gallo's time in the big leagues is over for now, but he will certainly be back.

Share Tweet

yahoo.com

Jun 30 (yesterday)

The start-and-stop, up-and-down season of Josh Hamilton starts up again Tuesday night, as he's been activated by the Texas Rangers and will start in left field against the Baltimore Orioles. Hamilton, 34, was on the disabled list for a month with an inj…

Share Tweet

MLB.com nytimes.com

Jun 28 (3 days ago)

The Blue Jays held on for a 3-2, series-clinching victory over the Rangers at Rogers Centre on Sunday afternoon. Josh Donaldson homered while Jose Reyes and Devon Travis drove in runs as Toronto held on for a one-run victory despite middle-innings ralli…

Share Tweet

nytimes.com

Jun 27 (4 days ago)

Tom Koehler pitched seven innings, and the host Miami Marlins beat Clayton Kershaw and the Los Angeles Dodgers, 3-2, on Saturday in the Marlins' first game since their star slugger, Stanton, was sidelined by a hand injury.

Share Tweet

nytimes.com

Jun 27 (4 days ago)

Matt Boyd had no problem with nerves in his big league debut.

Share Tweet

yahoo.com

Jun 27 (4 days ago)

Lost in the shuffle of Alex Rodriguez's impressive comeback, the promotion of several top prospects and the continued dominance of starting pitching around MLB has been the remarkable bounce back season of Prince Fielder. The Texas Rangers designated hi…

Share Tweet

MLB.com

Jun 27 (4 days ago)

Joey Gallo was penciled in for his first career start in center field, as the Rangers faced the Blue Jays at Rogers Centre on Saturday afternoon. It's something he's never done before at any level in his career.

Share Tweet

Tate makes pro debut with Spokane Indians

MLB.com

Jun 27 (5 days ago)

Rangers first-round pick Dillon Tate made his professional debut Friday night for the Spokane Indians, the Rangers' Short Season Class A affiliate.

Share Tweet

nytimes.com MLB.com

Jun 26 (5 days ago)

Edwin Encarnacion hit his seventh career grand slam and a solo homer as the Toronto Blue Jays handed the slumping Texas Rangers their season-high sixth straight loss, 12-2 Friday night.

Share Tweet

nytimes.com

Jun 25 (6 days ago)

Colby Lewis lost his control and felt as if he lost the game for the Texas Rangers, even without a decision.

Share Tweet

MLB.com

Jun 25 (6 days ago)

Shin-Soo Choo woke up Tuesday with his back so sore he could barely walk. Mitch Moreland has looked off running the bases and left Wednesday's game in the seventh inning to give his feet a break.

Share Tweet

Lawrie's slam powers Athletics past Rangers

MLB.com

Jun 25 (7 days ago)

Brett Lawrie hit a first-inning grand slam and Josh Phegley hit a two-run homer in the second, as the A's pounced on Rangers starter Wandy Rodriguez for eight runs in the first two innings en route to an 8-2 victory on Wednesday night.

Share Tweet

If all goes according to plan, Josh Hamilton's second return to the Texas Rangers should come at the start of next week. Once he gets back on the field, he sure hopes it will last longer than a week. Hamilton hasn't played since May 31 after straining h…

Share Tweet

Vogt sits vs. Rangers after cortisone shot

MLB.com

Jun 23

A's catcher Stephen Vogt was out of the lineup for Tuesday's series opener against the Rangers, after receiving a cortisone shot in his left elbow Sunday.

Share Tweet

Beltre not 100 percent, but activated off DL

MLB.com

Jun 23

Rangers third baseman Adrian Beltre is still not pain-free. He is still dealing with a sprained left thumb, but Beltre convinced the Rangers he is feeling good enough to at least try to play, so he was activated off the disabled list on Tuesday.

Share Tweet

Bacon-Loving Rangers Fans Rejoice!

Mar 18

ESPN sports business reporter Darren Rovell discusses the new bacon-related items being offered by the Texas Rangers this season.

Yu Darvish To Undergo Tommy John Surgery

Mar 13

Tim Kurkjian reacts to the news that Yu Darvish's season will end before it even begins as the Rangers' ace will undergo Tommy John surgery.

Future Cloudy For Yu Darvish's Return

Mar 13

Stephania Bell explains the unknown of when Yu Darvish will be able to return and whether he can avoid a second corrective surgery down the line.

Darvish's MRI Reveals Sprain In Elbow

Mar 7

ESPN.com senior writer Jerry Crasnick discusses the news that Rangers ace Yu Darvish has a sprained ligament in his pitching elbow and how Texas could try to replace Darvish at the top of its rotation.