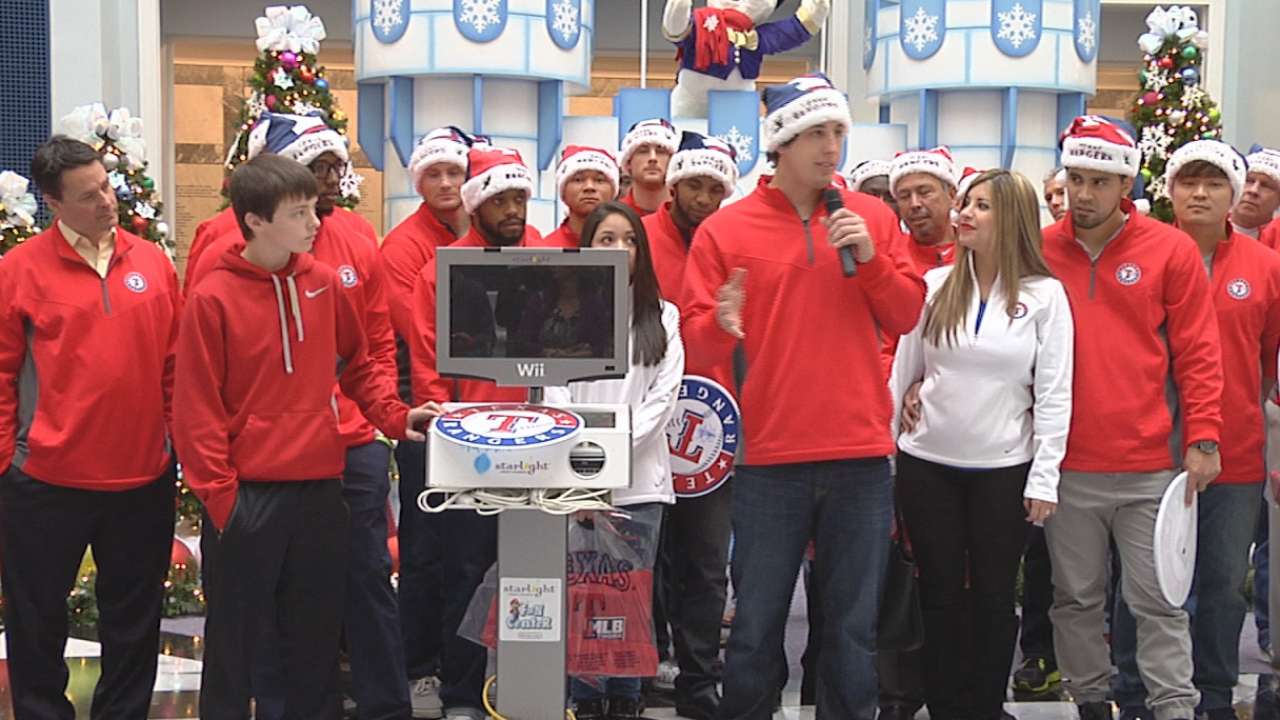 Banister spends wedding anniversary with Rangers fans

MLB.com

Dec 17 (3 days ago)

New manager Jeff Banister and shortstop Elvis Andrus each conducted Question & Answer sessions on Wednesday during the "Evening with the Rangers."

Upvote Share Tweet

yahoo.com

Dec 17 (4 days ago)

"So I have a splendid idea. Do you remember how great Josh Hamilton was in a Rangers uniform? I heard y'all down there in Texas are interested in trading for an outfielder. Well, I got just the guy — Josh Hamilton. And he's still playing baseball, …

Upvote Share Tweet

DeShields thrilled for chance to make impact

MLB.com

Dec 16 (4 days ago)

Delino DeShields Jr. joins the Rangers with a chance to make the big league club as a fourth outfielder/super-utility man. As a Rule 5 Draft selection, he will remain with the Rangers if he can stick on their 25-man roster for the entire 2015 season.

Upvote Share Tweet

Hospital visit, toy drive highlight Rangers' day of giving

MLB.com

Dec 16 (4 days ago)

The Rangers were out in force again Tuesday, giving back to the community by making a visit to Cook Children's Medical Center and hosting a toy drive at Globe Life Park.

Upvote Share Tweet

Rangers sign Japanese reliever Fujikawa

ESPN.com

Dec 16 (5 days ago)

The Texas Rangers announced the signing of right-handed reliever Kyuji Fujikawa on Tuesday to a one-year deal with a club option for 2016.

Upvote Share Tweet

nytimes.com

Dec 15 (6 days ago)

The small country of Curaçao, part of the Kingdom of the Netherlands, has been the source of a surge of talent to Major League Baseball.

Upvote Share Tweet

yahoo.com

Dec 14 (7 days ago)

New Atlanta Braves president John Hart has been around the block a few times. As the general manager of the Cleveland Indians throughout the entire 1990s and later the Texas Rangers from 2002-05, Hart has shown he's not afraid to take on a challenge hea…

Upvote Share Tweet

Nats' core feels a sense of urgency heading into 2015

MLB.com

Dec 13

Friday's trade of pitcher Ross Detwiler to the Rangers could be a small sneak preview of things to come for Nationals players, who have a large contingent of teammates nearing free agency. For the team's core to reach its ultimate goal, a World Series t…

Upvote Share Tweet

Fujikawa reportedly near deal to join Rangers

MLB.com

Dec 12

The Rangers are working to sign free-agent right-handed reliever Kyuji Fujikawa, according to a Major League source, but the deal is still pending a physical. Fujikawa is expected to sign a one-year contract with a team option for 2016.

Upvote Share Tweet

Texas has acquired left-handed pitcher Ross Detwiler from the Nationals in exchange for infielder Chris Bostick and right-hander Abel De Los Santos. The Rangers expect the veteran to step into their rotation.

Upvote Share Tweet

The Texas Rangers have plans to invite Seattle Seahawks quarterback Russell Wilson to spring training again.

Upvote Share Tweet

MLB.com

Dec 8

The MLB Winter Meetings are underway from San Diego and there is already plenty of Hot Stove talk circulating. The White Sox are reportedly in "serious talks" to acquire Jeff Samardzija from Oakland, and the Rangers and Padres are showing inte…

Upvote Share Tweet

SAN DIEGO — Taking an MLB managerial job in October means you won't get a ton of face time with your players for months. Such was the predicament that Jeff Banister, the new Texas Rangers skipper, found himself in after being hired on Oct. 17. Banister …

Upvote Share Tweet

The Rangers retained one of the mainstays of their starting rotation by signing Colby Lewis to a one-year, $4 million deal Thursday.

Upvote Share Tweet

The Rangers announced on Tuesday that they have decided not to offer a contract to pitcher Alexi Ogando, making him a free agent. Ogando, one of the few remaining members of the 2010-11 World Series teams, had been eligible for arbitration.

Upvote Share Tweet

The Rangers are close to a new contract with free-agent pitcher Colby Lewis, and they are waiting on word if they can sign free-agent outfielder Torii Hunter. The club also received possibly encouraging news on first baseman Mitch Moreland and infielder…

Upvote Share Tweet

Scheppers no stranger to bringing Christmas cheer

A big truck pulled up to a warehouse in North Fort Worth, Texas, on Tuesday morning, just across the street from historically restored LaGraves Field. Rangers pitcher Tanner Scheppers and his wife, Jessica, were among those present on a morning chilled …

Upvote Share Tweet

Faith, perseverance paying off for Chirinos

MLB.com

Dec 1

March 11, 2012, was a momentous day in the life of Rangers catcher Robinson Chirinos. In the morning, he felt he made a strong and lasting commitment in his relationship with God. That afternoon, he was struck directly in the face mask by a foul ball.

Upvote Share Tweet

MLB.com

Nov 30

The A's have been the biggest movers and shakers in the American League West thus far, making the largest free-agent signing of the winter in the division and trading away arguably their best player. Meanwhile, the Rangers and Angels have been mentioned…

Upvote Share Tweet

Royals Sign Rios To One-Year Deal

Dec 15

ESPN.com senior writer Jerry Crasnick breaks down the Royals' signing of outfielder Alex Rios to a one-year, $11 million contract, and the impact he will have in Kansas City.

Texas Native Jeff Banister Hired By Rangers

Oct 16

ESPNDallas.com's Calvin Watkins discusses the Rangers' hiring of Jeff Banister as the team's new manager.

Athletics Clinch Playoff Berth

Sep 28

Sonny Gray pitched a shutout to lead the Athletics to their third consecutive playoff berth with a 4-0 win over the Rangers.

A's Fall To Rangers

Sep 27

Baseball Tonight Spotlight: With a loss to the Rangers Saturday and a Mariners win, the Athletics need a victory Sunday to guarantee the final wild-card spot.

Sports Columnists

Dallas Mavericks frontrunners for Jermaine O'Neal after Rajon Rondo acquis…

Dec 19

The acquisition of Rajon Rondo has given the Dallas Mavericks an undeniable edge in the race to lure veteran big man Jermaine O'Neal back to the NBA, according to league sources.

A New NFC West Rivalry

Dec 19

RENTON, Wash. — Remember, oh, about three long months ago, when 49ers-Seahawks was the best rivalry in the NFL? The Niners are 7-7, oddly out of the playoff hunt, and are 1-5 against Seattle since late in 2012. So, is it really such a great rivalry now,…

Source: Seahawks extend Avril four years

Dec 19

The Seahawks have signed pass-rusher Cliff Avril to a four-year extension worth $28.5 million, with $16 million guaranteed, a source confirmed to ESPN...