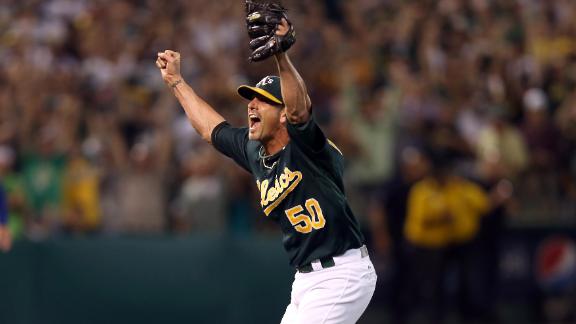 Updated Oct 2, 2012
Share
Tweet
Having lost five of their last seven games, the Texas Rangers need just one win against the Oakland Athletics to clinch their third consecutive American League West title.
Source:
ESPN.com
Updated Oct 2, 2012

Share Tweet

For the second season in a row, Rangers third baseman Adrian Beltre is the American League Player of the Month for September.

Source:

MLB.com

Derek Holland Claims His Twitter Was Hacked And He Didn't Call Anyone A "Fag"

Updated Oct 2, 2012

Share Tweet

Derek Holland was pulled from the Rangers' game on Sunday after getting knocked around, and retreated to the clubhouse. It hasn't been a great year for Holland, and the Rangers are desperately clinging to both the league's best record and the AL West le…

Source:

deadspin.com

Updated Oct 2, 2012

Share Tweet

A look at the top three starting pitchers of the American League teams that qualified for the five playoff spots.

Source:

nytimes.com

Updated Oct 2, 2012

Share Tweet

The Juice is back for its fifth season of fun! Stop by each weekday for an ample serving of news from the action, plus great photos, stats and video highlights. Moneyballin': The Oakland Athletics still have their sights set on the Texas Rangers and fir…

Highlight Of The Night

Oct 2

Jonny Gomes hit a home run and Travis Blackley allowed one run over six innings to help the Athletics tie the Rangers for first place in the AL West.